Heaven through hell: The garbage dump at Jahangirpuri, Delhi
Thousands of people from all over the country depend on the garbage dump of Jahangirpuri — referred to as the khatta by locals -- for a livelihood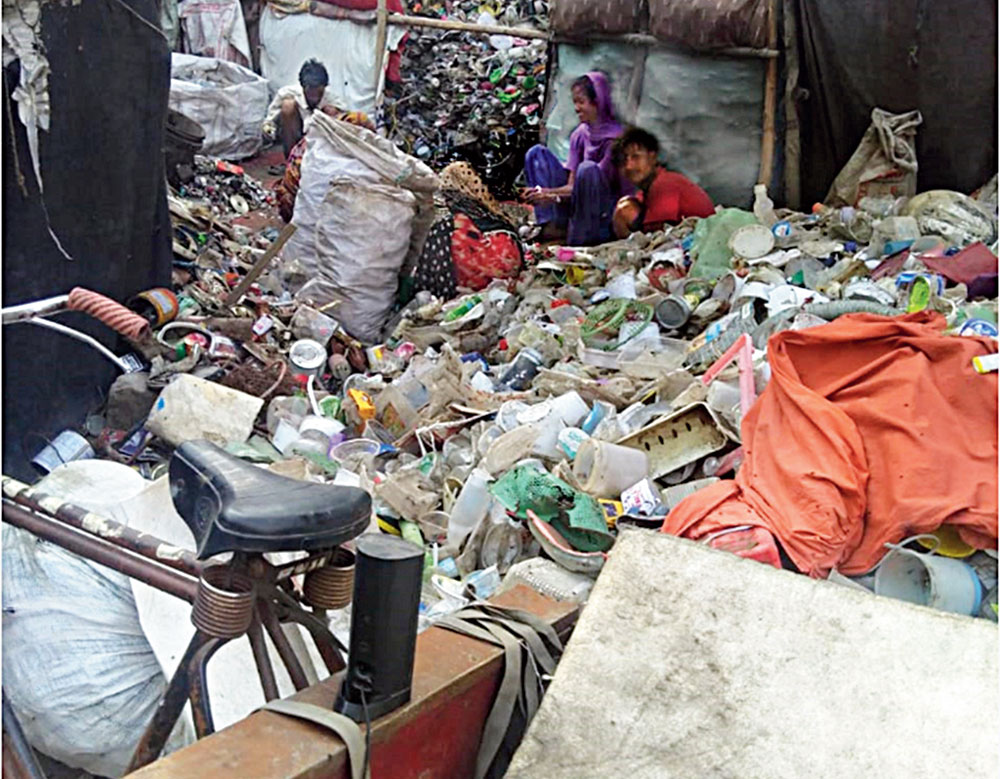 ---
---
"My name is Rafique Sheikh." The 70-year-old resident of north Delhi's Jahangirpuri tells a meticulous tale, beginning at the very beginning: "We had a home in Midnapore's Mahishadal district. It does not exist anymore. My father was a farm labourer. When he died, I was 17 or 18. I had six other siblings. The youngest — a brother — was not even two years old at the time. Our eldest brother told us that he wouldn't be able to bear the responsibility of running the family. That was in 1971. I decided to try my luck in Delhi. The cost of a train ticket to Delhi at the time was Rs 55."
Rafique came to settle down along the dry bed of the Yamuna river. There were many others like him. All of them worked as coolies in the local markets. Says Rafique, "One day Suvra Mukherjee, the late wife of Pranab Mukherjee, visited the area. Pranabbabu was a central minister. We met Madam and requested her to help us get ration cards. We also told her that we were homeless. She asked us to meet her husband. He organised our ration cards within a day. He spoke to Indira Gandhi and, in 1976, we shifted to Jahangirpuri."
And that is how, around the garbage dump of Jahangirpuri — referred to as the khatta by locals ever since one can remember — Rafique and his family started to build a new life. They began to work as kabadis or garbage collectors. Today, thousands of people from all over the country depend on the khatta for a livelihood. Those from Bengal are from Midnapore, the Sunderbans, Howrah, Nadia. Rafique himself has built a five-storey house, where he lives with his wife, sons and grandchildren.
Inside the dumping ground in G-Block of Jahangirpuri, there is a garbage hill. It is actually a mountain; as high as a 26-storey building. For the greater part, the khatta is surrounded by barbed wire. In places the wire has been cut open by local people. They get in through the gap every day and climb the hill. On the southeast side, policemen stand guard at the entrance to the dump yard. All the garbage trucks from Delhi get inside the dump through this gate. They also use this gate to leave the place.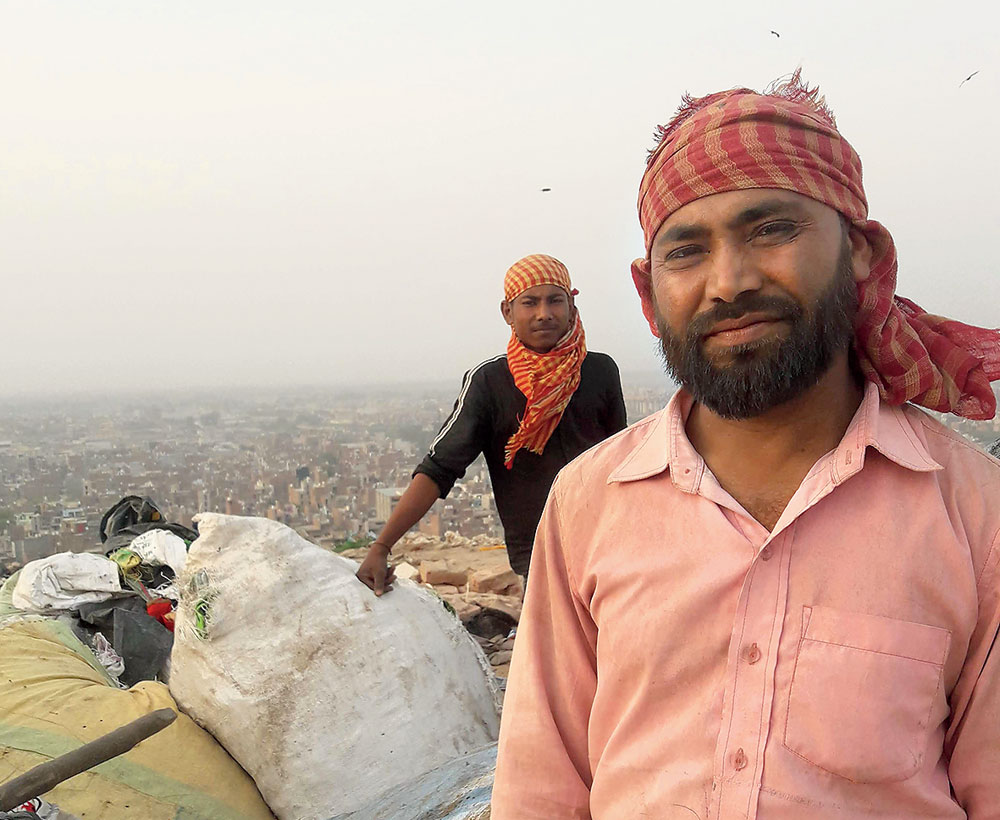 As I climbed up the garbage mountain, it reminded me of the Ayodhya Hills of Purulia. The trucks trundling up the winding pathway. Their massive wheels raising dust. The putrid stench of garbage mingled in the air. The fleas buzzing away.
No one is allowed to get inside or climb the garbage hill and yet I came across hundreds of ragpickers making their way up. If anyone should accidentally get buried inside the dump, no one can be held accountable, no authority would be answerable. Four years ago, three people died; the police didn't file a case against anyone. No one recorded the deaths. After all, these people who work in the dump yard are not registered as workers. You might ask why then do they risk so much, and the answer would be livelihood.
Kabadi workers are of two types. Type 1 constitutes those who go from door to door collecting garbage and waste materials and earn around Rs 7,000 a month. The Type 2 worker sorts the garbage from the khatta and can earn up to Rs 15,000 a month.
Ragpickers working in the dump yard don't have to carry the sorted waste to wholesalers. Why? Because many a wholesaler is actually living and working out of the khatta. Saidul Sheikh from Tamluk in Midnapore is one such wholesaler. He's been here for the past 10 years. He had arrived in Jahangirpuri with his wife and mother to work as kabadiwalas, but then they turned into wholesalers. His wife and mother don't work now. He has bought a home in Swarupnagar and is extremely happy with the way his life has panned out and has no intention whatsoever of returning to Midnapore.
Saidul tells me that it doesn't make sense to drive a big truck to the top of the garbage mountain if you don't have enough stuff. And that is why he prefers to wait for two to three days at the summit with the truck till he has collected enough. He has made a temporary home there out of asbestos and plastic sheets, flex signs and cardboard pieces. He sleeps on a discarded cot collected from the dump and cooks his food on the hilltop.
The moment a truck loaded with garbage reaches the summit, there's a mad rush of men, women, children, dogs, cows. And trucks exit and enter almost all the time, except for two hours in the morning (6am to 8am) and an hour at night (8pm to 9pm). The electric line pierces through the dump to reach the top. Sometimes, ragpickers get electrocuted when they accidentally come in contact with the live wires. But who's to know, and who's to take cognisance? As far as legalities are concerned, these people are not supposed to be here in the first place.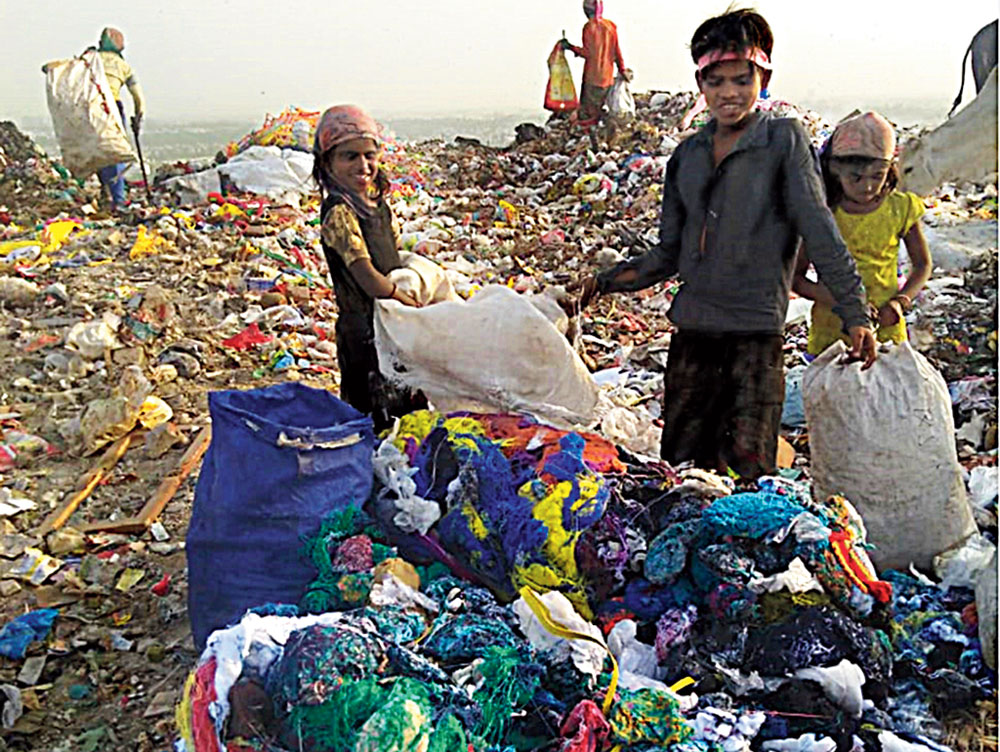 Saidul shares with me the wholesale rates of some of the items collected from the dump —
Rs 30 for mineral water bottles, Rs 4 for black plastics, Rs 8 for soles of shoes, Rs 20 for shoelaces, Rs 3,000 for women's hair, all sold by the kilo. Some of this, like discarded chapatis, are bought by companies that make animal feed.
Nothing goes to waste in this wasteland. Saidul himself sends all the plastic waste to a factory in Ghaziabad. He usually hires a truck when he's able to gather at least two tonnes of waste. If it's less than that he has to hire a smaller vehicle. The factory uses the material he supplies to make drums for water storage.
There's a different category of people who load and unload goods in the khatta. These people earn about Rs 500 per day, working about eight hours a day on an average. Manirul Sheikh of Swarupnagar, is one such person. He arrived here from Geonkhali in the Sunderbans 16 years ago. He has built a pucca house, has got his daughter admitted to an English medium school.
Amidst all that garbage I also made acquaintance of Ganesh Dhara. He runs this very clean shop amidst all the stench and rot. It sells daily grocery items including greens. There is a woman with him, possibly his wife. She makes a sweet milky tea. They look very happy in each other's company, very content.
After a long chat, I learn that they are from Haldia in Midnapore. The woman ran a hotel there and Ganesh used to work for her. Then one day the road was widened and the unauthorised shack of a hotel was torn down. But these indomitable two decided to try their luck in Delhi. They set up the shop by the khatta and now it's doing booming business. Their customers are the ragpickers.
And no, it turns out, they are married, but not to each other. Ganesh has a wife and two children in his village home. The woman has a husband and children. They send money to their respective homes. And in the meantime, as they make a living, they live a contented life in each other's borrowed company — very much aware of their rotting setting, drawing sustenance from it even, all of it sweetened perhaps by their enthusiasm and affection.
The writer is a former Physics teacher-turned-writer and ethnographer. At one time he used to organise football tournaments in remote villages in Bengal, and that is how he came to meet different kinds of people and learn about their life experiences. His novels and short stories are based on these. From his frequent visits to the Sunderbans he knows several families of kabadiwalas and has even lived with them. With their help he managed to get inside the khatta in Jahangirpuri, where he lived for a week. This article is an offshoot of that experience.