Health networks ring caste bias alert
Call to colleges to take urgent action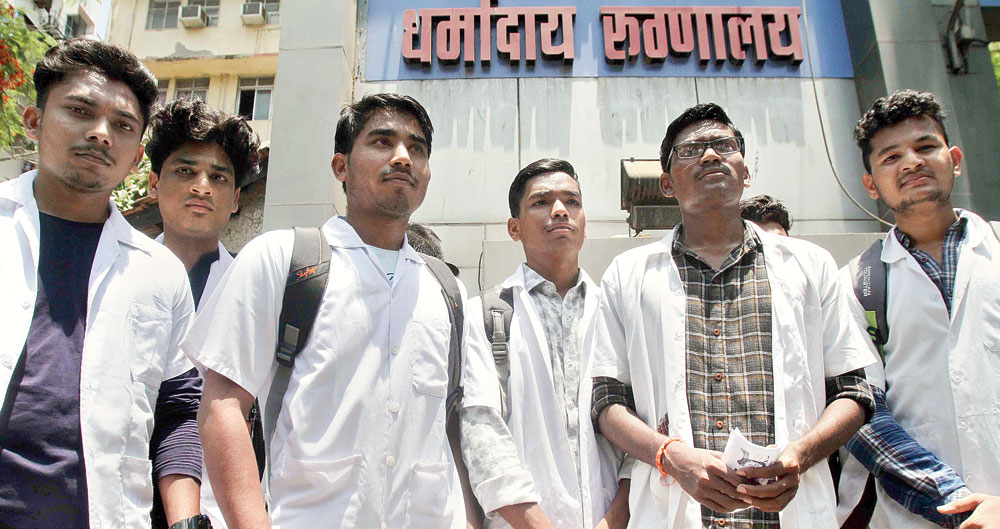 Doctors in Mumbai on Tuesday stage a protest at the hospital where Payal worked
(PTI)
---
New Delhi
|
Published 29.05.19, 01:16 AM
|
---
Two health networks on Tuesday called on medical education institutions to take steps to protect their students from caste-based discrimination that allegedly led a young doctor to commit suicide in Mumbai on May 22.
The Jan Swasthya Abhiyan (JSA) and the Medico Friends Circle (MFC) have labelled the suicide of Payal Tadvi, a doctor from an Adivasi community pursuing postgraduate studies in gynaecology at the Topiwala National Medical College, Mumbai, as "institutional murder".
"We demand urgent action against the caste oppression and humiliation by upper caste senior doctors which forced Dr Payal to commit suicide," the JSA and MFC said in a statement.
The JSA and the MFC, networks of physicians, public health specialists and health activists, said "the rampant ingrained casteism and impunity in educational institutions must be recognised and stopped".
Family members have said Payal, who was a second-year resident doctor in the obstetrics and gynaecology department, had experienced harassment and discrimination from fellow doctors who had also disallowed her from performing operations or conducting deliveries.
"This tragic incident highlights the deep-rooted caste-based discrimination and abuse that continues even today in our medical education institutions," said V. Deepa, a member of the MFC.
Payal had completed MBBS from the Government Medical College, Miraj (Maharashtra), and joined the TNMC, a college run by the Brihanmumbai Municipal Corporation, in 2018. She was the first doctor in her family and the first woman from her community to pursue post-graduation, the JSA-MFC statement said.
The hospital has suspended the three doctors who had allegedly harassed Payal.
"The hospital did nothing when she complained," said Mariam Dhawale, the general secretary of the All India Democratic Women's Association who was told by hospital authorities on Tuesday that they would recommend that the accused doctors' university registration be cancelled.
"Like many other medical colleges and educational institutions, the TNMC had no mechanism where victims of caste discrimination can complain," Dhawale said. Under guidelines, higher educational institutions need to have anti-discriminatory cells.
The JSA-MFC statement said Adivasis, Dalits, Muslims and other marginalised communities were poorly represented in the medical community.
"Those who manage to overcome hurdles of institutional discrimination experience harassment and abuse by casteist medical fraternity and leadership in institutions," it said.
Eight years ago, a three-member expert committee led by former UGC chairman S.K. Thorat had documented caste-based discrimination at the All India Institute of Medical Sciences, New Delhi. The committee had noted that discrimination manifests itself as "avoidance, contempt, non-cooperation, discouragement and differential treatment by teachers towards these students".
The committee had found that over 80 per cent of students belonging to the Scheduled Caste or Scheduled Tribe communities reported experiences of social isolation and violence in various forms.