Delhi reports first monkeypox case with no travel history
WHO says virus is transmitted from infected animals to humans via direct or indirect contact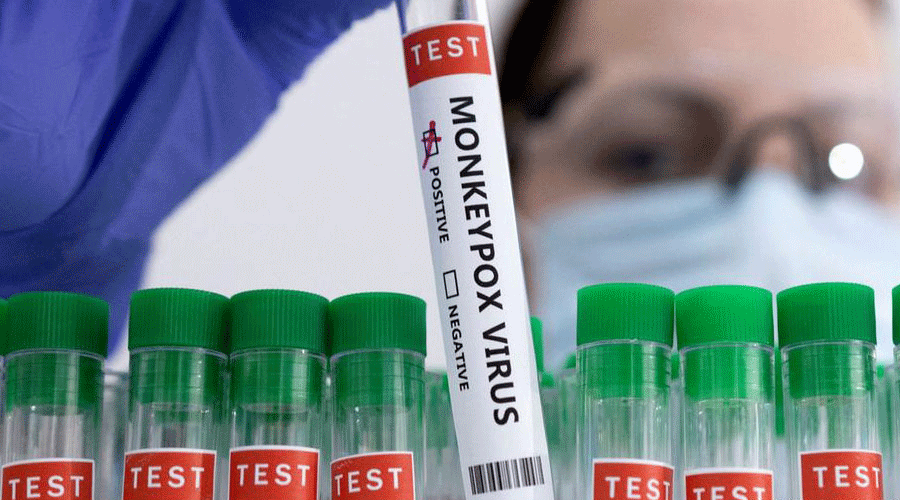 Representational image.
File photo
---
New Delhi
|
Published 25.07.22, 01:15 AM
|
---
Health authorities on Sunday reported India's first monkeypox case with no international travel history, a 34-year-old Delhi man, triggering concerns about possible undetected spread in the country. 
The National Institute of Virology, Pune, has confirmed monkeypox in the man who is currently recovering in a designated isolation centre at the Lok Nayak Hospital, New Delhi, the Union health ministry said. The three other cases reported earlier in India, all in Kerala, were people who had returned from abroad.
Public health teams have identified the Delhi patient's close contacts, expanded contact tracing efforts and are now trying to determine the possible source of the infection, the ministry said. Health officials are also trying to sensitise private doctors about the need to test suspected cases.
World Health Organisation director-general Tedros Adhanom Ghebreyesus had on Saturday declared the monkeypox outbreak — more than 16,000 cases in 75 countries in the past three months — as an international public health emergency, citing its rapid spread and new transmission modes. The WHO had recorded five deaths worldwide until Saturday.
Evidence until now suggests that the outbreak has been concentrated among men who have sex with men. A 16-country study of 528 patients published in the New England Journal of Medicine on Friday had found that 98 per cent of patients were gay or bisexual men.
The health ministry did not provide any details of the Delhi patient, but a PTI report quoting "official sources" said the man had recently attended a stag party in Manali, Himachal Pradesh.
Experts said the absence of any foreign travel history indicated that the patient had likely picked up the infection within the country, possibly from another infected patient who remains undocumented.
The WHO has said the monkeypox virus is transmitted from infected animals to humans via direct or indirect contact. Human-to-human transmission may occur through direct contact with infectious skin or lesions, face-to-face or skin-to-skin contact and respiratory droplets.
"The Delhi case is intriguing because it suggests the infection is already here within the country," said Ishwar Gilada, an infectious diseases expert in Mumbai who earlier this week had urged the Centre to label monkeypox as a sexually transmitted infection.
"Classifying it as a sexually transmitted infection would allow public health resources and containment efforts to be focused in a targeted manner on vulnerable groups such as men who have sex with men," Gilada told The Telegraph.
Virologists say current patterns of monkeypox transmission — primarily through close physical contact, including sexual contact — suggest outbreaks should be easy to contain through rapid and efficient case detection, isolation and contact tracing.
But, experts say, the speed of public health responses to outbreaks would be critical. "India's high population density and the potential for spread through droplets is a matter of concern," said Shahid Jameel, a top virologist and currently a fellow at the Green Templeton College, University of Oxford.
Monkeypox — which causes symptoms similar to smallpox but with less severity — has been known since the 1970s to cause occasional outbreaks in central and western Africa. But several aspects of the current outbreak since April this year have puzzled scientists.
It is unclear why an infection that had been largely confined to central and western Africa for decades has spread worldwide within months this year, why the current outbreak is concentrated among gay and bisexual men, and why clinical manifestations are different this time.
The Indian health ministry had on May 31 this year released guidelines urging states to look out for suspected cases in hospitals, skin-care and sexually transmitted disease clinics, and outpatient departments and keep isolation facilities ready. The guidelines had also urged states to start targeted surveillance at sites identified by the National AIDS Control Organisation for men who have sex with men.
The smallpox vaccine can protect people from monkeypox because the monkeypox virus is closely related to the virus that causes smallpox but, scientists say, there is a global shortage of the vaccine.
"Given the global constraints in vaccines for this neglected tropical infection, prevention remains a key tool in limiting the global spread of human monkeypox," said Chloe Orkin, professor of HIV medicine at Queen Mary University, London, a co-author of the 16-country study.