Hate speech: Supriya Shrinate asks judiciary to introspect
What the courts have said recently compels us to ask questions: Congress spokesperson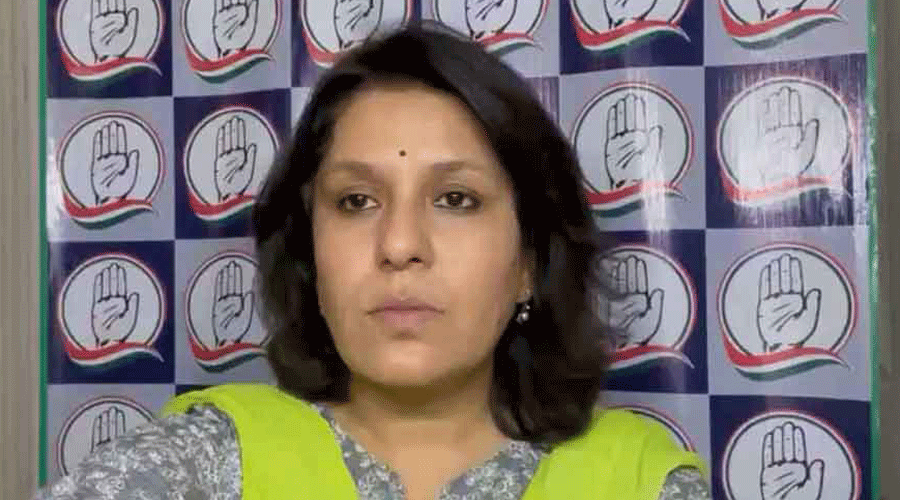 Supriya Shrinate.
File photo
---
New Delhi
|
Published 01.04.22, 03:37 AM
|
---
Congress spokesperson Supriya Shrinate has asked the judiciary to introspect, citing a Delhi High Court judge's observation during a hate speech hearing last week that something said "with a smile" entails "no criminality".
Several retired judges and senior lawyers have expressed dismay at the March 25 observations by Justice Chandra Dhari Singh, who was quoted as saying: "If you're saying something with a smile then there is no criminality. If you're saying something offensive, then definitely (there is criminality)."
Saying this, Justice Singh had reserved his verdict on a petition from Left leaders seeking FIRs against Union minister Anurag Thakur and fellow BJP parliamentarian Parvesh Verma for allegedly delivering hate speeches in the run-up to the February 2020 Delhi riots.
"What the courts have said recently compels us to ask questions," Shrinate said in a video message.
"Thakur gave the slogan 'Goli maro salon ko (Shoot the *** traitors)….' The court says if this is said with a smile, it is not such a problem. What is this logic?"
She added: "If somebody comes with a knife or a pistol and kills, will the court apply the same yardstick? Riots broke out in Delhi after those slogans. This was an act of spreading hate."
Senior lawyer Abhishek Singhvi told The Telegraph: "The judgment would likely be held erroneous on appeal for the simple reason that facial expression when doing an illegal act is irrelevant.
"For example, slapping someone with a smile cannot avoid the direct intention and context associated with a slap. Similarly, intention has to be judged by context and content, not by subjective tests of visual appearance, etc. If the content is culpable, no graceful style of delivery of objectionable content will prevent it being characterised as a crime."
Justice Singh had argued that many things are said during poll campaigns only to create a "mahaul" (atmosphere) without any evil intent.
"You have to check and balance. Otherwise, I think 1,000 FIRs may be lodged against all politicians during elections," he had said.
Thakur and Verma had made the alleged hate speeches during the campaign for the February 2020 Delhi elections, held about a fortnight before the riots broke out.
A retired Supreme Court judge, Justice Madan Lokur, told a news portal: "The logic is startling. You can't have classifications of hate speech. (The argument that) it is a crime if spoken in a certain atmosphere and not a crime when spoken during election or festival — it doesn't reduce the criminality."
Neither the Indian Penal Code (IPC) nor the Election Commission's model code of conduct appears to give any importance to facial expressions or manner of delivery in the interpretation of what constitutes hate speech.
Section 153A of the IPC criminalises statements, speeches or acts that threaten to disturb public tranquillity or law and order by promoting enmity or creating fear or alarm among classes of people on the basis of religion, caste, language or place of birth.
The model code of conduct prohibits parties and candidates from doing anything that might aggravate existing differences or create mutual hatred or cause tension among different castes, communities, religious or linguistic groups.
While Thakur had allegedly chanted "Desh ke gaddaron ko…" while criticising anti-citizenship-act protesters, Verma has been accused of telling a gathering that those assembled at Delhi's Shaheen Bagh would enter their homes to commit rape and murder.
Shrinate cited another judicial pronouncement relating to the Sulli Deals and Bulli Bai mobile apps that sought to mock-auction Muslim women. Chief metropolitan magistrate Pankaj Kumar had granted bail to Aumkareshwar Thakur, alleged creator of the Sulli Deals app, on the ground that he was a "first-time offender and prolonged incarceration could be detrimental to his overall well-being".
"Did the court think about the feelings of the women whose photographs and phone numbers were used for the auction? Their dignity, respect have no value?" Shrinate said.
"What about those students and innocent citizens who were kept in jail for months for raising their voice to protect their rights and opposing CAA-NRC? That didn't affect their overall well-being? The 85-year-old Stan Swamy died in custody. Why this double standard?"
Swamy, 84, an ailing Jesuit priest and tribal rights defender, died in custody at a Mumbai hospital, waiting for bail, nine months after being arrested in a Maoist conspiracy case.
"What is happening to this country? Where will this lead us to?" Shrinate said.
"In Karnataka, Muslim vendors are asked not to set up shops near temples. This is a country where Hindus worship idols made by Muslims. Banarsi saris made by Muslim weavers are offered to goddesses.
"What will happen to the Indians working in foreign countries if there are violent repercussions? The government will have to deal with these questions, but the judiciary too needs to introspect."