'Hasina return important for India and secularism'
Shahriar Kabir, the most important secular voice in Bangladesh, discusses the situation in an interview with The Telegraph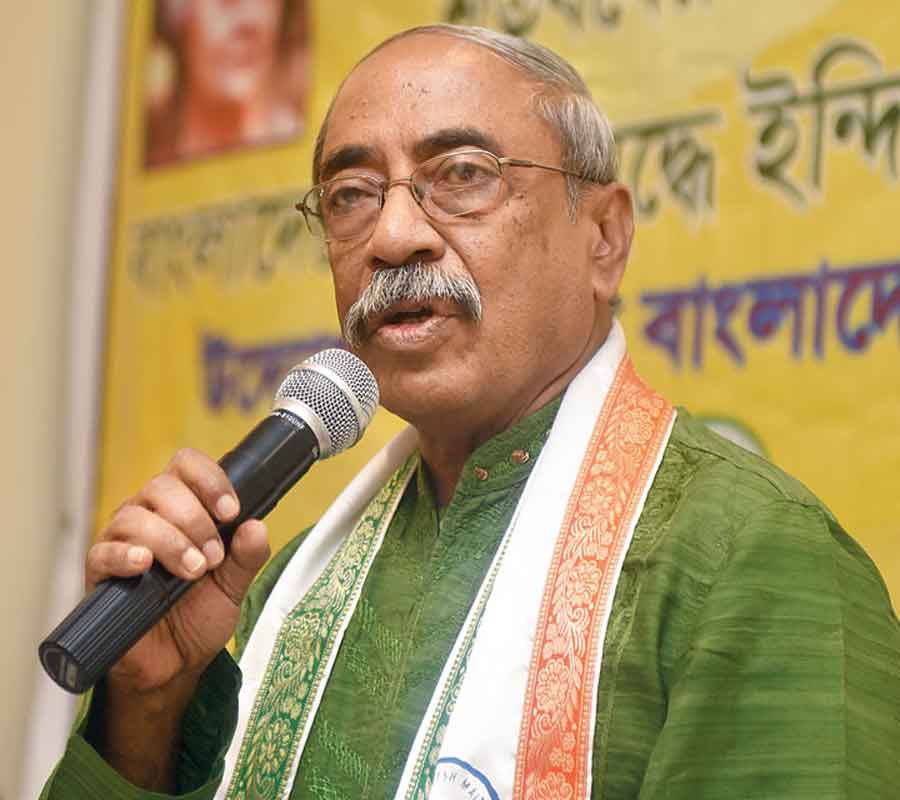 Shahriar Kabir.
File photo
---
Published 05.09.22, 01:55 AM
|
---
Bangladesh politics is heating up with the BNP-led Opposition's resurgence ahead of the general election, due next year. Shahriar Kabir, the most important secular voice in Bangladesh, discusses the situation with Subhoranjan Dasgupta and Tapas Das.
Q: Led by the BNP, the Opposition has shaken off its long stupor and stormed Dhaka's streets against the price rise. Will its belligerence last till next year's elections?
Shahriar: It has to be admitted that after more than a decade of non-resistance and submission, the BNP-led Opposition has staged a massive protest in Dhaka against the Awami League dispensation. The reason or cause behind this agitation — the unprecedented rise in the prices of petrol and essential commodities — is, of course, proper and righteous. But this demonstration, in which hundreds participated, will be difficult to sustain till the next election, due in December 2023.
Why? Because there is no serious issue other than price rise that can galvanise the Opposition…. As far as the alarming price rise is concerned, this is a worldwide phenomenon that has struck Bangladesh along with many other countries like India. But neither Bangladesh nor India started the Russia-Ukraine war.
Besides, the price escalation in Bangladesh will not last long because its economy, despite surging ahead in the industrial sphere, is predominantly agricultural. Bangladesh produces its own rice, wheat, pulses, oilseeds, vegetables and other essential commodities.Once harvesting begins in November with the celebration of Nabanna, there will be a steady supply of fresh articles from the fields to the urban centres and the prices will fall considerably. In other words, what we witnessed two weeks ago — the massive agitation — will remain a flash in the pan.
Q: Apart from the price rise, a most undiplomatic statement by the foreign minister has added fuel to the fire. The Awami League is clearly on the defensive.
Shahriar: There is no doubt that A.K. Abdul Momen, foreign minister of Bangladesh, committed a diplomatic blunder by stating in public that "I have been to India and have told my Indian friends that they should not leave any stone unturned to ensure the Awami League's victory in the election next year". Such explosive utterances can be made indoors but not in public.
Of course, the Awami League was caught on the wrong foot and had to adopt a defensive attitude. From Obaidul Kader, Awami League general secretary, to other important politicians, everyone clearly stated that the foreign minister had no right to speak in this manner because it amounted to direct acceptance of foreign intervention in the political affairs of Bangladesh.
India, as such, has no role in Bangladesh elections and no duty to sustain Sheikh Hasina's governance. But at the same time, contemporary geopolitics demands that Sheikh Hasina be voted back to power for the well-being of India and the entire subcontinent, which needs to remain secular and democratic.Whenever such avoidable controversies arise, we need to go back to Bangabandhu, who gave all credit to the powers that helped the freedom struggle — especially India and Russia — but said categorically that they would not be allowed to dictate Bangladesh in political and administrative matters. The incumbents are determined to follow this basic principle.
Q: The Awami League government wants to import EVMs from India. The Opposition has rejected this proposal and advocated continuing use of the age-old ballot paper system. Will this lead to another violent confrontation?
Shahriar: This, frankly speaking, is a non-issue and should not lead to any violent confrontation. While the Opposition is demanding a complete return to the age-old ballot-in-the-box system, the government has selected 150 seats for EVM counting while saying the remaining 150 seats will depend on the ballot-in-the-box.In today's fast-moving world of technology, we simply cannot reject the computer and adopt a system totally dependent on feathered quills.
Q: Ahead of Sheikh Hasina's imminent Delhi visit, many voices are suggesting that India should redraw the areas of cooperation and focus on new steps to invigorate the bilateral relationship. In short, that Delhi's attitude and conduct should strengthen Sheikh Hasina's position in an election year. What can India possibly do?
Shahriar: At one level, I certainly feel irritated — to say the least — when I hear statements such as "India should help Bangladesh even more" or "India should redraw its map of assistance and cooperation to help Bangladesh".
The basic question is, what has India not done for Bangladesh? Its soldiers laid down their lives in thousands during the Liberation War. Had India, helped and guided by the Mukti Bahini, not intervened in such a drastic manner, Bangladesh would not have attained freedom in nine months.
Second, despite its own grave difficulties, India gave shelter and care to almost one million refugees (from Bangladesh). If certain elements in Bangladesh refuse to acknowledge this massive cooperation, I would call these elements "gaddar" (traitor) or "nimak haram" (ungrateful).
At the same time, when I consider the appeal for more help from another angle, I do think that the two countries should take steps to strengthen the amity between them.
Two important areas where they should and can work together, for their own betterment and that of the entire subcontinent, are the Rohingya crisis and the harnessing of the Teesta's waters for both Bangladesh and India. I firmly believe that the Teesta issue should be resolved before the election and a comprehensive Teesta Accord, reminiscent of the Ganga-Farakka Accord, signed.
We need a statesman like Jyoti Basu who had almost single-handedly carved out the Farakka Accord. Will the chief minister of West Bengal, Mamata Banerjee, display equally sagacious statesmanship?
I am aware of the multi-level discussions taking place to channel the flow of 54 rivers. I congratulate this effort. But unless and until the Teesta problem is settled, altercations and disputes will continue. No wonder, Sheikh Hasina has pointedly invited Mamata Banerjee for a discussion in Delhi during her visit.
On the Rohingya problem, it's clear that the Myanmar junta will not accept their return. Bangladesh has clothed and nursed lakhs of Rohingya refugees since 2017; it cannot bear this burden any longer.
Already the impoverished Rohingyas in Bangladesh — and some of them in India — have begun responding to the appeals of jihadis and terrorists out of desperation. If something concrete is not done immediately, they will become a threat to security and secularism on the entire subcontinent.
So, what can be done? When Bhutanese refugees poured out of Nepal, many countries including some in the West had accepted them, easing the crisis. The same can be attempted with the Rohingyas. For example, the US can accept a certain number of Rohingya refugees, as it did with the Bhutanese. Other countries can follow the example.
India and Bangladesh should pull up their socks, appeal to the international community to step in, and resolve this dangerous problem once and for all.