Hardik Patel on Youth Congress radar
Sources said Hardik could be asked to shift to Delhi with an important assignment, probably as Youth Congress president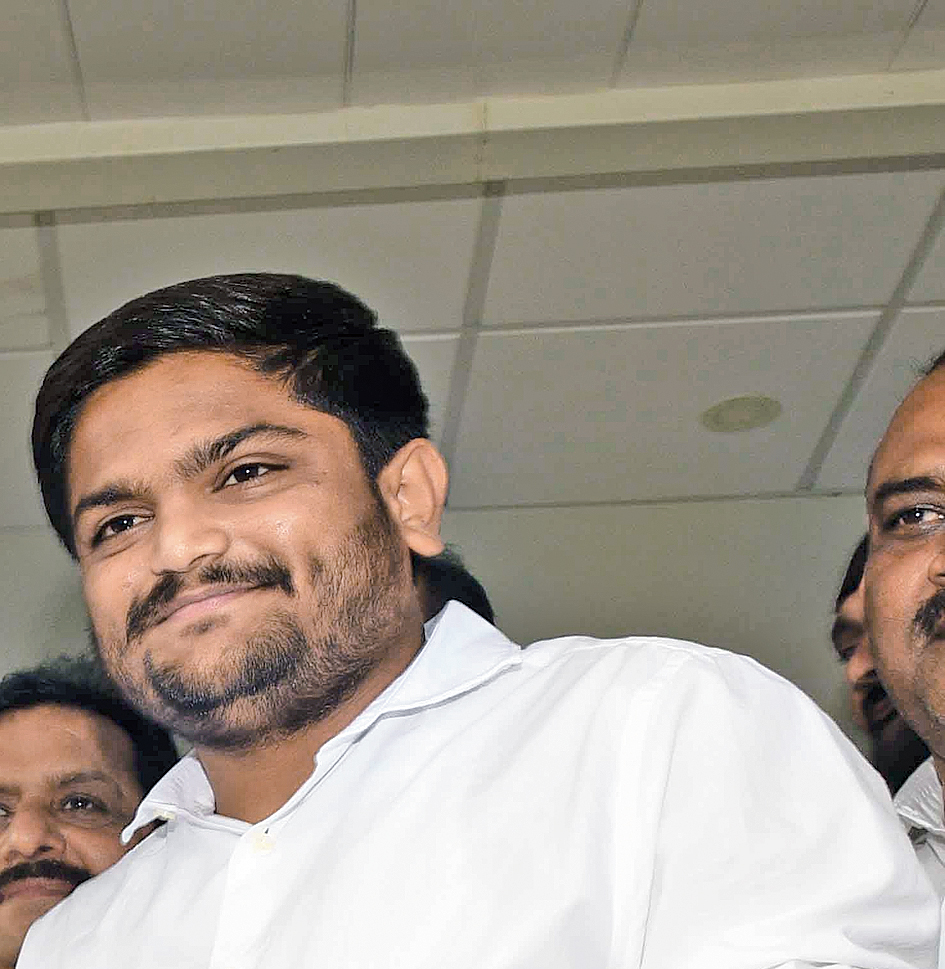 Hardik Patel
A file picture
---
New Delhi
|
Published 16.07.19, 08:46 PM
|
---
Young Gujarat leader Hardik Patel may be brought into national politics by the Congress which is awaiting drastic restructuring even as the selection of the new party president is likely to be delayed further.
Sources said Hardik could be asked to shift to Delhi with an important assignment, probably as Youth Congress president. The Youth Congress is headless after the incumbent, Keshav Chand Yadav, was unceremoniously removed a few days ago.
The 25-year-old Hardik, who shot into fame as the leader of the Patidar movement in Gujarat, joined the Congress just before the parliamentary election.
No decision has been taken so far but Hardik's name is in circulation and insiders feel there is a plan to bring him into national politics to inject some dynamism into the organisation.
The party intends to give him a bigger profile with the objective of building the future leadership. Several other younger leaders will be drafted into the high command structure in the coming months.
But the uncertainty and confusion about the leadership may drag longer as several leaders indicated that there was no consensus on any name so far. The sources had earlier hinted that the decision would be taken this week.
But there are no signs of forward movement and many leaders felt the decision could be pushed beyond the ongoing parliament session. The session ends on July 26.
Some essential decisions are being taken in the meantime. While Maharashtra election committees have been formed, decisions on Haryana may come in a few days. After Jyotiraditya Scindia's resignation as general secretary in charge of western Uttar Pradesh, the entire state has now been given to Priyanka Gandhi Vadra.
Surprisingly, the leaders do not reflect the sense of panic and urgency that is being felt by the middle-rung leaders and ordinary party workers.
Asked about the reason for the delay, one senior leader said: "It is almost impossible to reach a consensus on one leader who does not belong to the Nehru-Gandhi family. While nobody is mentally prepared to accept anybody else when Rahul Gandhi has established himself as the undisputed leader, any name suggested as replacement is struck down by others. Even on the principle — whether the leader should be young or experienced — no agreement has been reached."
Another leader said: "There was speculation about Mukul Wasnik being picked for the post of president. He indeed is a front-runner being the senior most general secretary. He has served as general secretary without a break for over two decades. But as soon as his name cropped up, leaders from Maharashtra, his home state are digging up skeletons to defame him. Even leaders from other states have sent complaints, forcefully opposing his candidature."
This leader added: "Some people have sent documents to show that his father Balkrishna Wasnik, despite being a Dalit himself, had run a campaign against Babasaheb Ambedkar. That controversy hounded Mukul Wasnik when he contested the elections. If he is made Congress president, Dalits are bound to be upset. Prakash Ambedkar, Babasaheb's grandson, is already hurting us in Maharashtra and this will be another tool in his hand."
Such campaigns are being run for other candidates too, rendering consensus-making impossible. There are many Dalit leaders in the fray — Meira Kumar, Mallikarjun Kharge, Sushil Kumar Shinde, Kumari Selja — and nobody has the stature to emerge as the obvious choice.
Some leaders suggest an open election instead of imposing a handpicked president as that would have greater credibility. In an election, the candidate list cannot be regulated and much stronger leaders may jump into the fray.
If election route has to be adopted, the process could be delayed by a few months.
The desperation among the workers is rising by the day and exodus of leaders and MLAs, as seen in Goa and Karnataka, could take place in other states as well. Suspicion about a similar coup in Gujarat, Madhya Pradesh, Rajasthan and Bihar is being expressed in hush-hush tones, and a longer phase of indecision could deepen the demoralisation.