There's a hole in FaceBucket… So fix it, Dear Ravi, Dear Ravi…
Prasad writes to Zuckerberg accusing officials of the company's India team of trying to 'discredit the country's democratic process' and 'abusing the PM and senior cabinet ministers'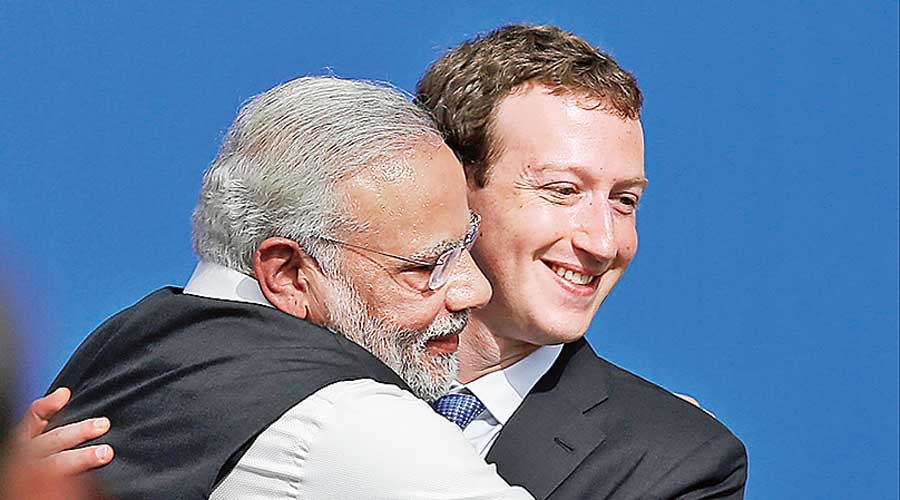 Prime Minister Narendra Modi locks Facebook CEO Mark Zuckerberg in a tight hug at the company's headquarters in Menlo Park, California, in September 2015.
AP File Picture
---
New Delhi
|
Published 02.09.20, 02:13 AM
|
---
Plug the leak, Dear Mark.
Union information technology minister Ravi Shankar Prasad has written a 900-plus-word letter to Mark Zuckerberg, extending best wishes to the Facebook CEO and his family and lecturing him on the perceived political beliefs of the company's employees.
After beating about the bush like a true commissar, Prasad comes to the point: "The spate of recent anonymous, source-based reports is nothing but an internal power struggle within your company for an ideological hegemony.
"No other logic can explain how facts are being spun by the selective leaks from within your company to try to portray an alternate reality. This interference in India's political process through gossip, whispers and innuendo is condemnable. This collusion of a group of Facebook employees with international media is giving a free run to malevolent vested interests to cast aspersions on the democratic process of our great democracy."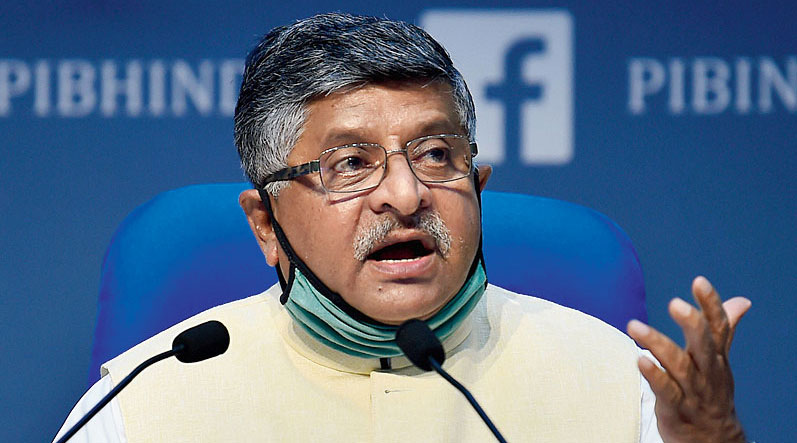 The Wall Street Journal and Time Magazine had recently published reports naming Ankhi Das, Facebook's public policy head for South and Central Asia, while reporting on how the social media giant had condoned hateful speeches of BJP leaders and how it had supported Narendra Modi's campaign.
Prasad, who is also Union law minister and a former information and broadcasting minister, wades into HR issues usually handled by company officials — not elected representatives, unless the area of operation happens to be North Korea.
"It seems from credible media reports that the Facebook India team, right from the India Managing Director to other senior officials, is dominated by people who belong to a particular political belief. People from this political predisposition have been overwhelmingly defeated by the people of India in successive free and fair elections. After having lost all democratic legitimacy, they are trying to discredit India's democratic process by dominating the decision-making apparatus of important social media platforms. Facebook is the latest tool in their arsenal to stoke internal divisions and social disturbances," the minister wrote.
The minister has not identified the media that purportedly published the "credible reports" about the domination of Facebook India by employees of a particular ideological slant.
Such comments on a company's staff should normally elicit a reply that politely seeks to convey "it is none of your business who we hire" but Zuckerberg so far has shown scant evidence of spine while dealing with strongman regimes.
The irony is unlikely to escape Zuckerberg: In the US, his company is accused of siding with the Right wing. In India, the Right wing is accusing him of siding with the Left and worse.
Prasad also did not explain why his party's MP Nishikant Dubey split procedural hair and objected to the decision by a parliamentary panel to call Facebook. Since Prasad's government has so many grievances against Facebook employees, the BJP should have been eager to grill Facebook in front of the House panel.
In the letter to Zuckerberg, Prasad comes up with another gripe: Facebook employees are "abusing the Prime Minister and senior cabinet ministers".
The BJP leader's letter does not mention specific instances of such abuse but merely says: "It is problematic when Facebook employees are on record abusing the Prime Minister and senior Cabinet Ministers of India while still working in Facebook India and managing important positions."
It is not clear why Prasad is taking such a benevolent step of writing a letter instead of sending law-enforcement agencies after those who allegedly abused the Prime Minister. Several such instances have been reported across the country when lesser mortals take out their anger on the Prime Minister.
Prasad also alleged unfair practices against the BJP during the last general election.
"I have been informed that in the run up to the 2019 General Elections in India, there was a concerted effort by the Facebook India management to not just delete pages or substantially reduce their reach but also offer no recourse or right of appeal to affected people who are supportive of the right-of-centre ideology. I am also aware that dozens of emails written to the Facebook management received no response. The… cases of bias and inaction are seemingly a direct outcome of the dominant political beliefs of individuals in your Facebook India team," the minister wrote in the letter.
Prasad alleged that "there have also been multiple instances recently where Facebook has been used by anarchic & radical elements whose sole aim is to destroy social order, to recruit people and to assemble them for violence".
"However, we are yet to see any meaningful action against such elements. Is this action also held back by the same vested interest groups who have an incentive in stoking political violence and instability in India?" the BJP leader said.
Prasad claimed that Facebook had outsourced fact-checking to "shady organisations with no credibility". He alleged that the fact-checkers "harbour publicly expressed political biases".
The minister had advice for Facebook. "As a transnational digital platform, Facebook must not only be fair and neutral, but also visibly seen to be so, to users of diverse beliefs and ideologies. Individuals working in any organisation may have their individual likes or dislikes, but that must not have any bearing on the public policies and performance of the organisation," he wrote.
Prasad signed off thus: "Facebook has been a novel experiment in democratising the expression of people and giving a platform to millions of ordinary citizens to freely express their views, connect, build communities, associate and communicate. I hope that you are cognisant that this experiment should not be allowed to be hijacked by a vested lobby that abhors free speech and tries to enforce one world view and rejects diversity."