#GoBackModi: How Twitter reacted to Modi's Chennai visit
The Prime Minister was in the city for the annual convocation at IIT Madras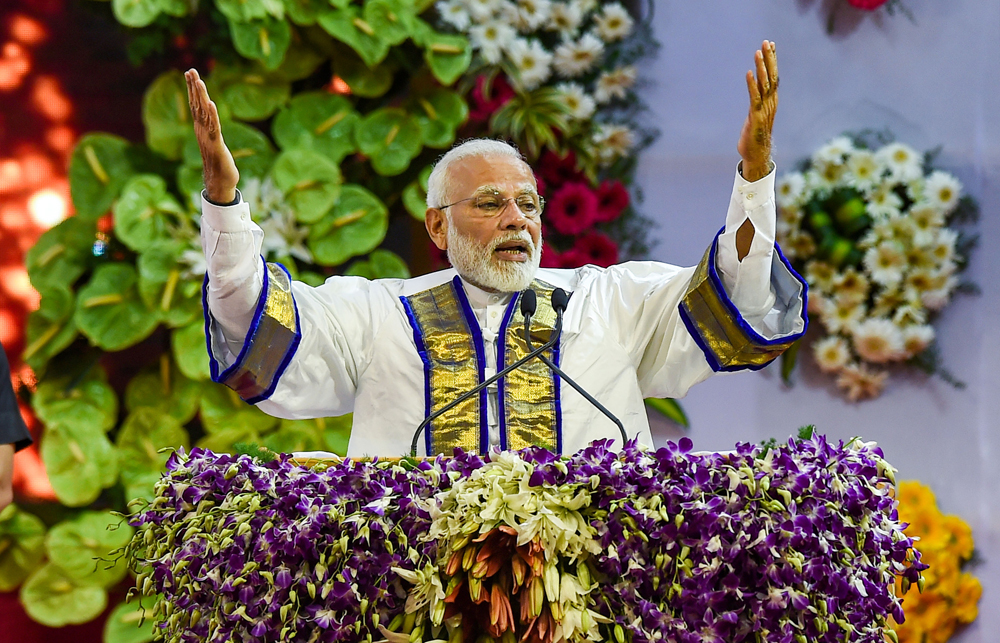 ---
---
Narendra Modi, who was in Chennai to attend the convocation at IIT Madras, said Tamil reverberated in the US after he quoted poet Kaniyan Pungundranar at the United Nations General Assembly.
The Prime Minister was speaking to people gathered at the city's airport.
Modi has made a number of references recently about the linguistic plurality of the country which appeared to be aimed at calming sentiments frayed by home minister Amit Shah's comment that Hindi should be the unifying language of India.
The home minister had posted a controversial tweet on September 14, 2019, saying it was imperative to have a national language and suggested that should be Hindi.

Tamils have always opposed the imposition of a different language on them. DMK leader M.K. Stalin had threatened to start a protest after Shah's comment. He retracted after the home minister said at an event in Ranchi that he had made a mere request on Hindi and did not want to belittle India's linguistic diversity.
भारत विभिन्न भाषाओं का देश है और हर भाषा का अपना महत्व है परन्तु पूरे देश की एक भाषा होना अत्यंत आवश्यक है जो विश्व में भारत की पहचान बने। आज देश को एकता की डोर में बाँधने का काम अगर कोई एक भाषा कर सकती है तो वो सर्वाधिक बोले जाने वाली हिंदी भाषा ही है। pic.twitter.com/hrk1ktpDCn

— Amit Shah (@AmitShah) September 14, 2019
Before Shah's comment on Hindi, the current government had attempted to bring a national education policy which suggested that Hindi be taught in states where the language is not spoken.
The sentence that was removed from the draft policy read: "Study of languages by students in the non-Hindi speaking states would include the regional language, Hindi and English." The revision in the draft was made after protests threatened to spread from Tamil Nadu to Karnataka.
Modi said at the airport on Monday: "While in America, I spoke in Tamil and said the language was one of the oldest in the world. Today, the language is reverberating in the whole of the US."
But by the time Modi spoke, #GoBackModi was trending on Twitter. The hashtag was used by users of the social media platform to post as many as 76,300 tweets, according to the data available on Twitter.
This is the dosa we Tamils will give you Modi. #gobackmodi pic.twitter.com/J3uIi4sIVu

— Savukku_Shankar (@savukku) September 30, 2019
There were some on the social media platform who were ardently hoping that Modi would go back:

How do you know Modi is visiting Tamil Nadu?#gobackmodi remains the top trend until he leaves. pic.twitter.com/7owOaHc4Nr

— Rofl Republic (@i_theindian) September 30, 2019
Some users wanted the IITs to remain neutral and cited the alleged attacks on higher education institutes in the country:

#gobackmodi

A govt that is destroying higher education in our country by demolishing UGC & AICTE and bringing some useless regulatory commission is unwelcome. Let our IIT's be neutral and really scientific

— G. Sundarrajan (@SundarrajanG) September 30, 2019
Referring to the Prime Minister's speech at the "Howdy, Modi!" event in Houston, one Twitter user wrote:

Everything is fine in India - Modi.!! But we are all not fine modi ji#gobackmodi pic.twitter.com/ZapOfyfx7S

— Pratiksha Lal Tripathi (@LalPratiksha) September 30, 2019
Others fell back on Tamil history to ask Modi to leave their state:

The land of Periyar Daa!! #gobackmodi pic.twitter.com/G66D0e4hkL

— 崙倫 (@sir_ruwy) September 30, 2019
Some users gushed about how the hashtag was trending:

Whenever they visit to TN
Twitter be like #gobackmodi pic.twitter.com/QIDd4HNIhZ

— mohd zahid (@mohdzahid12) September 30, 2019