Glare on 'chat' in front row
Political invitees at Rajpath didn't miss Gadkari's apparent bonhomie with Rahul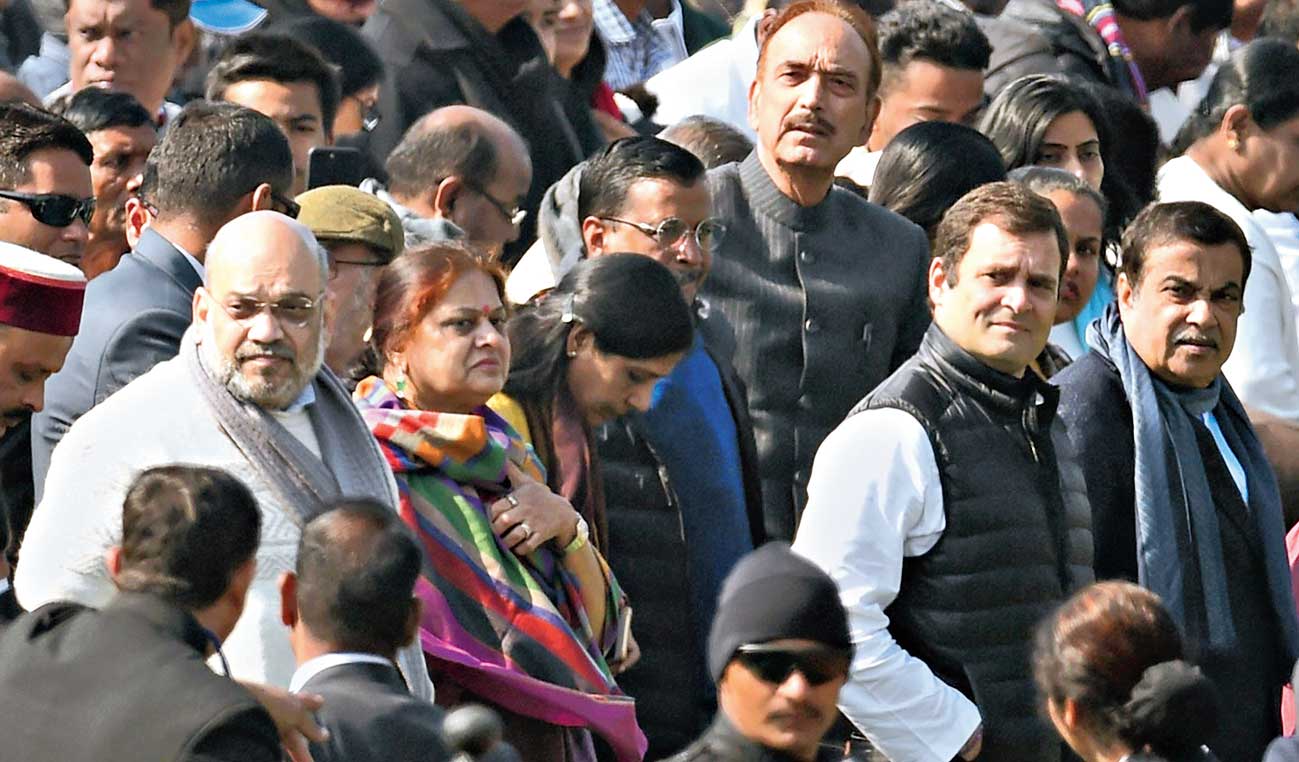 ---
New Delhi
|
Published 26.01.19, 08:21 PM
|
---
Union minister Nitin Gadkari, in the news recently for comments apparently aimed at telling the BJP's top brass to take responsibility for electoral reverses, was seated beside Rahul Gandhi during the Republic Day parade on Saturday and was spotted immersed in a "friendly chat" with the Congress president.
The two sat in the front row, with BJP president Amit Shah seated three seats to Rahul's right. At last year's Republic Day parade, Rahul had been allotted a fourth-row seat, inviting protests from the Congress.
On Saturday, political invitees at Rajpath didn't miss Gadkari's apparent bonhomie with Rahul, given the senior BJP leader's statements in the recent past.
Earlier this month, at an event in his constituency Nagpur, Gadkari had called former Prime Minister Indira Gandhi, Rahul's late grandmother, a model of women's empowerment.
Last month, while delivering the Intelligence Bureau endowment lecture in Delhi, he had underlined why a party chief should be held responsible if MPs and MLAs did not perform well.
"If I am the party president and my MLAs are not doing well, my MPs are not performing, then who is responsible?" Gadkari had asked. "I am," he had replied. "What have I done to groom them?"
Although Gadkari did not mention his party or its election defeats in Madhya Pradesh, Rajasthan or Chhattisgarh in the latest round of Assembly elections, the comment was seen as a jibe at Shah.
It came days after he had said that leaders should accept responsibility for defeats. "Success has many fathers but failure is an orphan, as when there is success, there will be a race to take credit but in case of failure, everybody will start pointing fingers at each other," Gadkari had said in Pune.
Shah and Prime Minister Narendra Modi have not accepted responsibility for the three election defeats, choosing to play them down.
The minister for road transport and highways, considered close to the BJP's ideological parent RSS, has made other politically loaded comments too. "You can't win elections only because you speak well. One who thinks he knows everything is mistaken. People should refrain from artificial marketing," he had told the IB event.
The comment appeared an indirect swipe at Modi, who is known for repeatedly projecting his government's achievements as something no past government has matched.
Gadkari is widely seen as a potential candidate for Prime Minister who would be more acceptable to allies than Modi if the BJP fails to secure a majority on its own in the upcoming Lok Sabha elections. He is also known to have an "excellent rapport" with many Opposition leaders.
Stray voices from within the Sangh parivar and the Shiv Sena, the BJP's oldest but increasingly critical ally, have already demanded that Gadkari be projected as the NDA's prime ministerial face for 2019.