Girl who pulls rickshaw during lockdown: can't let my family die
It should be illegal under child labour laws for Nandini to do any kind of work, let alone one she says she finds exhausting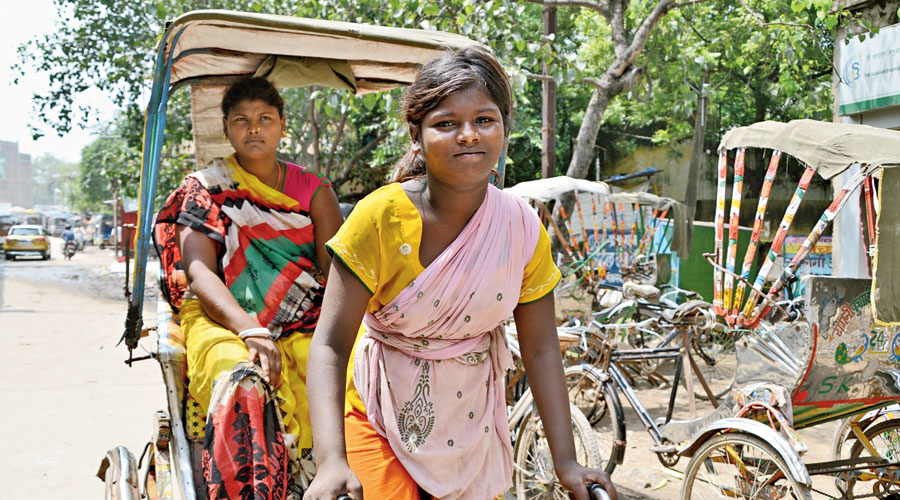 ---
|
Patna
|
Published 03.08.20, 03:20 AM
---
The lockdown has robbed many of their jobs. But it has landed Nandini Kumari of Sasaram city with one — pulling rickshaws.
It should be illegal under child labour laws for Nandini to do any kind of work, let alone one she says she finds exhausting.
"But what can I do, I can't let my family die of hunger," says the perky girl, surprisingly articulate for one whom her parents never sent to school.
Nandini has mother Puja Devi and three younger siblings — two sisters and a brother — to look after. Her stepfather Prabhu Kumar helped the family survive the lockdown before leaving for Uttarakhand to find work during the "Unlock". He hasn't sent any money since.
Nor has the family a ration card — a common complaint in Bihar where updating or acquiring ration cards is a challenge mired in paperwork and bribe demands.
With the family on the brink of starvation, Nandini contacted a "seth" (businessman) who owns several rickshaws and gives them on rent to those willing to ply them.
"I have to pay him Rs 50 daily. After that I take home around Rs 60 to 70," Nandini says.
She adds that she can only earn this much as she gets tired after a few trips.
"Nobody ever helped us; no government official came to us. We never received money or rations during the lockdown; we have to buy food grain from shops."
So, every morning these past three weeks Nandini has been on the streets of Sasaram, around 160km southwest of Patna, looking for fare. Her pink dupatta is slung across her left shoulder and tied tightly around her waist — she feels it gives her more power to pull the rickshaw.
"I avoid heavy passengers; I make an excuse saying I have to go off to eat. I prefer women passengers," Nandini says.
But she complains that every passenger pays her less than the usual fare. "I never get more than Rs 30 for a trip. People say they have no more money and run away."
Can't her mother work, instead? "Arrey, woh aurat jaat hai, woh kya kaam karegi? Ghar par hi rahti hai aur sab ka dekhbhal karti hai (She's a woman, how can she work? She stays at home and takes care of everybody)."
Seeing the look on this reporter's face, she breaks out in giggles — it was a joke.
Nandini and her stepfather used to clean toilets at homes, the local court and offices, but that avenue for livelihood vanished when the lockdown began in March.
"I used to earn Rs 20 to 30 at each place," she says.
She seems a willing talker. The family lives in a hut that encroaches on government land near a railway flyover. The owner allows them to stay for free on condition that they take care of the hut.
"The roof leaks whenever it rains. But we have nowhere else to go."
Told about a child pulling a rickshaw, Rohtas district magistrate Pankaj Dixit expressed surprise.
"You are the first person to tell me about this. I shall get an enquiry done and provide all help to the family under the government norms," he said.
Nandini says she doesn't like pulling a rickshaw.
"But I don't want to go to school, either, because I have to take care of the family. If I get any house cleaning work, which I do well, I think I can earn up to Rs 15,000 a month," her eyes twinkle.
She can't really explain how sweeping and scrubbing floors can bring her so much, but she hasn't time to talk any more.
As she climbs onto the rickshaw-puller's perch, she suddenly seems to remember an earlier mention of child labour laws.
"You won't complain against the seth, will you," the canny kid asks anxiously, before starting to pedal.