Gig workers: Long hours, little pay, scant security
Delivery team, beauticians' lives ruled by phone calls and sprints to customers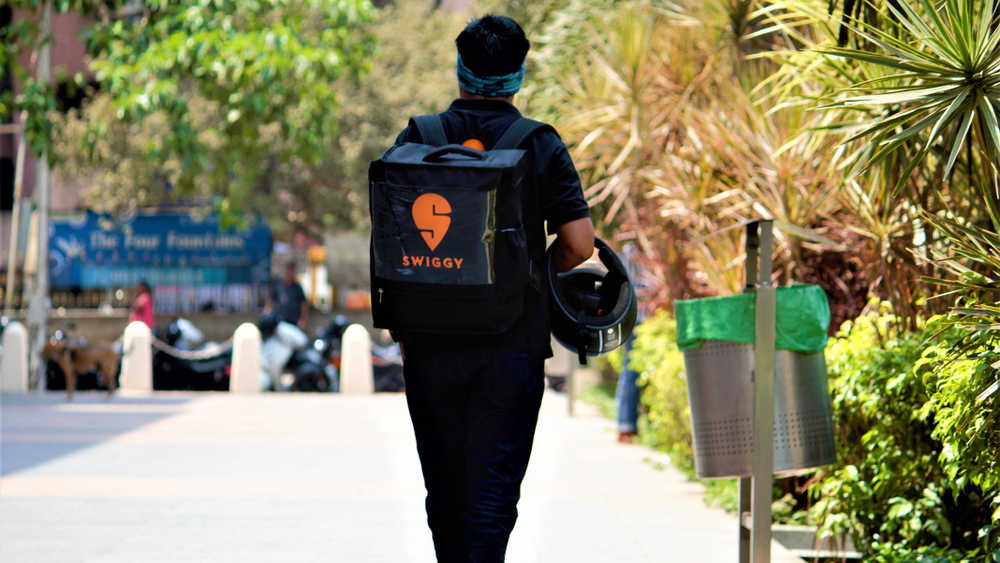 With job creation low, some private employers in India have developed norms and practices that defenders of workers' rights have condemned as exploitative
Representational picture
---
New Delhi
|
Published 26.12.22, 02:59 AM
|
---
The company Pinki Saini began working for in 2018 did not pay her. Instead, she paid the company for letting her work for it.
When she started the job as a beautician with Urbanclap — now known as Urban Company — Pinki says she had to pay the firm a "joining fee" of Rs 4,000. She also had to take a loan of Rs 36,000 from the company to buy from it the cosmetic products she needed to tend to her clients.
Pinki was given the designation of "Urbanclap Partner". The company paid her no salary and offered no paid leave, provident fund benefits or transport, she says. All she would receive was a call on her mobile from a prospective customer.
The call would go to 10 other beauticians from the area, also registered with Urbanclap.
"It was a matter of luck — whoever picked up the phone first, the client was hers. Then we had to rush to the customer's place, arranging our own conveyance," Pinki said.
"If we were late and the customer complained, the company would charge a penalty. At the end of a working day of over 12 hours — including the wait for work — we made Rs 300 to Rs 400."
The company took a portion of the earnings.
Pinki left the company in 2020 and became a freelancer, working through her own contacts. "Freelancing is very difficult too: you may not get that much work. But you have greater freedom," she said.
Welcome to the world of the country's "platform workers", also called "gig workers".
With job creation low, some private employers in India have developed norms and practices that defenders of workers' rights have condemned as exploitative.
Apart from the joining fee and penalties for delayed service, some of these companies charge their gig workers a monthly subscription fee and a further fee for each assignment.
Labour rights activists accuse these companies of flouting the laws and norms on maximum working hours, minimum wages, job security, social security and occupational safety.
On November 25, a group of gig workers gathered at Jantar Mantar in Delhi to demand minimum wages, paid leave and social security measures such as health insurance.
An electrician associated with Urban Company who wished to remain anonymous said the company charged him a Rs 4,080 subscription fee every month -- plus about Rs 110, including GST, for every work assignment.
When he had joined in 2017, he had paid Rs 200 as joining fee and no subscription fee. Now the joining fee is Rs 8,000 and the subscription fee too keeps increasing, he said.
"We know this is exploitation but have no choice. We have our families and children to look after," the electrician said.
Since the Covid pandemic broke out, the job market has increasingly shifted towards online service providers.
These companies provide a platform for less skilled or semi-skilled workers to offer services to clients, but do not commit to labour welfare measures, defenders of labour rights say.
A report by Niti Aayog ---"India's booming gig and platform economy: Perspectives and recommendations on the future of work" --- released in June this year found 77 lakh workers engaged in the gig economy in India in 2020-21.
The gig workforce --- which includes all kinds of parttime and temporary workers, including project-based workers --- is expected to rise to 2.35 crore by 2029-30, it said.
"Lack of job security, irregularity of wages (earnings from clients), and uncertain employment status for workers are significant challenges noted by studies in the gig and platform sector," the report said.
"The uncertainty associated with (the lack of regular) work and income may lead to increased stress and pressure for workers. Platform workers are termed as 'independent contractors'. As a result, platform workers cannot access many of the workplace protections and entitlements."
Naresh Kumar is always on the move on his motorbike, chasing the target of delivering food to at least 20 customers a day. He works with Zomato, and receives Rs 40 for delivering food within a distance of 3km, he says. He is on the job from 9am, waiting for a message from the company app. There is no workplace. He pays his own fuel costs.
"We stand on the roadside and rush as the message comes. The company calls us 'Zomato partners' but we call ourselves 'riders'. We earn somewhere around Rs 500 a day," Kumar said.
Mahesh Mandal delivers the food packets mostly at night. "At night, there is more demand; we get more work. I work through the night and earn Rs 600," he said.
Mahesh lives alone in Delhi. He sends about Rs 10,000 every month to his family in Bihar, where he has two young children.
"But I can't do it for long, I'm 40 years old. I feel exhausted and have developed health issues like high blood sugar," he said.
A worker with Swiggy, another food delivery platform, said that getting these jobs is very easy.
No formal qualifications are needed, the only requirements being that the worker have a two-wheeler, a driving licence and ID documents.
Some of these companies give regular jobs too, but allegedly without all the benefits. Amazon, whose delivery staff are gig workers, provides "worker" status to others like Manju Goel, who works at the company's warehouse in Manesar, Haryana.
"But the salary is too low. I get Rs 10,088 a month for 10 hours of standing work a day, five days a week," Manju said.
According to all the labour laws, eight hours of work constitute a working day. The employer has to provide a restroom, crèche and healthcare facilities at the worksite. But Manju's workplace has no restroom or crèche, she says. She is covered under the Employees' State Insurance scheme, which provides medical benefits.
Asked about the complaints against the long hours and lack of various facilities, an Amazon spokesperson said the company was "continuing to offer competitive wages and great benefits, and inventing new ways to keep our employees safe and healthy in our operations network".
Contacted by this newspaper, Bhavya Sharma, director (communication), Urban Company, shared a few blogs, including one on the company's earning index for Quarter 2 in 2022-23, which suggested that Urban Company "partners" earn Rs 280 to Rs 300 per hour of work.
The top quartile of the partners earn over Rs 36,000 a month, the blogs said, adding that the partners have life and accidental insurance cover as well as health insurance cover of Rs 2 lakh. They receive free training, loans and vaccination. 
A Zomato spokesperson, speaking on the allegation of long hours, said in an email: "We believe the delivery partners that chose to engage with us are adults, and as a part of the gig economy, our system's foundation is based on flexibility for the delivery partner to choose their own hours --- without a minimum or maximum threshold."
On the allegation of poor payment, the spokesperson said delivery partners can choose a block of hours they want to work, and the company "enables" only as many delivery partners as are required for that particular slot.
"On average, delivery partner payouts per hour have increased by 14 per cent for all our partners in the past six months," the spokesperson said.
The spokesperson shared online posters that said that all delivery partners have medical cover worth Rs 1 lakh and a life cover of Rs 10 lakh. 
A Swiggy spokesperson declined comment.
Dharmendra Kumar, co-convener of the workers' rights body, Joint Action Committee Against Foreign Retail and E-commerce, said the high unemployment levels had allowed private companies to set arbitrary terms for workers.
"The price rise has increased family expenses, forcing workers to approach the service-providing companies. These workers have no bargaining power. The companies exploit them by evolving anti-worker standards. The government is silent," Kumar said.
The Niti Aayog report recommended bringing all platform workers under the ambit of the Code on Social Security, a new and yet unenforced labour law that promises social security measures like insurance and provident fund. The report also proposed that companies start granting paid sick leave, access to healthcare, insurance, and old age and retirement benefits.