Ghulam Nabi Azad's public meetings trigger speculation
During the rallies, he affirmed his loyalty to the Congress but at the same time said he did not see it winning 300 seats in the 2024 Lok Sabha elections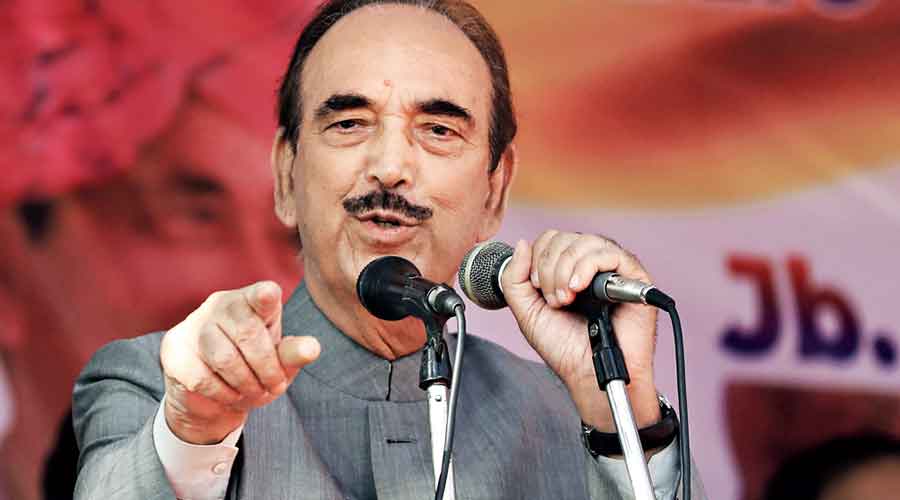 Ghulam Nabi Azad.
File photo
---
Srinagar
|
Published 06.12.21, 01:32 AM
|
---
A major outreach in Jammu and Kashmir by Congress veteran Ghulam Nabi Azad, who is among the dissenters in the party known as the "Group of 23", has triggered speculation that he might float a new party with the blessings of the Narendra Modi government.
Azad, a former chief minister of Jammu and Kashmir, has held a series of public meetings over the past few days in Jammu, where he affirmed his loyalty to the Congress but at the same time said he did not see it winning 300 seats in the 2024 Lok Sabha elections.
The rallies, part of his first major outreach in Jammu and Kashmir since the scrapping of its special status in 2019, have come against the backdrop of Congress leaders in the Union Territory resigning from party positions and asking the central high command to appoint Azad as Pradesh Congress Committee chief by replacing the incumbent Ghulam Ahmad Mir.
Although the purpose of the rallies seems to be an attempt to build pressure on the central leadership, there are murmurs that the Congress veteran is testing waters for floating his own party.
Azad's perceived proximity to Modi has intensified speculation that he has reached an understanding with the BJP and might enter into a post-poll arrangement with the party in case he launches his own outfit.
Assembly elections are to be held in Jammu and Kashmir after the delimitation process ends.
Azad, however, has repeatedly rebuffed the speculation about aligning with the BJP.
At a rally in Poonch on Saturday, Azad said he had been approached by several parties, laying emphasis on "barring BJP", which had offered him a Rajya Sabha seat after his term ended early this year. "That I will never do. Whenever we will fight, we will fight under our own party," he said.
Two parties in the Valley — the Altaf Bukhari-led Apni Party and Sajad Lone's People's Conference — are considered close to the BJP, although both have denied it.
The two parties have pockets of influence in Kashmir.If Azad launches a party with a tacit understanding with the BJP, it will help the latter split the anti-BJP votes in Jammu.Azad, a Kashmiri from Jammu's Chenab Valley, enjoys significant support among Jammu's Muslims, who are a third of its population.
"The BJP has made it clear that the next chief minister should be a Hindu from Jammu. In his (Azad's) case, the BJP can go for a compromise, which is easier for them as there will be a Jammu face for the chief minister's post. There can be a post-poll, but not pre-poll, arrangement," a former legislator told this newspaper, requesting anonymity.
Azad had served as chief minister of Jammu and Kashmir from 2005 to 2008.
Mission Statehood chairman Sunil Dimple, who is from Jammu and is fighting for the restoration of Article 370 provisions, alleged "match-fixing" between Azad and Modi to weaken the Congress in Jammu and Kashmir.
"We do not know in which form this will come out. But there is some match-fixing. Azad sahab has already surrendered his position on Article 370. The change was, in fact, evident during the all-party meeting with Modi," he said.
Dimple was referring to Modi's first outreach to Jammu and Kashmir politicians this June after the scrapping of special status.
Azad has mellowed his stand on Article 370 after strongly advocating its restoration, saying there was no point for the Opposition to seek its return. He has, however, said that making the constitutional changes through Parliament and central rule was legally and politically wrong.
"Only the people of Jammu and Kashmir and the Jammu and Kashmir Assembly have the right to bring such changes. Only the Jammu and Kashmir Assembly has the right to make amendments to Article 370," Azad had said.
When Azad's Rajya Sabha tenure ended, Modi had bid him a teary eyed farewell and lavished praise on him for his nationalist credentials. Azad reciprocated the gesture at a gathering in Jammu some weeks later by hailing Modi.
"I am from a village and I feel proud of it. Even our Prime Minister is from a village and used to sell tea. We're political rivals but I appreciate that he doesn't hide his true self. Those who do are living in a bubble," Azad had said.
Azad loyalist Ghulam Nabi Monga rubbished the "speculation" about the senior leader launching a party or having a secret understanding with the BJP.
"These are speculation, media creation. The truth is we are working to strengthen the Congress. How is that possible (that Azad is close to the BJP)? He is a very senior Congress leader. Look at the huge gatherings at these dozen-odd rallies in (Jammu's Pir Panchal and Chenab)," he said.
At the same time, Monga said they wanted Azad to take over as PCC chief, pointing out that his "immense popularity" was a reality.