Ghulam Nabi Azad: All is not well in Kashmir
Was not allowed to move freely: Former chief minister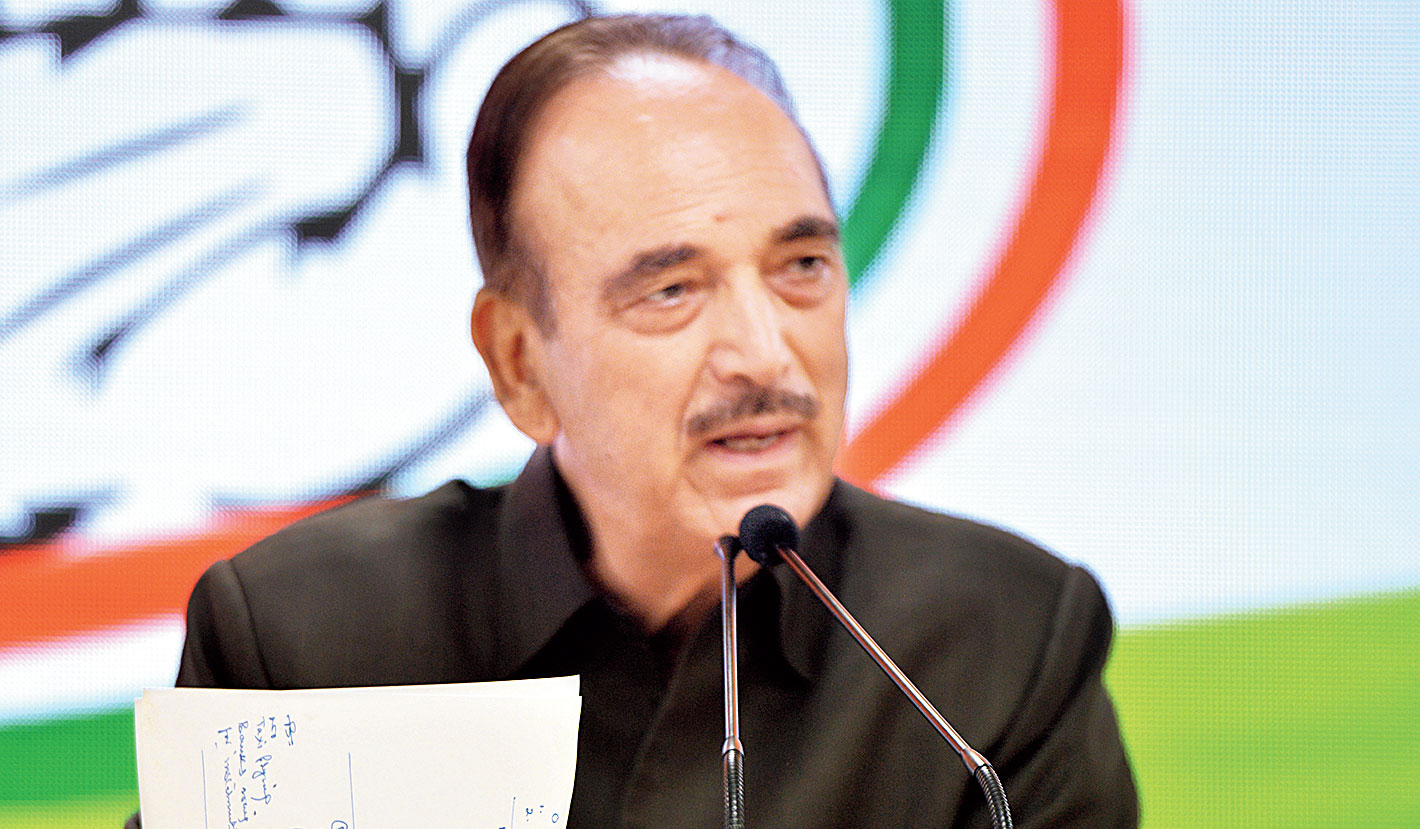 Ghulam Nabi Azad in New Delhi on Monday.
(PTI)
---
New Delhi
|
Published 30.09.19, 08:45 PM
|
---
Former Jammu & Kashmir chief minister Ghulam Nabi Azad on Monday asked that if all is well in the state and restrictions are only in certain minds, as Union home minister Amit Shah has said, then why was he not allowed to visit his home unhindered.
Azad, whose three attempts to visit the state since August 5 were thwarted by the administration, finally managed to enter the Valley with Supreme Court permission and has just returned from the trip.
The resentment and sense of alienation in Kashmir is of a level never seen before and is alarming, Azad told a news conference. Describing the situation as a government-made disaster, the Congress leader said Kashmiris were registering their view on the change in the constitutional arrangement and the state's bifurcation with a Gandhian-style civil disobedience.
"It is not civil disobedience against the government, but against themselves. The only thing they do is buy food for the couple of hours the shops are open to sustain themselves. Otherwise, they have decided not to engage in any economic activity, even if it hurts them the most,'' he said.
In a detailed briefing on his visit, Azad said despite going with the permission of the Supreme Court to meet workers and day labourers, he was not allowed to meet them freely and people were openly warned against meeting him.
"First, the administration made every effort to ensure that people could not meet me. I had sought permission to go to 15 places in Srinagar but was allowed to visit only two. People were dissuaded from meeting me, stating that their names would be registered in three places and they could be picked up for questioning later," he said.
"Security forces monitored access to the meetings with cameras. In Anantnag, the entire conversation I had with the workers was recorded,'' Azad said.
His request to visit five to six places was rejected in writing.
But from the meetings he had with the labourers, he said, it was evident that they had no means of a livelihood.
"People were providing them food but how long can they sustain them under the circumstances?" Azad asked.
The Congress leader said: "If all is well, then why can I not visit my state, not as the leader of the Opposition or a former chief minister but as a citizen and an MP who has been elected by legislators from all three regions — Jammu, Kashmir and Ladakh.''
On Sunday, home minister Shah had said there were no restrictions in Jammu & Kashmir and that the people could move around freely.