Gautam Gambhir bats for Kashmir 'oppression'
'If oppression ensures security for my people, then so be it'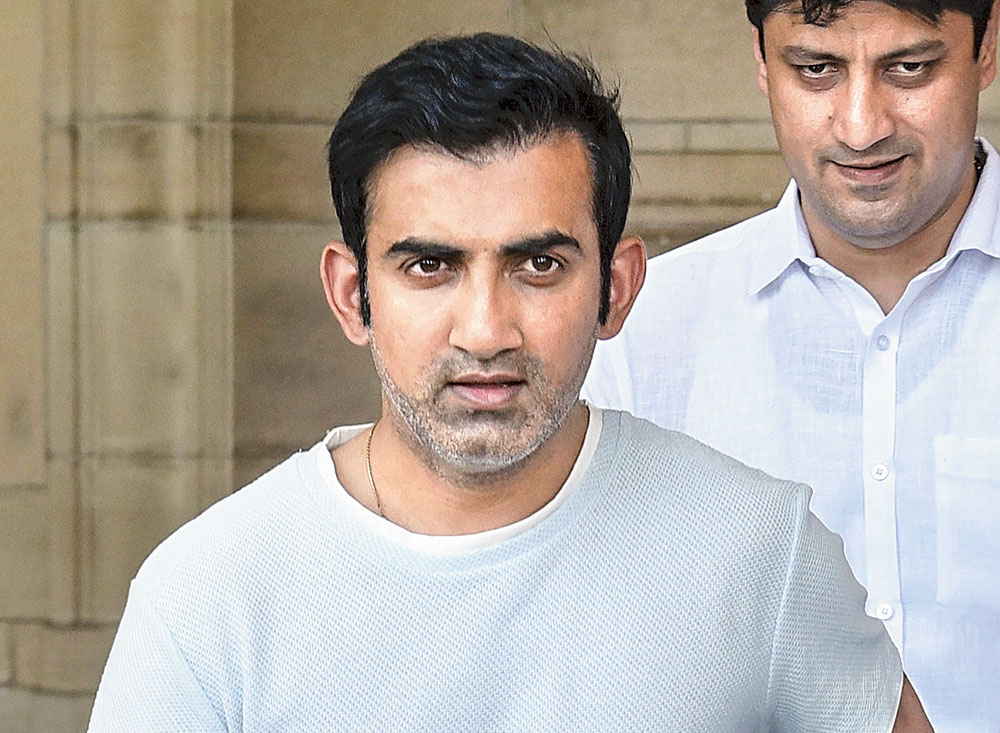 Gautam Gambhir
File PTI picture
---
Srinagar
|
Published 05.06.19, 01:10 AM
|
---
Cricketer turned BJP parliamentarian Gautam Gambhir has publicly supported "oppression" in Kashmir if that ensures the "security" of Indians, triggering outrage in the Valley.
"While I am all for a talk-based solution to Kashmir problem but for @mehboobamufti to term Shri @AmitShah's process as 'brute' is 'ridiculously naive'," Gambhir, the East Delhi MP, had tweeted on Monday.
"History has been witness to our patience and endurance. But if oppression ensures security for my people, then so be it," he added.
Gambhir was reacting to former chief minister Mehbooba Mufti's opposition to new Union home minister Amit Shah's purported plan to crack down harder on dissent in Kashmir.
"It's a political problem that needs a political redressal by involving all stakeholders inc(luding) Pak. Expecting a quick fix through brute force by newly appointed HM is ridiculously naive," she had tweeted on Monday.
By using words such as "our" and "my people", Gambhir has created an impression that he was treating Kashmir as a separate entity. Such language has rarely been used by politicians in India.
Prime Minister Narendra Modi had in his Independence Day speech in 2017 said that Kashmir's problems would be solved by embracing Kashmiris, and not through abuses and bullets.
It is the pro-azadi constituency in the state that repeatedly refers to alleged atrocities by the security forces as "oppression".
Gambhir's remarks came months after Meghalaya governor Tathagata Roy, who has for long been associated with the BJP, agreed to a retired colonel's purported suggestion to boycott Kashmiris.
"An appeal from a retired colonel of the Indian Army: Don't visit Kashmir, don't go to Amarnath for the next 2 years. Don't buy articles from Kashmir emporia or Kashmiri tradesman who come every winter. Boycott everything Kashmiri. I am inclined to agree," Roy had tweeted.
Gambhir was taken apart on social media, with many interpreting his comments as a declaration of a "fascist iron policy".
"Oppression of 'others'. Safety of 'my people'. This tweet is so warped, wrong on so many counts, other than the glaring deceleration of a Fascist Iron policy. So be it — wow! This guy is the crystal clear reflection of what's wrong in this country," tweeted Shazia Bakshi, granddaughter of Jammu and
Kashmir's former Prime Minister Bakshi Ghulam Mohammad.
"Is this befitting of an international figure, part of an alleged democracy, an elected official?" asked separatist politician Muzamil Thakur.
Another Twitter user compared Gambhir's comments with a recent tweet of former Sri Lankan cricketer Kumar Sangakkara, who had urged his countrymen to remain united in the aftermath of the deadly terror attacks. The tweeter asked India's sportspersons to "learn a lot from Sanga and his sportsmanship", suggesting that they keep their "hate" aside first.