Gauri Lankesh murder case: Sister moves SC against key accused
Kavitha Lankesh demanded a restoration of charges that include the death penalty provision against Mohan Nayak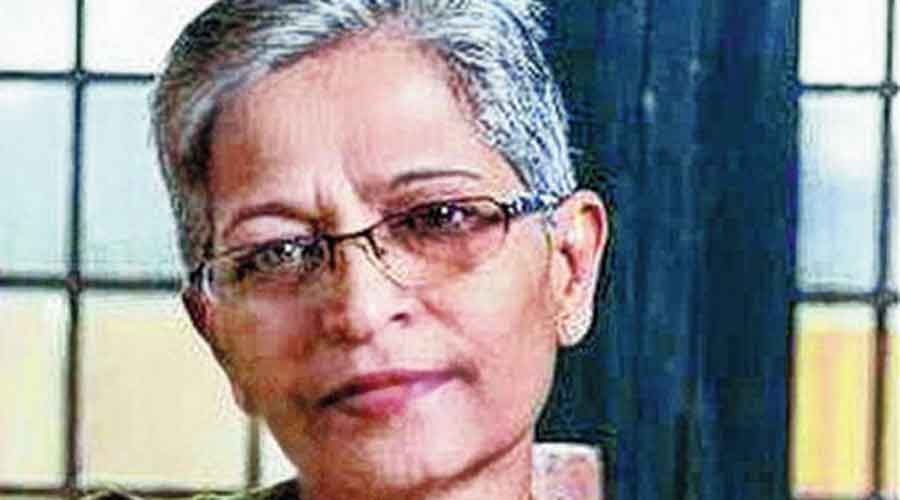 Gauri Lankesh
File picture
---
New Delhi
|
Published 30.06.21, 01:52 AM
|
---
The sister of Gauri Lankesh has moved the Supreme Court for restoring charges that include the death penalty provision against a key accused in the 2017 murder of the journalist and trenchant critic of the Right-wing brand of Hindutva.
Karnataka High Court had quashed the organised crime charge against the accused, Mohan Nayak, in April this year. The BJP-led government in the state — the prosecuting agency — has so far chosen not to challenge the high court order.
The state government's inaction has compelled Kavitha Lankesh, the younger sister of Gauri, to move a special leave petition in the Supreme Court. On Tuesday, the apex court issued notice to the Karnataka government.
Gauri was shot dead in front of her home in Bangalore on September 5, 2017. She used to run the Kannada weekly Gauri Lankesh Patrike in Bangalore.
Nayak, the 53-year-old accused, was originally booked by Bangalore police under sections of the Karnataka Control of Organised Crime Act (KCOCA) that entail punishments of either life imprisonment or the death penalty. The charges under the KCOCA were quashed by the high court.
On Tuesday, a Supreme Court bench of Justices A.M. Khanwilkar, Dinesh Maheshwari and Aniruddha Bose sought the response of the Karnataka government after senior advocate Huzefa Ahmadi, appearing for Kavitha, complained that the high court had on April 22 committed a "grave error" by striking down the charges under the KCOCA.
In her petition filed through advocate Aparna Bhat, Kavitha submitted that she was constrained to move the special leave petition on her own as she was "greatly aggrieved by the impugned order and is therefore, approaching this Hon'ble Court since the state of Karnataka which is the prosecuting agency has not challenged the same".
The BJP government in Karnataka came to power in 2019.
The petitioner said that the Bangalore police commissioner had on August 14, 2018, granted sanction for Nayak's prosecution under the KCOCA. The supplementary chargesheet filed by a special investigation team, set up by the Karnataka government following the furore over Gauri's murder, had also invoked KCOCA Sections (1)(i), 3(2), 3(3) and 3(4) against Nayak. The SIT arrested Nayak in July 2018.
The SIT had unearthed details of Nayak's close links with Right-wing organisations such as the Sanathan Sanstha, which was how he met another key conspirator in the case, Amol Kale from Pune. The two knew each other since 2016.
The SIT had said the accused were involved in organised crimes as a syndicate, thus attracting the provisions of the KCOCA, Kavitha's petition pointed out.
It was submitted that the investigation had found that Nayak had provided shelter to the suspects before and after Gauri's murder and had also participated in a series of conspiracies — abetting, planning and providing logistics. "Therefore, he is involved in 'continuous unlawful activity'," Kavitha's appeal said.
Parashuram Waghmare, who gunned down Gauri, had also allegedly stayed with Nayak at least once.