Multiple holes in police narrative on Vikas Dubey killing
Our blessed and unquestioning land of supermen and supernatural encounters
If we can believe in the miracle that allowed China to pull out from territory that we were told it did not intrude upon, why can't we believe in a simple encounter?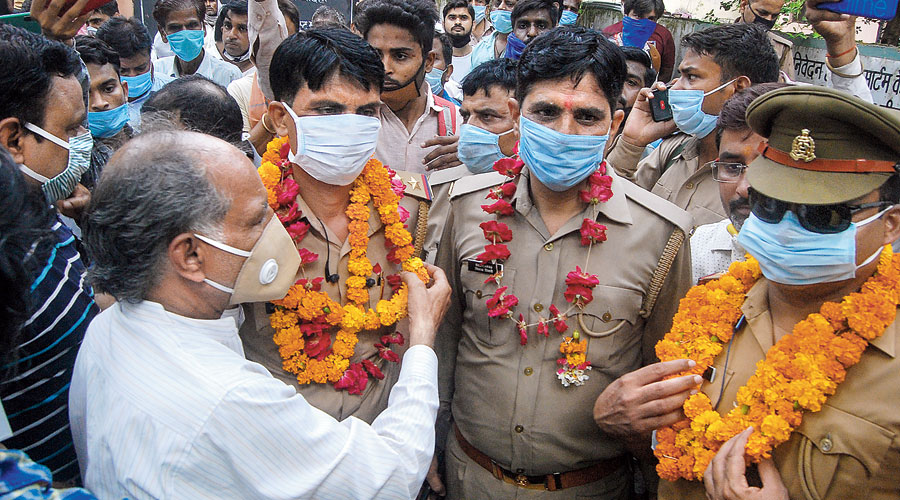 ---
|
Lucknow
|
Published 11.07.20, 03:41 AM
---
Uttar Pradesh police gunned down arrested gangster Vikas Dubey on Friday morning in an "encounter" whose account has multiple holes, capping a violent week that began with the massacre of eight policemen and saw the systematic elimination of Vikas's gang members accused of the crime.
Told about Vikas's arrest from the Mahakal temple at the Madhya Pradesh town of Ujjain on Thursday morning, his mother Sarla Devi had said: "Thank you Mahakal; you have saved my son from a police encounter and death."
At 6.30am on Friday, the 48-year-old Vikas was shot dead on a roadside on Kanpur city's outskirts when he allegedly snatched a policeman's gun, fired and tried to flee after the police vehicle in which he was being ferried met with an accident.
Inconsistencies in the police version and a contrary eyewitness account have prompted allegations of a cold-blooded murder, especially since Vikas's well-known links with the political and police establishments made him a dangerous witness.
Also, the deaths of five of his associates in shady police "encounters" over the past week have only deepened the suspicion about the cops handing out instant justice for the July 3 massacre of their colleagues outside Vikas's home at Bikru village, Kanpur Rural.
"The jeep in which Vikas was sitting with four policemen hit the divider and overturned, leaving all the cops injured. Taking advantage of the situation, Vikas snatched the pistol of Ramakant Pachauri, the investigating officer, and tried to escape," Kanpur senior superintendent of police Dinesh Kumar P said.
"The special task force (STF) sleuths, who were in another jeep, asked him to surrender but he fired at them. The STF jawans fired back, injuring Vikas. The criminal was taken to Lala Lajpat Rai Hospital, Kanpur, where he died during treatment."
Prashant Kumar, additional director-general of police, said without giving details: "Four policemen and two STF sleuths suffered injuries in the accident and the encounter."
However, a man told reporters he was standing on the roadside at the "encounter" site in the Naubasta area when he saw a police convoy stop suddenly.
"A policeman asked me to get lost immediately. While running away, I heard gunshots," he said. He mentioned no accident.
R.B. Kamal, principal of GSV Medical College where the post-mortem was done, said: "According to the post-mortem report, three bullets were found in the upper part of Vikas's chest and one in his hand."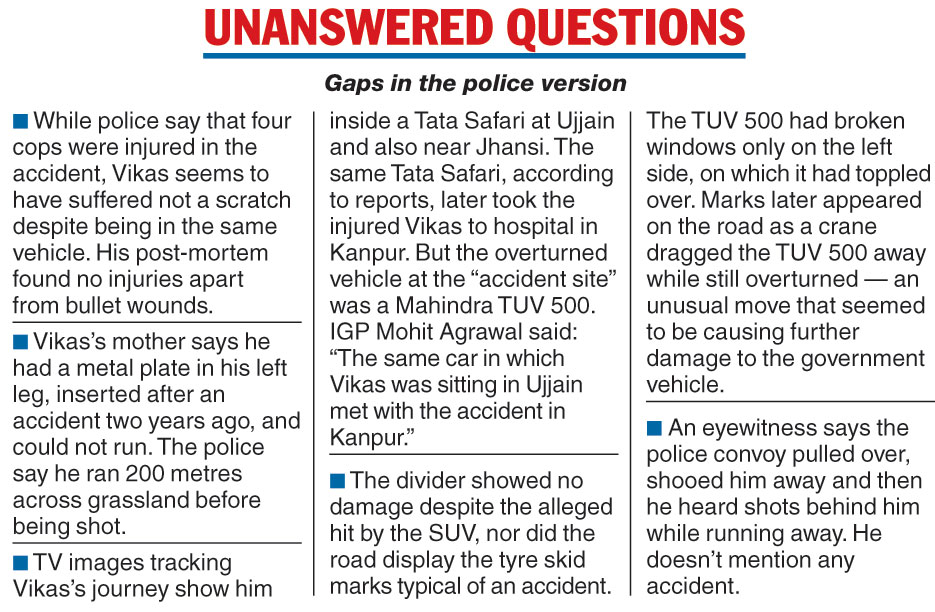 He mentioned no injuries of the sort caused by road crashes.
Family members of most of the slain policemen had, however, been clamouring for Vikas's "immediate death".
A dozen people claiming to be residents of adjoining areas gathered at the "encounter" spot around 11.15am and chanted: "Police prashashan zindabad (Long live the police administration)."
It brought back memories of the way Telangana police were showered with petals last December after killing four men accused of gang-raping and murdering a young veterinarian on Hyderabad's outskirts.
Thousands had celebrated the "encounter" — which had the same storyline of the suspects snatching policemen's weapons and trying to flee — by bursting crackers and distributing sweets.
Among the doubters on Friday was Rajiv Mishra, elder brother of deputy superintendent of police Devendra Mishra who had led the July 3 raiding team and was killed in the ambush.
"I believe that (the Uttar Pradesh and Madhya Pradesh) governments first helped the criminal escape and then killed him because they thought it necessary for some reason," Mishra said.
"He (Vikas) couldn't have fled from Uttar Pradesh to Madhya Pradesh without the support of powerful people. It would be difficult now to expose the people who were patronising him."
Multiple police and political sources have confirmed that Vikas had deep connections within the law-enforcing agency and within all the political parties that have ruled Uttar Pradesh over the past two decades: the BJP, Samajwadi Party and the Bahujan Samaj Party.
Police bosses have publicly asserted that someone from the force had tipped Vikas off about the July 3 raid, enabling him to ambush the police team.
"Devendra used to say he was part of a rotten system. He paid a price for it. There are many Vikas Dubeys in the system," said Kamla Kant, a relative of the slain DSP.
Even the details of Vikas's arrest are shrouded in mist. Several eyewitnesses have said the gangster, whose face news channels had beamed nationwide for a week, had revealed his identity to the temple guards in Ujjain and surrendered.
But the Madhya Pradesh government says its police spotted and arrested Vikas, and handed him over to the Uttar Pradesh police at the interstate border.
Opposition leaders including Congress general secretary Priyanka Gandhi Vadra and Samajwadi president Akhilesh Yadav questioned the way Vikas had been killed.
Akhilesh alleged Vikas had been eliminated "because his possible revelations about his political support base could have pulled down the BJP government in the state".
Priyanka tweeted: "The criminal is dead, what about crime and those people who were patronising him?"
Om Prakash Rajbhar, former minister and president of estranged BJP ally Suheldev Bharatiya Samaj Party, said: "It was a cold-blooded murder of a criminal to save some powerful BJP members in Uttar Pradesh and Madhya Pradesh. He was pampered by the BJP government for three years. A senior police officer was his mentor and the entire Chaubepur police station in Kanpur was dancing to his tune. The creators of Vikas are safe now."
Madhya Pradesh home minister Narottam Mishra told reporters in Bhopal: "Those who were saying after Vikas's arrest that he had been saved from a police encounter are now shedding tears on his death. They will keep blaming us in any situation."
A video that surfaced recently purportedly shows Vikas naming two MLAs from the BJP as his mentors during a police interrogation in 2017. Both have denied the allegation.
Another video, from a 2006 media interview, appears to show Vikas naming a former Assembly Speaker — who had been in the Janata Dal, BJP and the BSP — as his mentor.
His wife Richa has been winning zilla parishad elections for over a decade with Samajwadi support, and Vikas's mother on Thursday asserted he was associated with the Samajwadis, who denied the claim.
Police sources said that many parties had used Vikas —involved in dozens of murder, attempt-to-murder, kidnapping and extortion cases — to intimidate rivals and voters.
"My son should have been punished by the courts, but the police have killed him," Sarla Devi said on Friday.