Gang war rocks Lucknow
Police attributed the killing of the underworld don from Mau district, who faces 17 criminal cases, to gangland rivalry but would not name a suspect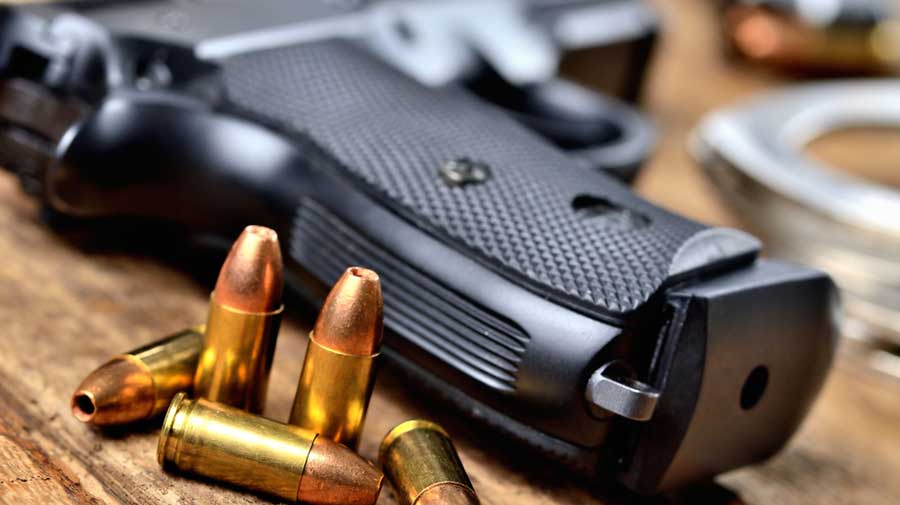 ---
Lucknow
|
Published 08.01.21, 12:40 AM
|
---
A gangster was assassinated on a busy street in an upscale Lucknow neighbourhood on Wednesday night, the shootout involving more than a dozen shots that sent people running helter-skelter and injured at least one passer-by.
Eyewitnesses said that amid the chaos after the 8.30pm gunfight, an accomplice of the three killers nonchalantly walked up to victim Ajit Singh, 45, to make sure he was dead, suggesting it was a professional job.
Police attributed the killing of the underworld don from Mau district, who faces 17 criminal cases, to gangland rivalry but would not name a suspect.
Officers said Lucknow had seen such audacious street shootings in the late 1990s and feared that another bout of gang warfare was imminent.
Ajit and associate Mohar Singh had got off their SUV and appeared headed for an apartment complex near the Kathauta Crossing at the Gomti Nagar Extension when three waiting men fired at them, eyewitnesses said. The police said the killers used 9mm pistols.
Ajit and Mohar fired back while running back towards their SUV. The eyewitnesses said an injured Ajit somehow staggered into the vehicle while a bleeding Mohar disappeared down the road.
With Ajit's gun falling silent, a man approached the SUV, apparently to make sure he was dead. On a signal from him, the three assassins got on a single motorcycle and left. Officers said two loaded 9mm pistols — a popular weapon among criminal gangs — had been found inside the SUV.
Ajit was hit eight times all over his body while Mohar, who returned after a while and was sitting on the ground when the police arrived, had three bullets in his legs.
Akash Kumar, a passing food delivery man in his early 20s, took a bullet near his shoulder. A woman constable took him to hospital. Unconfirmed reports said a second unidentified passer-by was hit and injured.
Officers suggested two possible motives behind the killing: one, to stop Ajit joining politics and two, to silence him as a witness in a murder case against another gangster, Dhruv Kumar Singh.
Ajit had been with Sarvesh Singh Sipu, a former Samajwadi Party MLA from Azamgarh, when he was shot dead in 2013. Co-accused Dhruv and Akhand Singh are in jail.
"Broadly, there are four big gangs in Uttar Pradesh. We don't know what the equations between them are at the moment, or which smaller gang is with whom. These criminals keep double-crossing each other," a police officer in Lucknow said, requesting anonymity.
"Every gang-lord is preparing the ground to contest Assembly elections in future, while their friends and foes are trying to prevent them joining politics. We don't know who wants what and why."
He added: "Similar ambitions among underworld dons were witnessed in the late 1990s, and the result was a series of gang wars."
Lucknow police commissioner D.K. Thakur told reporters that Ajit had been "very close to the Mukhtar Ansari gang". Ansari is a Bahujan Samaj Party member and a fifth-time MLA from Mau.
Of the 17 cases in the Mau and Azamgarh districts against Ajit, a former block pramukh of Mohammadabad Gohana in Mau, 6 had reached the trial stage. Ajit, arrested in 2015 but given bail, had a few months ago been externed (expelled) from Mau by the district administration.
The Adityanath government has handed the murder investigation to the special task force (STF), formed in April 1998 by the then Kalyan Singh administration to arrest or kill a don, Shri Prakash Shukla. The STF tracked Shukla for five months and shot him dead in Ghaziabad.
Shukla had been the chief architect of a dozen gang fights that Lucknow had witnessed between 1996 and 1998, the most high-profile among them being the murder of Independent MLA Virendra Shahi.
Sources said a diary the STF had seized after killing Shukla mentioned his contacts, who allegedly included many politicians from the then ruling BJP. The details were never made public. 
The 2005 Bollywood movie Sehar and the recent web series Rangbaaz are said to have been based partly on Shukla's exploits.