Gandhiji would have supported initiatives to rediscover our common humanity: Nirupama Rao
Former foreign secretary Nirupama Rao talks about her upcoming concert for freedom and empowerment, Gandhi's philosophy and how important it is in today's day and age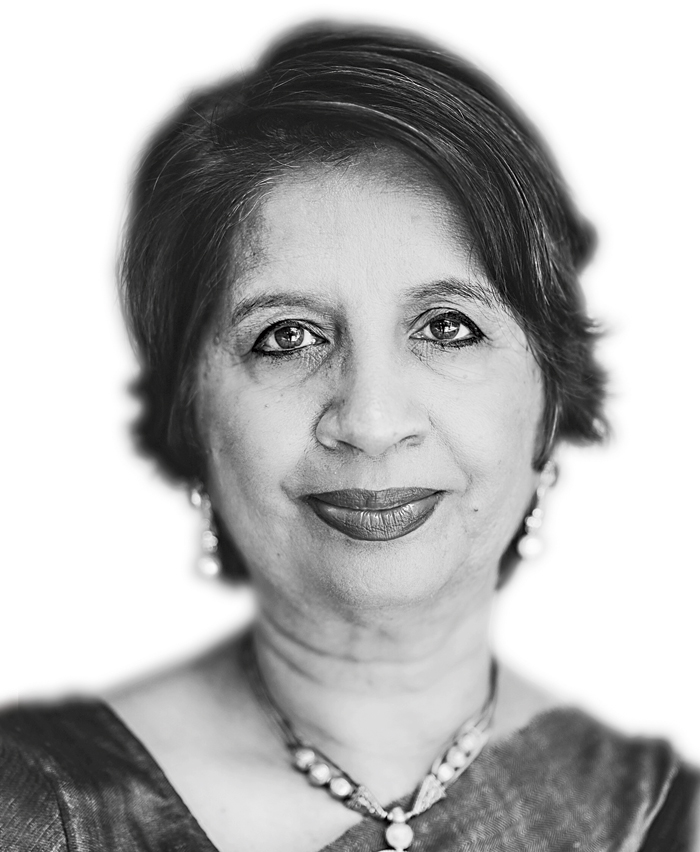 ---
---
The image that floats into my WhatsApp window one afternoon is an intimation of a concert in Bangalore. (I am in Calcutta, mind you.) All I see on my phone screen is immersive black, a revered face smiling a familiar smile from the shadows, and saffron lettering. I spy the words — PEACE NOTES. (It has been nearly 50 days since the Kashmir lockdown. According to the day's news, Kalantus Barla, Philip Horo and Phagu Kachchap in Jharkhand's Jaltand Suari village have been lynched by a mob for suspected cow slaughter. Farmers in Uttar Pradesh are marching to Delhi to seek loan waivers and more. Less than a fortnight to go before Ma Durga descends from her heavenly abode, but Bengal is aflutter with NRC panic; four deaths thus far. And Prime Minister Narendra Modi is in Houston in the United States assuring 50,000 Indian-Americans — "Bharat me saaab achcha hai. Sab changa hai...")
I am given to understand from the message appended with the concert announcement that the person to contact is Nirupama Rao. Nirupama Rao? As in the former diplomat and foreign secretary and ambassador? Nirupama Rao and a concert?
Rao's connection with music might be common knowledge in a certain circle, but it is safe to say this circle is a dot as compared to the one where she is known for her Peru stint or the fact that she was in the thick of Sri Lanka's ethnic violence as first secretary in Colombo or that Brajesh Mishra had handpicked her to join his delegation after being appointed special representative on the Sino-Indian border issue and so on and so forth. In 2009, when she was appointed foreign secretary, K.P. Nayar wrote in The Telegraph: "Foreign secretaries often get so hung up on big things that smaller but beneficial opportunities for diplomacy are missed. Rao has shown that with her at the head of the IFS it will not happen."
Right earnest on the concert trail, I research Rao's predilection for the musical and eventually chat with her long distance about the South Asian Symphony Foundation she unveiled in 2018 with her husband, the retired civil servant Sudhakar Rao; its creation, the South Asian Symphony orchestra; and the foundation's recent initiatives, including the October concert.
The October concert has been titled From Gandhi to Beethoven — The Call to Freedom.
It is to be a nod to the Mahatma on his 150th birth anniversary. The press release says something about the concert bearing Gandhi's message of freedom and empowerment. It talks about commissioning original music inspired by the life of Gandhi. Rao tells me, "The basic thought that animates this exercise is essentially to create pathways for peace in this region [South Asia]... If Gandhiji had been witness to the current tensions and divides, he would definitely have supported initiatives to create common ground, dissolve barriers and rediscover our common humanity."
Now, the essence of a musical concept won't travel to the fullest through optical fibres. But few things in an Indian way of life are Gandhi-proof — detractors included. I ask Rao what she makes of the fact that in India, it is suddenly okay, even fashionable, perhaps considered corrective too, to diss Gandhi. She replies, "I think this comes from an incomplete knowledge of Gandhiji and his life and is a very subjective view of our history. It is dangerous to nurture a subjective interpretation of the past that builds a sense of victimhood and sees non violence and inclusiveness as symbols of weakness and supplication…"
Rao's engagement with Gandhi's philosophies and teachings is not some new sprung thing, not a convenient peg to hang a new initiative on. In 2018, she got the Washington DC-based Gandhi Memorial Center's Fellowship of Peace Award meant for those who, among other things, have drawn others to Gandhi's philosophy. To draw others to a philosophy, one also must have lived it in some measure. She talks about belonging to a generation that grew up immersed in the recounting of Gandhi's life and legacy. She says, "My first memory of his name was when I was six years old, and hearing my mother tell me the story of his life and his assassination, which to a child of my age was so difficult to comprehend. 'How could a figure like him who had done good to his country be killed?' I asked."
When a diplomat speaks, people focus on the utterance. Some might care for pitch, tone and delivery; timbre is irrelevant. But I am listening to a former diplomat who is not only convinced that music is a potent peace agent, she is also known to be a singer with an album to her name. I have heard her sing Peace is my dream on YouTube. I have heard the way her voice floats up behind the lyrics cocooning them with its deep intonations and velvet conviction. Now, when I hear her speak, I cannot help but notice that same quality imbues her replies. The lyricality is not so much in the tone as in the cadence of belief.
She continues to talk about Gandhi. His clarity of thought, his ability to relinquish all excess, or that which took away from the public good, his ability to walk alone… At some point she starts to talk about her work as a young diplomat, the time she was among the plantation labourers of Sri Lanka. People who were castaways literally — by both India and Sri Lanka. "A few of them had to go back to India and just to see the tragedy of displacement, the pain of forced migration, and what refugees have to go through reminded me a lot of what we have to do to help people who are oppressed and have nowhere to go to. I believe what we learn from the life of Gandhiji can stand us in good stead while applying our minds to such issues and working towards solutions that are compassionate, humanitarian and inclusive," she says.
I have not brought up specific political issues, national or international. Their views, her views; they could have, who should have, that kind of thing. But just because they are not foregrounded does not mean that those things are missing from the context of the exchange.
I ask her why the concert is chronology-defyingly called From Gandhi to Beethoven. Replies Rao, "I believe time zones do not apply here. Beginning with Gandhiji and the world premier of a composition by the young composer of Indian origin, Antonius Nazareth, we go on to explore the work of Beethoven, who in his life and work also embodies the human spirit and soul battling a feudal order of despotism and domination." Beethoven was not foreign to Gandhi, she says. "Miraben, his foremost foreign disciple, was equally a devotee of Beethoven, whose music moved her in a deep and transcendent fashion. In fact, in a sense it was Beethoven who brought Miraben to Gandhiji because they were connected for the first time through Romain Rolland, the French writer who has written extensively on both Beethoven and Gandhi," she adds. (In his book, Rolland writes of Beethoven: "He was an upholder of unlimited liberty and of national independence... he desired that everyone should take part in the government of the State... For France he desired universal suffrage and hoped that Bonaparte would establish it, thus laying down the proper basis of human happiness.")
All very well, but Kashmir being the way it is, and Assam, and the ongoing siege on free speech all round, the indiscriminate hate-mongering, the homogenising crusade, is it even realistic to believe music can heal, bridge, bring down walls? Rao says, "I have never said we are here to offer a magic talisman... But, we can provide some illumination to a path of good sense where we are inspired to look beyond divisions and prejudice… I hope the concert and the message we project will stir people's minds towards solidarity."
And there is precedence for such efforts elsewhere. In 1999, academic Edward Said and conductor Daniel Barenboim founded the West-Eastern Divan orchestra that brings together Arab and Israeli musicians defying fierce political divides in the Middle East.
Some years ago, Barenboim said in an interview: "The Divan is not a love story, and it is not a peace story... I'm not trying to convert the Arab members of the Divan to the Israeli point of view, and [I'm] not trying to convince the Israelis to the Arab point of view. But I want to... create a platform where the two sides can disagree and not resort to knives." The South Asian Symphony orchestra comprises musicians from India, Sri Lanka, Nepal, Thailand, Afghanistan, Singapore and from the South Asian diaspora in the United States and Europe.
It seems to me that to work by association, the physical context of the concert is as crucial as the music. Once, the West-Eastern Divan had organised a concert in the Palestinian city of Ramallah. But the October concert is in Bangalore, not Delhi. (Isn't it Delhi that is in most need of illumination, etc.?) Rao says Bangalore being the "most 21st century of all Indian cities" is relevant enough, but she promises, "We will carry the message of the orchestra and it's purpose far and wide and Delhi is a definite destination for one of our future concerts in the not too distant future."