Fruit of Modi government's 5-year diplomacy: Arab League foreign ministers to meet in Delhi on February 1
A business-oriented approach has seen about $6 billion of investment flow into India from the UAE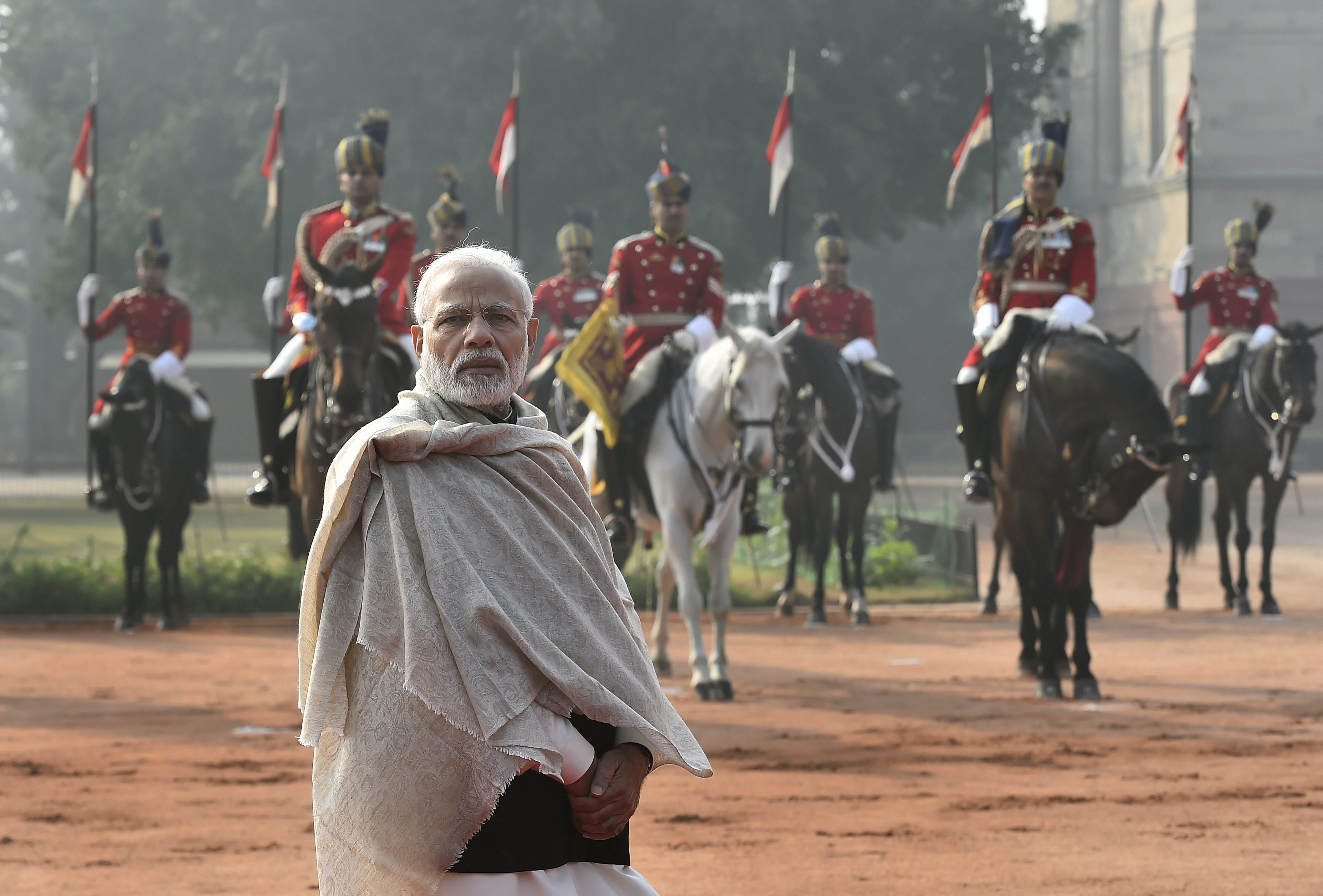 The immediate impact of 22 Arab foreign ministers gathering in New Delhi will be to blunt an incipient campaign within the Organisation of Islamic Cooperation on Kashmir and silence murmurs within the OIC on intolerance and treatment of Muslims in India.
PTI
---
New Delhi
|
Published 30.12.18, 07:37 AM
|
---
Prime Minister Narendra Modi will host the mother of all diplomatic gatherings of his 56-month tenure in New Delhi on February 1, even as he gets ready to throw himself wholeheartedly into campaigning for the 2019 general elections after this meeting.

Foreign ministers of the 22-nation Arab League will arrive in New Delhi the previous day to show their collective solidarity with India, bringing to fruition Modi's nearly five-year-long, pragmatic and business-focused approach to Arab and Muslim countries.
Incrementally, such a business-oriented approach has seen about $6 billion of investment flow into India from the United Arab Emirates – with more in the pipeline – and the foundations of a new strategic relationship with Saudi Arabia. Meanwhile, India has resisted its past non-aligned propensity to play good Samaritan in regional disputes such as between Qatar and its neighbours. It has creditably struck a balance on global challenges impinging on West Asia, including disputes involving Iran.
The immediate impact of 22 Arab foreign ministers gathering in New Delhi will be to blunt an incipient campaign within the Organisation of Islamic Cooperation (OIC) on Kashmir and silence murmurs within the OIC on intolerance and treatment of Muslims in India. The Jeddah-based OIC with a membership of 57 countries has been a constant thorn in India's flesh with successive governments in New Delhi at a loss on how to counter its stream of anti-India diatribes, mainly inspired by Pakistan.
With nearly half of the OIC's members – and these include several heavyweights within the Jeddah-based organisation – gathering in New Delhi in a show of camaraderie with India, an unmistakable message will go out that the OIC's campaigns against India lack credibility and constitute inspired propaganda. The February meeting will conclusively demonstrate that for key members of the OIC, represented in New Delhi by the Arab League foreign ministers, it is business as usual with India.
Another consequence of an Arab League foreign ministers' meeting in New Delhi will be to show that India's deep engagement of Israel is not a zero sum game. The perception has grown not only within India, but also abroad that the present Indian leadership has stars in its eyes when it gazes at Israel. This perception was reinforced when Pranab Mukherjee as President and Modi as Prime Minister visited Israel in quick succession, much having been made of the fact that Modi was the first Indian head to government ever to visit Israel. Reuven Rivlin, as Israel's President, returned Mukherjee's visit within a year and Prime Minister Benjamin Netanyahu came calling on Modi within a shorter gap of seven months.
Privately, several Arab ambassadors in New Delhi have shared with Opposition leaders their assessment that the ruling BJP is gullible in its understanding of Israeli designs on India and that this may cause disequilibrium in regional diplomacy where India's interests in the Arab world are vital. Facts do not bear out such a claim. Symbolic gestures such as high-level visits by Modi and Mukherjee to Palestine to complement similar visits to Israel are not the only reason to dispute such Arab claims.
Last year, Modi surprised the world – and domestic critics of his West Asia policy – when his BJP-led government announced a whopping four-fold increase in India's annual assistance to the United Nations Relief and Works Agency for Palestine Refugees (UNRWA). This came at a time when India was pruning aid to some other regions as part of streamlining the country's development assistance.
More significantly, the increase came at a time when Israel has been lobbying world capitals to reduce or completely stop contributions to UNWRA despite the organisation's very creditable relief work among Palestinian refugees. Several countries succumbed to Israeli pressure, including Canada under its former Prime Minister Stephen Harper and, of course, America's President Donald Trump. But not India. Modi chose to increase the contribution to UNRWA.
In addition to meeting their Indian counterparts, Arab League foreign ministers will hold a meeting of their own in New Delhi. This will be a historic break with the League's practices and even the spirit of its charter. Such an assembly of key practitioners of foreign policy in the whole Arab world on Indian soil will be a diplomatic high point of unwavering efforts by the Modi government to chart a new course in engaging West Asia and the core of global Islam.
The Arab League's meetings are almost always held in Arab countries, with rare exceptions at global platforms like the United Nations in New York or Geneva. There is no precedent in Indian diplomacy of more than a score of foreign ministers from an organization of which India is not a member holding any meeting on Indian soil. Three years ago, Modi hosted an India-Africa Forum Summit in New Delhi, which was attended by 51 Presidents, Prime Ministers and Kings, but India was the pivot of that meeting. The planned Arab League meeting, however, will be unusual because India is only an observer in the League.
Full membership of the Arab League is restricted to countries which are ethnically Arab and falling within the geographical description of Arabia. Within months of assuming office, the present National Democratic Alliance (NDA) government launched initiatives to deepen interaction with pan-Arab organisations. Public obsession with Pakistan, China and the United States of America, however, obscured these productive initiatives.
They resulted in a structured meeting of senior officials of India and the Arab League for the first time in New Delhi only six months after the NDA government came to power. This was quickly followed by an India-Arab Cultural Festival in Algiers and an India-Arab Business Partnership Conference in New Delhi at the end of 2014.
In July this year, External Affairs Minister Sushma Swaraj travelled to Bahrain to meet Arab League foreign ministers at the first meeting of an India-Arab League Cooperation Forum, a joint ministerial platform, as a follow-up to the senior officials' meeting. It was at the July meeting that the idea of the mother of diplomatic gatherings at the fag end of Modi's current tenure took shape.