Fresh fiscal stimulus, combined with incentives, for critical sunrise sectors
Under 3.0 package, production linked incentives worth Rs 1.46 lakh crore offered to 'champion sectors'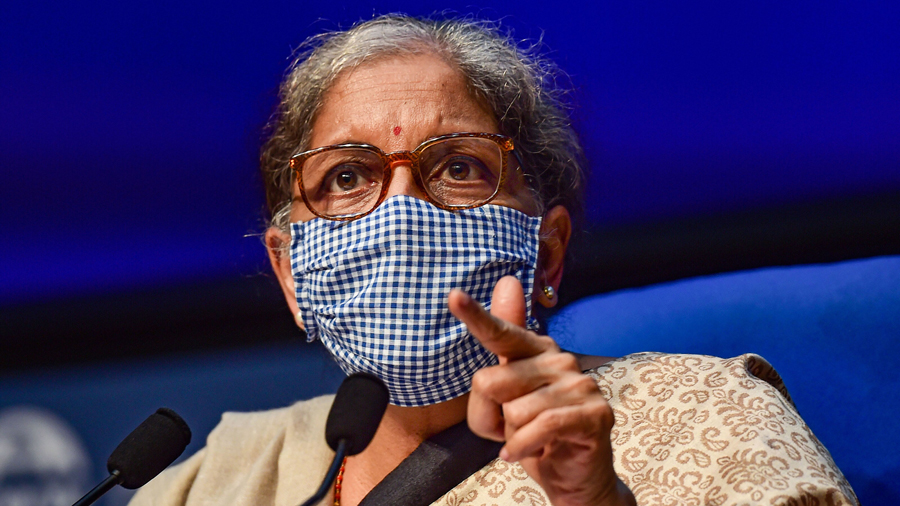 ---
---
In an attempt to spark pre-Diwali cheer, finance minister Nirmala Sitharaman delivered Thursday a third round of stimulus measures to help revive the Covid-devastated economy along with an upbeat assessment of growth prospects.
The government's 12-point Atmanirbhar Bharat 3.0 package involves an extra Rs 2.65 lakh crore in stimulus, bringing the total amount allocated to bolstering the economy since the pandemic's start to nearly Rs 30 lakh crore or 15 per cent of gross domestic product.
The plan also includes a new job creation scheme giving subsidies to businesses making new hires. Companies with fewer than 50 workers must take on at least two new recruits to be eligible while those with over 50 must hire at least five.
With the number of Covid cases declining nationwide, Sitharaman declared a "distinct recovery" now is under way, pointing to rises in goods and services tax revenues and energy consumption and she said there was good pent-up demand.
But the latest stimulus plan failed to fire up the stock market. The BSE's 30-share Sensex slipped 237 points to 43,317 points, ending eight days of gains, with traders saying they were looking for more innovative solutions to spur an economy badly hit by a slide in consumption triggered by the lockdown earlier in the year.
And the key question -- about where the money will come from -- wasn't revealed. At the moment, the government can't afford to pay the states money owing on their share of GST proceeds.
The stimulus programme endeavours to ensure "critical sunrise sectors get necessary support from the government so we are able to build an India which is strong enough to serve the domestic market and link up with the global value chain," Sitharaman told reporters.
The programme was announced after the Reserve Bank of India (RBI) said the economy likely contracted for a second straight quarter, pushing India into an unprecedented recession. Gross domestic product shrank 8.6 per cent in the quarter ended September year-on-year, the RBI estimated in its first "nowcast'' calculated using high-frequency data which provides a more real-time insight into the economy's state. Growth contracted by 24 per cent in the April-to-June quarter from the same year-earlier. "India has entered a technical recession in the first half of 2020-21 for the first time in its history," the RBI said.
Focus on leather, gems & jewellery
Under the 3.0 stimulus package, Production Linked Incentives (PLIs) worth Rs 1.46 lakh crore are being offered to so-called "champion sectors" the government identified last May that include leather, gems and jewellery, autos, renewable energy, pharma and textiles.
"This will give a big boost to the economy, investment, exports and job creation. A total amount of nearly Rs 1.5 lakh crore has been earmarked across sectors, for the next five years," Sitharaman said. The PLI programme is part of a drive to support domestic manufacturing and manufacturing self-reliance and push India as an alternate global Asian manufacturing hub and divert investment from China.
"This will give a big boost to the economy, investment, exports and job creation. A total amount of nearly 1.5-lakh crore rupees has been earmarked across sectors, for the next five years," Sitharaman said.
Help for MSME, real estate sector
Sitharaman's plan also involves extension of an emergency credit line guarantee Scheme for MSMEs -- micro-, small- and medium-sized businesses -- spanning 26 sectors until next March and additional credit up to 20 per cent. In addition they will get a one-year moratorium on loans as well as four more years to repay borrowings, Sitharaman said.
She singled out for help the hard-hit real-estate sector which was reeling even before Covid. To bolster residential sales, the differential between the stamp-duty circle rate and the agreement value has been doubled to 20 per cent from 10 per cent for the period up to next June 30. The move applies to primary sale of residential units valued up to Rs 2 crore.
"The income tax relief provides incentive to the middle class to buy homes," Sitharaman said. "The measure will reduce the hardships faced by both homebuyers and developers and help in clearing the unsold inventory," she added. The government is also earmarking 180 billion rupees for affordable urban housing.
The real estate sector was elated by the government's plans with Knight Frank India Chairman Shishir Baijal predicting "unbridled property purchase activity." He said "recognition of real estate as a core sector, creating ancillary industry demand and employment, and enhanced Pradhan Mantri Awas Yojana – Urban allocation, will boost the housing demand in the country." Also, "the increase in circle rate and transaction value threshold… will remove a transaction hurdle and save tax, thereby increasing the opportunity for unbridled property purchase activity," he said.
According to ANAROCK Research, some 5.45 lakh units across the top seven cities priced up to Rs 1.5 crore remain unsold while another 49,290 units priced from Rs 1.5-crore-to-2.5 crore also are still on the market. Housing had slowed long before the pandemic struck.
The finance minister also relaxed deposit and performance and security rules for government tenders. She earmarked Rs 6,000-crore for equity investment in the debt platform of National Investment and Infrastructure Fund (NIIF) and Rs 65,000-crore for subsidized fertilisers. In addition, she awarded Rs 10,200-crorein extra stimulus for capital and industrial expenditure. A further Rs 900-crore has been allocated for research and development on an Indian Covid vaccine.
Return to positive growth
Sitharaman noted the RBI believes there's a strong likelihood the economy will swing back to positive growth in the three months to December, ahead of its previous quarter by a quarter, "If the current upturn is sustained in the ensuing two months, there is a strong likelihood that the economy will break out of contraction of the six months gone by and return to positive growth" in the third quarter of fiscal year 2021, the RBI said in its monthly bulletin.
"Incoming data for the month of October 2020 have brightened prospects and stirred up consumer and business confidence. With the momentum of September having been sustained, there is optimism that the revival of economic activity is stronger than the mere satiation of pent-up demand released by unlocks and the rebuilding of inventories," the RBI said.
Sitharaman got some support for her view that the economy is picking up from ratings giant Moody's. The agency said it expected India's economy would shrink by 8.9 per cent in calendar 2020, marking a marginal improvement from its previous forecast of a 9.6 per cent contraction. The RBI forecasts the Indian economy will shrink 9.5 per cent in this fiscal year.
The latest stimulus package came, though, against the backdrop of a warning by the RBI that keeping the system awash with cash is "taking a step into the unknown and could kindle inflation without reviving growth".
"There is a grave risk of generalisation of price pressures, unanchoring of inflation expectations feeding into a loss of credibility in policy interventions," the RBI said. While inflation has been relatively subdued in recent years, historically it has been a bugbear for the economy.
The RBI forecasts the Indian economy will shrink 9.5 per cent in this fiscal year while the International Monetary Fund calculates it will contract by 10.3 per cent.