Foundation laid by Pandit Nehru, Bhubaneswar turns 73
Designed by German Otto H. Koenigsberger, the city has witnessed unprecedented development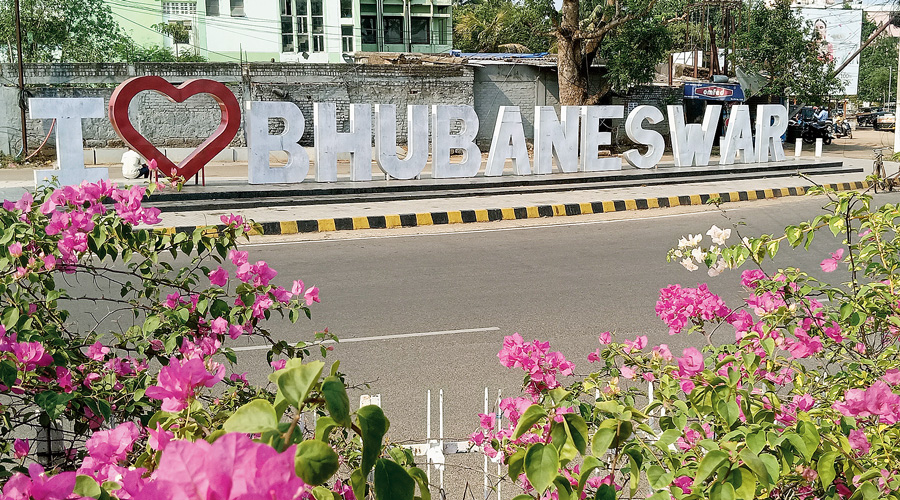 People's love for Bhubaneswar in marble.
Ashwinee Pati
---
Bhubaneswar
|
Published 14.04.21, 12:50 AM
|
---
The Odisha capital, whose foundation was laid by first Prime Minister Jawaharlal Nehru on this day in 1948, turned 73 on Tuesday. The city, which has seen tremendous development over the past few decades, was ranked second in the Centre's Ease of Living Index 2020 with a population of less than a million.
A number of functions were held here on Tuesday to mark its 73rd anniversary amidst Covid restrictions.
Recalling Bhubaneswar's journey, Pradosh Patnaik, senior journalist and brother of economist Prabhat Patnaik, said: "The foundation of the city was laid on April 13, 1948, by first Prime Minister Jawaharlal Nehru. Bhubaneswar was designed by German town planning engineer Otto H. Koenigsberger in 1946. In the course of its journey through 73 years, the city has witnessed unprecedented development."
Pradosh, who is the president of the capital foundation celebration committee, was born in Jatni, around 17km from here, but has been residing in the city since 1958. "As per the master plan prepared by Koenigsberger, the city was to be developed in a 12sqkm area at an estimated cost of Rs 2.89 crore. The city was originally built for 15,000 people. But its growth has surpassed everything." Patnaik told The Telegraph.
Pradosh's classmate and Congress MLA Suresh Kumar Routray said: "The efforts to develop Bhubaneswar into a modern city received a fillip when the first session of the Odisha Assembly began here in 1952 in a new building known as Sardar Patel hall. The babus began to arrive in the city after the new Raj Bhavan was set up in 1960. The city was divided into units."
Routray, who has seen many ups and downs in the political history of Odisha, said: "It was Harekrushna Mahatab, the first chief minister of Odisha, who had planned the city. Later chief ministers such as Nilamani Routray, Nandini Satpathy and Biju Patnaik took the work forward. It was J.B. Patnaik who gave a new shape to the city by including more and more areas. During the rule of present chief minister Naveen Patnaik, the city has grown further."
Routray claims that Bhubaneswar is only the city which had a reserve forest covering an area of 150sqkm on its outskirts. "But the biggest problem that the city is facing now is drainage because of its unplanned growth," he said.
Though Bhubaneswar has almost no industries, it has emerged as a major education hub and also boasts of tremendous growth in the health sector with a string of high-end hospitals. The Utkal University was set up on January 2, 1963, and the Odisha University of Agriculture and Technology (OUAT) was established on February 1 the same year. Then the Sainik School came up on January 8, 1964.
"Since then the city has never looked back. In the 1990s, a number of private schools, colleges and universities, including KIIT and Siksha O Anusandhan, came up. The city now houses NISER (National Institute of Science Education and Research), IIT Bhubaneswar, International Institute of Information Technology, Xavier Institute of Management, Institute of Mathematics and Applications, National Institute of Information Technology, Institute of Life Sciences and many others. Even Rama Devi Women's College has got the status of a university," said Sanjay Mohanty, a city-based doctor.
Satyajit Mohanty, a computer professional, said: "The city is now emerging as an IT hub with presence of top-notch IT companies such as TCS, Infosys, Wipro, Tech Mahindra and Mindtree. The recent establishment of a World Skill Centre here has brought the city into international focus. It is slowly emerging as information technology investment region."
Besides educational institutions, the city has also turned into a major health hub with hospitals like the AIIMS, KIMS (Kalinga Institute of Medical Sciences), Institute of Medical Sciences and SUM Hospital, Apollo, Care Hospital and the AMRI to name but a few. "Even people from the neighbouring states, including Bengal, Jharkhand and Chhattisgarh, are coming to the city for treatment," said Dr Meenakshi Parija.
Known as the temple city that was founded during the Kalinga empire over 3,000 years ago, modern Bhubaneswar's tourism potential received a major boost after the Biju Patnaik airport got the status of international airport on October 30, 2013. It facilitated the arrival international tourists in large numbers.
Capital Celebration Committee vice-president Pradyumna Mohanty said: "It has got the characteristics of a Metro city and has the honour of being the country's first smart city. It had been planned like Chandigarh but its unplanned growth over the years has cretaed problems which need to be solved."