'Sedition clause and UAPA unconstitutional'
Supreme Court ex-judges suggest reforms to avert misuse of laws
Madan B. Lokur expresses doubt whether a clause and a law dealing with sedition and terrorism would be scrapped altogether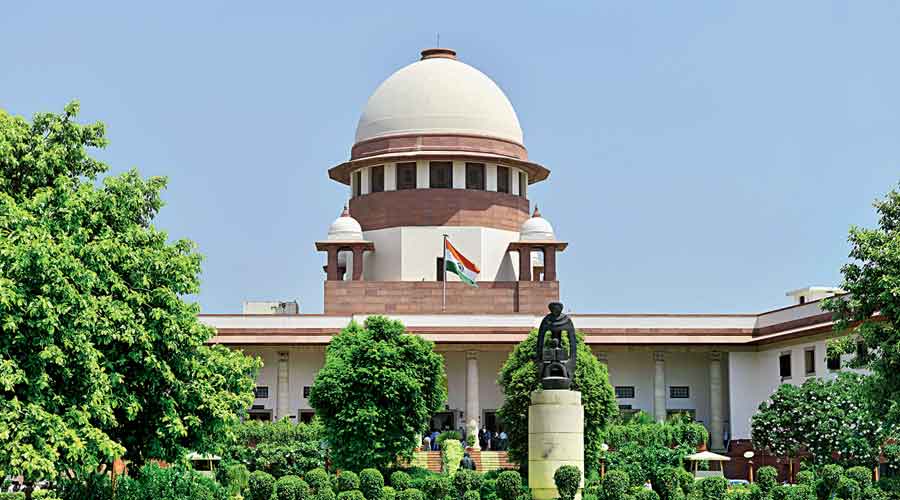 Supreme Court.
File picture
---
New Delhi
|
Published 25.07.21, 02:40 AM
|
---
Justice Madan B. Lokur, the former Supreme Court judge, has expressed doubt whether a clause and a law dealing with sedition and terrorism would be scrapped altogether but has suggested measures to insulate them from misuse.
Several former Supreme Court judges and a former high court judge on Saturday called the sedition clause and the Unlawful Activities Prevention Act (UAPA) unconstitutional.
Four former Supreme Court judges — Justices Lokur, Aftab Alam, Deepak Gupta and V. Gopala Gowda —as well as the former Patna High Court judge, Justice Anjana Prakash, were speaking at a webinar hosted by the Centre for Judicial Accountability and Reform.
Justice Lokur said: "It's nice to say that UAPA, sedition should go. But as I said, I don't think they're going to go. Probably, the National Security Act is now going to be used. So how do people deal with the situation? The only way is accountability. Accountability has to be in two forms; one is financial accountability where compensation has to be given. Once the courts start telling police or prosecution that you better pay Rs 5 or 10 lakh, I think they'll probably come to their senses."
He added: "There is now… something called 'soft torture'. We know about third and second degree methods, but you have soft torture."
Justice Lokur cited the overcrowding of jails and the lack of sanitation and proper food for juveniles as examples.
"You have somebody like Hany Babu (the Delhi University teacher now lodged in a Mumbai jail) whose eye is in a very bad shape and when it appears that he might lose his eye, then he will be sent to hospital but not before that. Everybody has talked about Stan Swamy. Why could he not be given medical treatment earlier? Isn't that torture?"
Justice Alam cited National Crime Records Bureau data to show that the UAPA had been proved to harass the innocent rather than punish the guilty.
He said: "In 2019, there were 2,361 UAPA cases pending trial; 113 were disposed of with conviction in 33 cases, acquittal in 64 and discharge in 16 cases. With low rates of disposal and high rates of pending, even if the case may fail, the accused may come out of incarceration after 8, or even 13 years…. The case doesn't stand but the accused has suffered.
"It's, therefore, not incorrect to say that in UAPA, the process itself is punishment…. We must then ask whether results justify the high toll on constitutional freedom that this legal framework is based upon."
The collection of data itself was now being done to create a political narrative, Justice Alam added. "Murders arising from class, caste… such as lynching are shown as individual offences under Section 302 of the Indian Penal Code…. The grouping of violent terrorist acts, which earlier accounted for a mere 3.3 per cent of total violent crimes, with non-violent speech creates a new imagination of terrorism and national security which brings the problem of terrorism centre-stage."
Justice Gowda said: "Some principles that could inform a jurisprudence that accords due deference to civil rights even within the restrictive confines of the UAPA can be culled out from certain judgments already delivered on the point by high courts and the Supreme Court.
"One, operations of legislation like the UAPA, designed to deal with exceptional circumstances, must be restricted to such cases and their operation shouldn't be blurred with ordinary legislation. Two, the word 'terrorism' in the UAPA must be given a specific meaning that relates to defence of India as a sovereign nation which must be distinguished from public order offences. Public order must not be coloured with seditious motives."
Justice Gupta said that even Section 124A of the IPC (sedition) should be repealed. He explained: "In my view, the only reason it was held to be constitutional was that it was held in the straitjacket of only being incitement to violence, etc. Today you have so many other laws dealing with incitement to violence, including the UAPA."
The retired judge added that the UAPA was unconstitutional as well. He said: "When Mohammed Ilyas and Irfan were acquitted by an NIA court after 12 years, people (were) acquitted in Surat after 20 years, Natasha Narwal did get bail only after her father died, Siddique Kappan's mother died when he was in jail.... Father Stan Swamy, 84 years old, suffering from Parkinson's disease…. I mean, are we not human? Have we lost all touch of humanity? This man requires bail even if there's 43D or 43E (of the UAPA)… a provision which effectively takes away the power of the superior courts to grant bail, denies the power of judicial review to the accused person and, therefore, is unconstitutional."
Justice Prakash said: "It is unchallenged that the presumption of innocence shouldn't be dislodged…. The point is, whether the SC and courts as protectors of rights do not think there's a possibility of misuse. The HC doesn't do anything; when they do, SC says 'no, no'. This is absurd. What happens to the protection of civil rights?"
The former Supreme Court judge, Justice A.K. Ganguly, was replaced as a speaker at the webinar after outrage on social media about the absence of a woman and the inclusion of Ganguly who faced a sexual harassment charge in 2013. Justice Prakash replaced Justice Ganguly at the event.