Foreign secretary to external affairs minister
Sushma Swaraj being replaced by the man who called the shots on key policy matters for the better part of her stint as foreign minister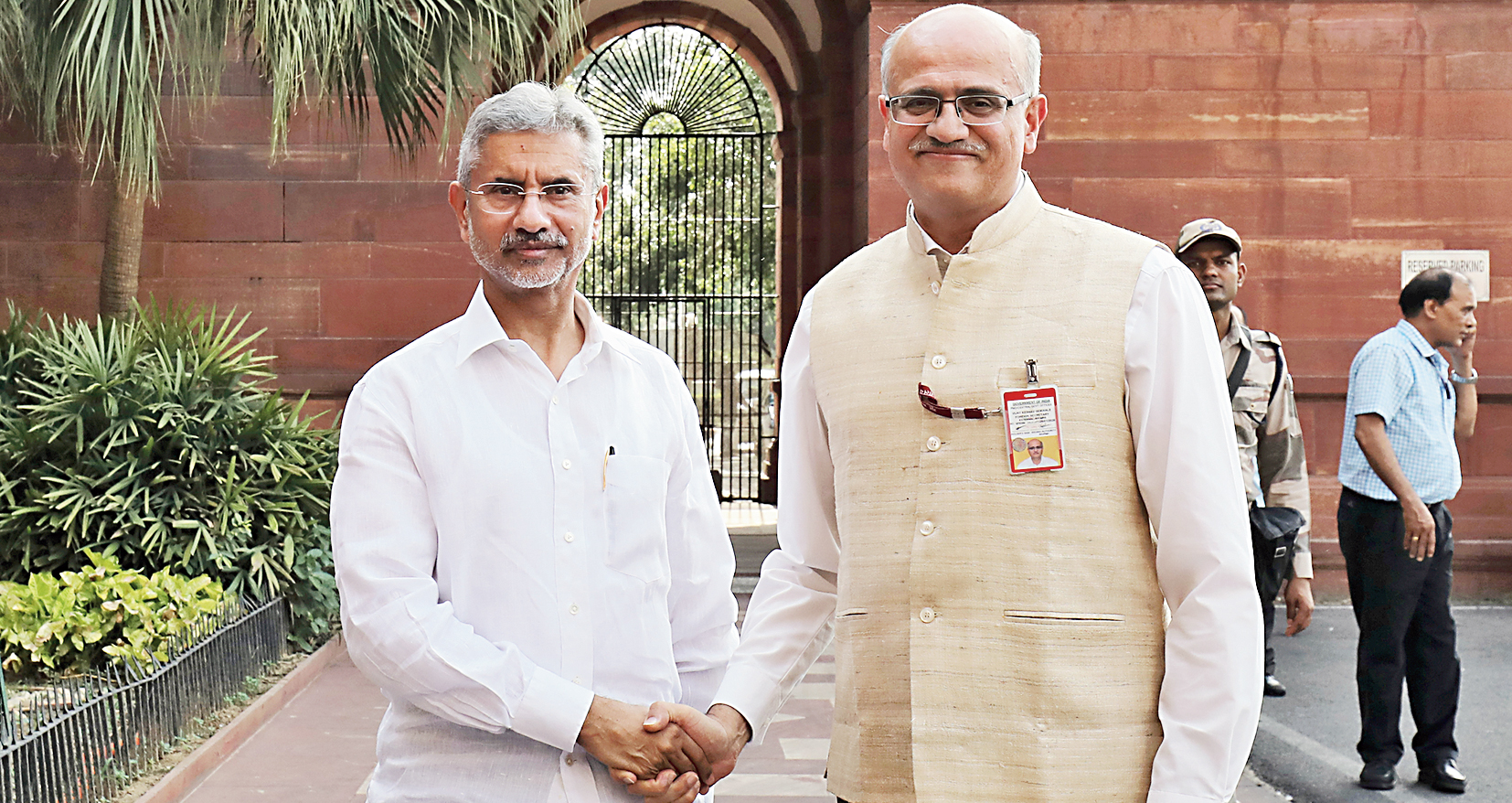 Jaishankar (left) with foreign secretary Vijay Gokhale.
(Reuters)
---
New Delhi
|
Published 31.05.19, 10:28 PM
|
---
S. Jaishankar was back in South Block on Friday afternoon, a year and four months after he left the external affairs ministry as foreign secretary, to take up the job of his former boss Sushma Swaraj.
The choice of Jaishankar as external affairs minister signalled the possibility of key foreign policy being once again drafted from the external affairs ministry, and not the neighbouring Prime Minister's Office, which was perceived to have been the case during Sushma's stint.
Although Sushma had opted out of the electoral battle, many in the ministry had expected her to return via the Rajya Sabha route, considering that she kept a low profile and did not challenge Prime Minister Narendra Modi's purported decision to monitor key policy-making that should have been her domain.
If anything, Sushma provided a human touch to a ministry long seen as having a stiff upper lip, earning for herself the title of a "people's foreign minister" — a la Florence Nightingale of Twittersphere where she was prompt in responding to the plight of Indians stranded in any part of the world.
Given that this was an arrangement that worked well for the Modi government, the move to replace her has surprised many in the ministry, prompting speculation on why she was not back for a second stint. Many pointed out that like former finance minister Arun Jaitley, Sushma is not known to have written to Modi asking to be excused from a second stint.
Sushma is being replaced by the man who called the shots on key policy matters for the better part of her stint as foreign minister. Jaishankar was foreign secretary for three years from January 2015.
In keeping with his apolitical persona, Jaishankar took charge of his new assignment without any of the frills associated with a change of guard. He got down to work at 4pm, a few hours after the portfolios were announced.
In many ways, Jaishankar represents much of what the Right-wing ecosystem has railed against — Lutyen's Delhi and Jawaharlal Nehru University — over the past five years. Son of international strategic affairs analyst K. Subrahmanyam, Jaishankar studied at Delhi's Air Force Central School before graduating from St. Stephen's College and then enrolling in JNU for higher studies.
Jaishankar is credited with negotiating the India-US civil nuclear deal when Manmohan Singh was Prime Minister. One of his biggest challenges during Modi's rule was resolving the Doklam face-off with China in 2017.
The Doklam team is now in the saddle helming national security and foreign policy — then foreign secretary Jaishankar as external affairs minister, Ajit Doval as national security adviser and then ambassador to China Vijay Gokhale as foreign secretary.
Being an inside man, Jaishankar can hit the ground running and needs no briefing or initiation as such. His lateral entry is also in keeping with the Modi government's decision last year to facilitate the entry of 10 experts from different walks of life at the joint secretary level to widen the talent pool available for administration.