Food bait makes lions at Gir forest lazy
The study results were published on Tuesday in the journal PLOS One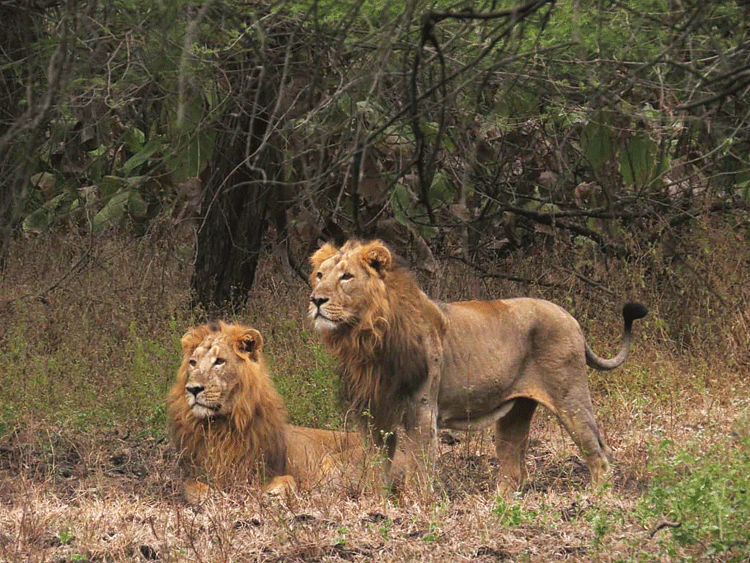 Lions in Gir forest.
Photo credit: Keshab Gogoi
---
New Delhi
|
Published 21.02.20, 09:43 PM
|
---
Food baits for lions placed by wildlife staff in Gujarat's Gir forest to draw them to tourist spots and curb human-lion conflict may disturb the animal's natural density and predatory skills, wildlife scientists cautioned on Tuesday.
The scientists with the Wildlife Institute of India, Dehradun, have found that contrary to expectations, the abundance of wild prey such as chital and sambar across the Gir landscape had little influence on the distribution of lions there.
Instead, the lions appeared to gather near sites where they had an "assured food supply" — livestock carcasses placed by wildlife staff as food baits at strategic spots to both lower the risk of human-lion conflict and increase sightings by tourists.
"The food baits are well-intentioned, but they may have repercussions," said Yadvendradev Jhala, a senior WII scientist who led a research study proposing a new strategy to count lions in the wild.
The size of the lion prides were significantly larger in areas provisioned with food baits — with the pride containing an average of five to seven adult females compared to less than two in areas without provisioning.
Jhala and other WII researchers — Keshab Gogoi, Ujjwal Kumar and Kausik Banerjee — have cautioned that such artificially localised and high density of lions may influence their social dynamics and local prey populations.
They observed that in many prides provisioned with food baits, younger lions lacked the predatory skills required to hunt as the cubs were fed with dumped carcasses with regularity and grew up as scavengers.
The scientists said such animals that lack hunting skills could enhance human-lion conflict as when they disperse from tourist zones and no longer receive food baits, they may try to attack easier prey — livestock or even humans.
Their study results were published on Tuesday in the journal PLOS One.
The WII study's primary objective was to explore a method to count Asiatic lions that uses whisker patterns and permanent body marks with computer software to identify individual lions and conduct mathematical modelling to estimate lion density.
"The current counting method is 50 years old — it just counts lions and it can miss some lions and double count others," Jhala told The Telegraph.
"The whisker patterns and permanent body marks on the lions are analogous to stripes used in tiger counts."
The scientists used their method to identify 67 individual lions out of 368 lion sightings in their study area of 725sqkm across the Gir forest. They estimated an overall density of 8.53 lions per 100sqkm.
Conservation efforts over the past four decades have helped increase the population of lions in the Gir forests — from an estimate of under 50 in the 1890s to the current estimate of around 500 lions.
The researchers said their alternative lion counting method might be used to assess lions in India and Africa.