FIRs over 'new statute' post
Both complaints refer to a 16-page Hindi document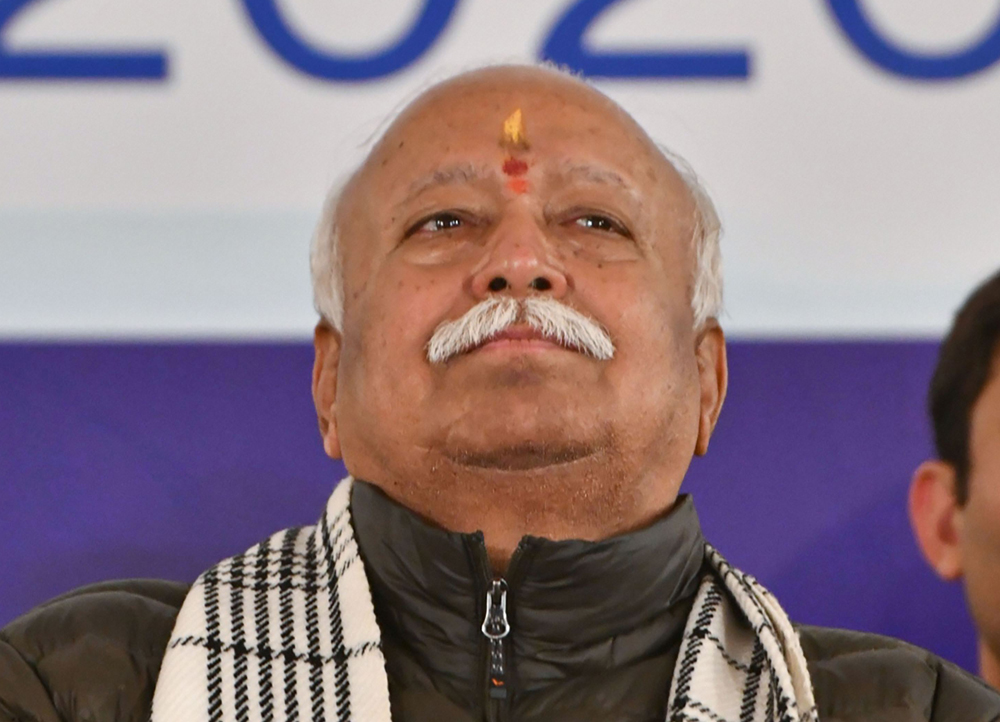 ---
|
Lucknow
|
Published 17.01.20, 09:42 PM
---
The Rashtriya Swayamsevak Sangh has filed defamation cases with two Lucknow police stations accusing identified people of circulating on social media a fake "new Constitution" and attributing it falsely to Sangh chief Mohan Bhagwat and the Prime Minister's Office.
Tularam Nimesh, the Sangh's nagar karyavah for Lucknow, and Lalta Prasad, zilla sanghchalak for Unnao, have got the FIRs registered with the Gomti Nagar and Hazratganj police stations, respectively.
Both complaints refer to a 16-page Hindi document, titled "Naya Bharatiya Samvidhan" (New Constitution of India), that has been circulating on social media since Thursday.
"It is objectionable and misleading, and is intended to create social rift," both FIRs say.
The document carries Bhagwat's photo and claims the Sangh and the PMO have sought suggestions from the people before implementing their "new Constitution".
It asks people to send these suggestions to the Sangh's Nagpur headquarters or to the PMO, saying that those sending the best recommendations would receive a reward of Rs 10,000.
The 13-chapter document has several sections, some of them titled "the soul of the Constitution", "citizenship", "right to vote", "right to information" and "legal system".
Prashant Bhatiya, a Sangh leader in Lucknow, has been quoted as telling journalists that it is a "fake document", circulated to tarnish the organisation's image.
"It was neither prepared nor posted by the RSS. It's an insult to the Constitution of India," Bhatiya said.
Amit Kumar Dubey, officer in charge of Gomti Nagar police station, said: "We have registered an FIR and handed the case to the IT cell as it comes under the head of cyber crime."
Dhirendra Pratap, station house officer at Hazratganj, said: "Our teams have started the probe. We hope to identify the system where the post was generated."
The post coincides with Bhagwat's remark on Thursday that while the Sangh has achieved the target of winning the Ram Janmabhoomi-Babri Masjid case, its next step would be to have a law enacted to enforce a "two-children norm".
Bhagwat's comment came on the first day of a four-day tour of Moradabad in western Uttar Pradesh.
Asked by a Sangh worker whether the government might withdraw the new citizenship act because of the countrywide protests, he said it would not.
"There is no question of going back. Let the protests continue, the Centre will move forward with its other plans. We support the Citizenship (Amendment) Act and are expected to create an atmosphere in favour of the government," he said.