Fire engulfs library built by day labourer in Mysore
Syed Issaq, 62, had used a portion of his income from cleaning drains and doing odd jobs to set it up in a small tin-and-bamboo shed in 2011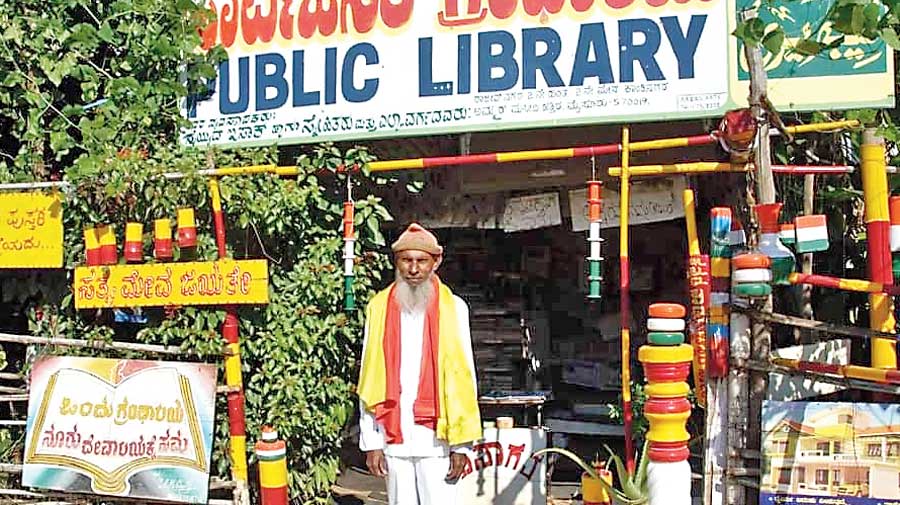 Syed Issaq at his library during better times
Sourced by Correspondent
---
Bangalore
|
Published 12.04.21, 01:09 AM
|
---
Day labourer Syed Issaq, 62, had built a library of 11,000 books and stacks of newspapers to introduce the poor to a world of knowledge that had been shut to him as a child.
After the library of his sweat and toil that contained thousands of copies of the Bhagvad Gita, the Quran and the Bible burnt down on Friday, he was shocked but determined not to let the suspected land sharks behind it destroy his life's work.
"I still have it in me to rebuild it all over again," the father of three grown-up children told reporters on Saturday.
"I never had the privilege of a proper education; so I want to provide access to books and newspapers to the underprivileged."
Well-wishers have pitched in, with an online fundraiser having already collected Rs 15.65 lakh by Sunday to help Issaq rebuild the library.
A Facebook campaign for book donations that emphasises the "interfaith" character of Issaq's library has received support from across the country.
Issaq had used a portion of his income from cleaning drains and doing odd jobs to set up the library in a small tin-and-bamboo shed in Mysore city, 140km from here, in 2011.
It stood on a patch of government land in the Rajiv Nagar Corporation Park slum near Ammar Mazjid, and was known simply as "Public Library".
Although he was occupying government land, the authorities did not disturb him since he was doing it for the public good.
Opened with a small number of books and newspapers, the library grew quickly with books donated by the public.
Among the charred books were "about 3,000 copies of the Bhagvad Gita, and another 1,000 copies of the Quran and the Bible, almost all donated by people", Issaq said.
More than 80 per cent of the destroyed books were in Kannada while the rest were in English, Urdu and Tamil. Issaq said the library attracted about 150 regular visitors each day, and most of them read the newspapers.
He said he spent about Rs 6,000 each month on the library's upkeep and on the eight daily newspapers in Kannada, Urdu, English and Tamil that it offered its readers.
The library operated on trust: Issaq opened it every morning and went to work while visitors walked out with any book or newspaper they wanted and later returned them. There were no fees, deposits, records or library employees. Issaq returned to close it in the evening.
"I was asleep at home (near the library) when a neighbour told me about the (pre-dawn) fire. But there wasn't much I could do to save the books," Issaq said.
An FIR of "mischief by fire or explosive" has been registered on a complaint from Issaq. Police sources said they suspected local toughs who had at least twice tried to shut the library down.
Issaq says the goons had asked him to move out since he was occupying government land. He believes they worked for the land mafia.
"There were about 11,000 books, most of them donated by well-wishers. It will take a lot of time and effort to collect all the titles again," Issaq said.
Muzaffar Assadi, head of political science at the University of Mysore, has urged people to donate books to help rebuild the library.
"This act of destroying a privately run library established by a poor man in a slum area for the purpose of interfaith dialogue and disseminate the value of knowledge is most condemnable," Assadi wrote on his Facebook page on Saturday.