3-year-old Ayad only civilian witness in shooting
Finger at 'policewale' in Kashmir family video
Ayaad is now the only civilian eyewitness in the case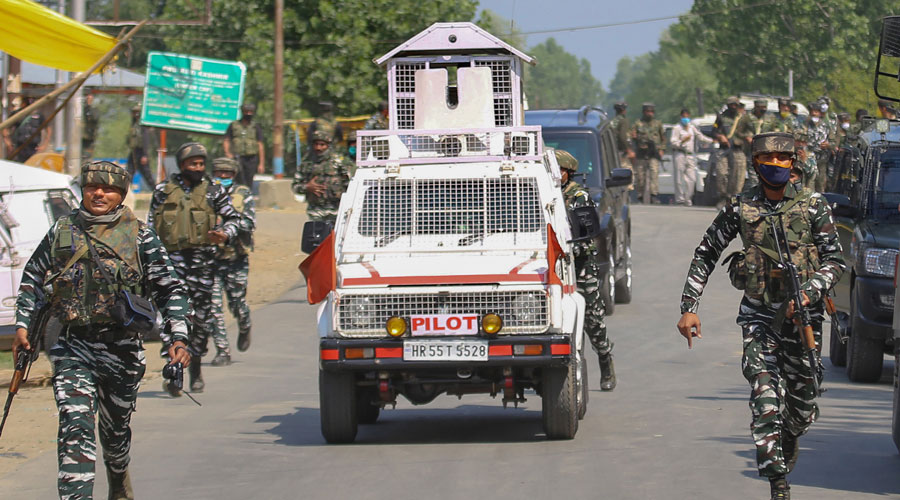 ---
|
Srinagar
|
Published 03.07.20, 04:06 AM
---
The family of Bashir Ahmad Khan, who was gunned down on Wednesday morning, has released a video where a relative is seen asking his three-year-old grandson about the incident.

Unattributed photographs had shown Ayaad, the boy, sitting on the chest of the lifeless and blood-stained Khan on Wednesday. The BJP ecosystem had sought to convert it into a propaganda tool.

Police said Khan was killed by militants but his family had blamed security forces.

In the video released on Wednesday night, a relative is heard asking the boy: "Bade papa they na subah aap ke saath? Unko kya kiya (Wasn't grandpa with you in the
morning? What was done to him?)"

The woman is not seen in the video. The toddler is sitting on a chair.

The child mumbles that his grandfather was killed by a "goli" (bullet) and that "woh maar giya tha (he was killed)".

When the woman asks him "kisne mara (who killed)", the child replied: "Policewale ne thak thak kiya (policeman fired)."

Raising his voice and gesturing with his left index finger to suggest a gun, the child says: "Thak, thak, thak, thak, thak kiya."

Kashmiri children usually refer to all men in uniform as policemen. Ayaad's family had said on Wednesday that Bashir was dragged out of his car by CRPF personnel and killed.

The police have said that militants had attacked a CRPF party in Sopore, killing a jawan and injuring a few other personnel, and that Bashir died in militant fire during the gunfight that ensued.

Ayaad is now the only civilian eyewitness in the case. Although the police have not said anything, Indian law does not set any age threshold on witnesses. The court considers the comprehension skills of a child and also examines the possibility of the kid being tutored before allowing their testimony.

Bashir's wife retired as a police sub-inspector in 2017 and his sister-in-law is also a police officer. At their Musatafabad locality on Srinagar's outskirts, the family proudly asserted their police connection and wondered why they should malign the forces.

"You write that my mother Farooqa Khan was an SHO (station house officer) at a woman's police station in Baramulla and retired as sub-inspector in 2017. My aunt, my mother's sister, Kausnar Jan is also a police sub-inspector," Bashir's youngest son Suhail Ahmad, a postgraduate student of Jamia Millia Islamia university, told The Telegraph.

"Why should we lie? How can anybody tutor us to say such things?" he asked.

Inspector-general of police Vijay Kumar had said on Wednesday that the family had blamed the forces as they had been threatened by militants and miscreants.

Suhail, who broke down repeatedly during the conversation with this correspondent, said Ayaad, his nephew, was the only family member who had accompanied Bashir on Wednesday. Suhail said there was ample evidence to suggest Bashir was killed by the forces.

He said his father was hit by a bullet in the chest, suggesting he was fired from the front and not behind.

"If he was running, he must have been hit on the back.... There was also not a scratch or a bullet mark on his car. Why was there no damage to the car?" Suhail asked. "We believe they (CRPF) killed my father in anger after they lost a man in militant firing."

Bashir's elder brother Nazir Ahmad Khan, a businessman, said the bullet had pierced Bashir's chest and made a big hole in his back. Nazir said the picture of Ayaad seated on his grandfather's body was also suspicious.

"It seems somebody placed the boy on the body (before the picture was taken)," he said.

CRPF additional director-general Zulfiqar Hasan, however, said Bashir was killed by militant bullets, but conceded that they were "still to reconstruct (the scene) properly".

"We assume when he was trying to take the child out of the car, he was hit in the back by a militant bullet…," Hasan told reporters in Srinagar. "All of us have gone to the
spot and seen the angle of the fire. We are very clear technically, this is a militant bullet."

The officer said they had reached this conclusion after examining "a lot of technical details and cameras".

This newspaper spoke to two doctors in Sopore, who had examined Bashir's body, to find out if he had been shot in the chest or the back, but they refused comment saying they had been directed by the authorities not to speak to the media.