Questions raised at FT festival of ideas
Tag of 'largest illiberal democracy' on India
The comment came during an exchange between author and journalist Edward Luce and Fareed Zakaria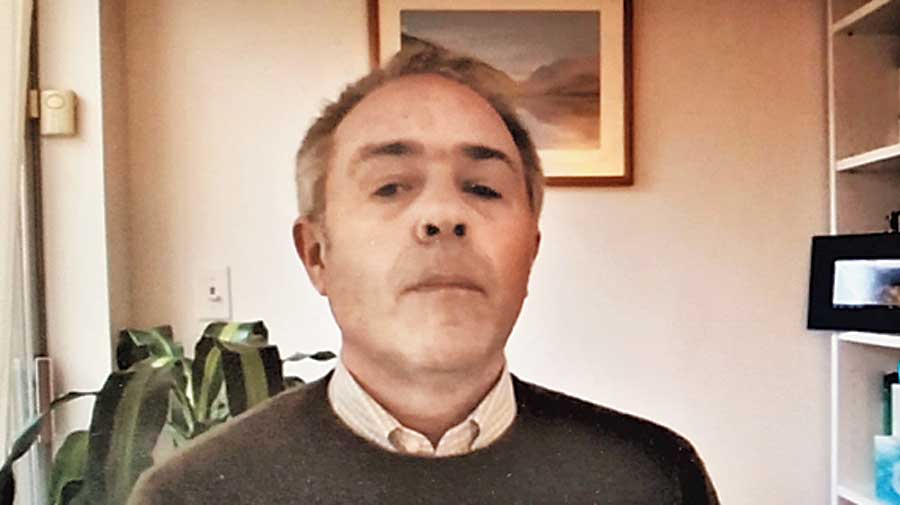 Edward Luce
Sourced by The Telegraph
---
London
|
Published 22.03.21, 01:44 AM
|
---
India was derided as "the world's largest illiberal democracy under Narendra Modi" during a festival of ideas organised by the Financial Times in London and watched by an influential cross-section of its readers in over 100 countries.
The comment came during an exchange between Edward Luce, once the Financial Times' South Asia bureau chief based in Delhi and author of In Spite of the Gods: The Strange Rise of Modern India (2007), and the author and journalist Fareed Zakaria, who was the recipient of the Padma Bhushan in 2010.
The FT Digital Festival Spring Edition, from March 18-20, managed 60 sessions and brought together "over 100 of the world's brightest minds for an epic three days of talks, tastings, performances and demonstrations".
Speakers included Nobel Laureates Venkatraman Ramakrishnan and Kazuo Ishiguro; former Bank of England governor Mark Carney; the married Turkish origin scientists behind the BioNTech/Pfizer vaccine, Özlem Türeci and Ugur Sahin; Financial Times editor Roula Khalaf, the first woman to hold the post; China expert Rana Mitter of Oxford University; historian Simon Schama; and Martin Wolf, the Financial Times (usually very pro-India) chief economics commentator. In the concluding session on Saturday, which discussed, "Can Biden's America regain world leadership?", Luce, now the Financial Times' US national editor and columnist, reminded viewers that although Zakaria had lived in America for over 40 years, he was "born and raised in what was then called Bombay".
"And India is of course a much bigger power than it was when you left," he began. "It is also just about able to claim it is the world's largest democracy — I would argue (it is) the world's largest illiberal democracy under Narendra Modi," added Luce, setting the tone of his exchange with Zakaria.
He suggested that world's 10 acknowledged leading liberal democracies, including notably the US, "would have to criticise it (Modi's government) for turning non-Hindu citizens gradually into second class citizens. Yet India is critical as a counterbalance to China. How does Biden thread his needle through that one?"
Zakaria, who is considered a foreign affairs expert, was equally critical of the Indian Prime Minister.
"So far the Biden administration has seemed to essentially ignore the decay of democracy in India," he said. "I think it'd be very hard to find much discussion of it."
"Let me give you one example. There is an enormous amount of attention on how the Chinese government is treating Muslims in Xinjiang, the Uyghurs — correctly so, properly so. What the Chinese are doing is appalling, (it) is probably a crime against humanity.
"Where there's very little attention to (is) how the Indian government is treating Muslims in Kashmir, which is also appalling. If you look at what has happened to Kashmir — and in some ways this goes back to before Modi — but over the last 40 years, Kashmir has essentially been ruled by martial law."
He went on: "The rule of law does not apply; democracy does not apply; the habeas corpus does not apply. And that's just one example."
Zakaria added: "I think that the tragedy of what is going on in India — and it is a tragedy — is that Hinduism, by its nature, is a very pluralistic, open, accommodating religion. It may be the most accommodating religion in the world. To be a Hindu, you can believe in one God, you can believe in 300, you can believe it is absolutely necessary to be a vegetarian not to kill God's creatures, you can absolutely believe that it's entirely alright to eat meat.
"It is so synchronistic and open — in its core, there is such a sense of tolerance and non-violence that it's a tragedy that Hindu nationalism — which is really a kind of imported European weaponised conception of Hinduism — has begun to dominate the country."
"And you're absolutely right," Zakaria agreed with Luce. "Muslims in India have already become second class citizens. And I think it's fair to say it's not just Muslims; it is happening to the small number of Christians as well. It's happening to other religions.
"What you're seeing is India behaving in ways that are typical of autocracies, expelling foreign journalists, expelling or harassing in some way or the other NGOs."
Zakaria went back to the past: "The great pride of India, even in the 1960s and '70s, even when it was very poor, was that it was very open and had a vibrant free press — the Rockefeller and Ford Foundations were welcomed and honoured.
"And now what you see is a country that behaves more like Putin's Russia, Erdogan's Turkey, with the kind of deep suspicion of independent media, deep suspicion of NGOs: people are locked up, jailed, questioned, intimidated. These are some of the softer elements that have gone as well."
Zakaria then dealt with the question Luce had raised: "And to your point, the democratic 10, or whatever you call them, it's only going to have meaning if it has deep moral legitimacy, because ultimately, these countries don't all share strategic interests in common.
"Many of them have very different attitudes towards geopolitical issues, but they could have a shared conception about democracy and the great threat to democracy right now is illiberal democracy.
"We're not seeing a lot of coups: what we're mostly seeing is the degradation of democracy from within — what is happening in Hungary, what is happening in Turkey, what happened in Russia. People forget now, but then 2000 in Russia was actually a democracy. So it's that which has to be criticised, which has to be judged which has to be shored up against. And what do you do in India (when it) is one of the key perpetrators of the problem rather than the solution to it?"
It is not known whether anyone sent in a question or comment challenging the characterisation of Modi advanced by Luce and Zakaria.
Luce moved on to the rest of the discussion with a cryptic: "It's a very good question. And I'm sure we'll return to it another time."