Film stars cheer, activists cry for rule of law
Several hashtags related to the encounter trended on Twitter through the day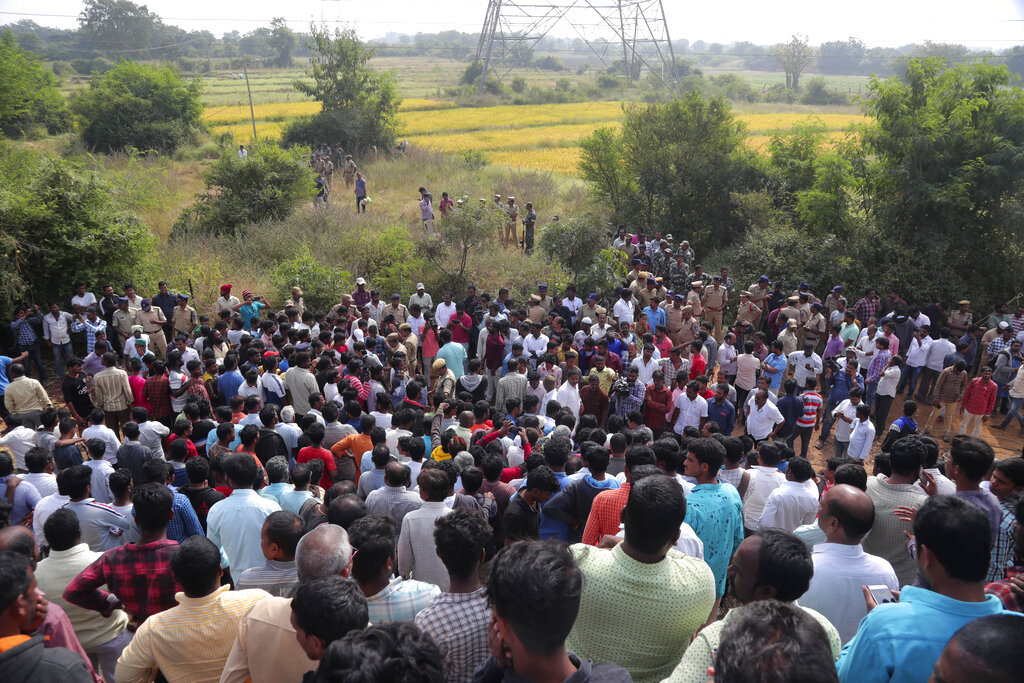 ---
---
Filmstars celebrated while jurists and activists condemned Friday's encounter killing of four men accused of raping and burning to death a veterinarian on the outskirts of Hyderabad.
Several hashtags related to the encounter trended on Twitter through the day.
South Indian film personalities were the first to celebrate the killings. Nagarjuna, Telugu film industry's biggest star since N.T. Rama Rao, tweeted: "This morning I wake up to the news and JUSTICE HAS BEEN SERVED!! #Encounter."
Rao's grandson Junior NTR tweeted: "JUSTICE SERVED! Now, Rest In Peace (name of the victim)."
One of the leading ladies of Telugu cinema and now also a Bollywood star, Rakulpreet Singh, tweeted: "How far can you run away after committing a crime like Rape.… thank you #Telangana police."
Actress and producer Lakshmi Manchu tagged ruling Telangana Rashtra Samithi leaders Kavitha K. and K.T. Rama Rao and said: "I do NOT feel bad. I was always against capital punishment but I've changed my mind over the years. Rapists MUST hang! Thank you kcr garu for standing as an example to our nation and showing respect to women!"
Tamil director A.R. Murugadoss, the director of Aamir Khan-starrer Ghajini who was accused of sexual harassment by Telugu actress Sri Reddy, tweeted: "My salute to the #hyderabadpolice department for the action they took.… Waiting for the day when every woman feels safe and secure to live in this country…"
Actor Rishi Kapoor tweeted: "Bravo Telangana Police, my congratulations!"
Tweeted actor Anupam Kher: "Congratulations and #JaiHo to #TelenganaPolice for shooting down the four rapists… in an ENCOUNTER."
There were critical voices too from Hyderabad, where people on Friday offered flowers and raised slogans supporting the police at the encounter spot.
Politician and transparency activist Jayaprakash Narayan tweeted: "The perpetrators of such heinous crimes deserve the harshest punishment, but by swift due process in a court of law. The police were obviously under unbearable pressure; but extra-judicial killings will only make innocent people victims over time. Due process protects all of us."
Privacy activist Srinivas Kodali tweeted: "The encounter only pushes the toxic masculinity women want to get rid of from the society."
Several lawyers and judges were critical too.
Former Supreme Court judge Markandey Katju said in several tweets: "Justice AN Mulla of the Alld HC in a judgment said 'I say with all sense of responsibility, there is not a single lawless group in d whole of d country whose record of crime comes anywhere near that of the organised gang of criminals known as the Indian Police Force.'
"In the Hyderabad incident, it seems evident that the 'encounter' was fake. The four accused were in police custody and were unarmed. So how could there have been a 'genuine' encounter?
"The truth is that such 'encounters' are in fact no encounters at all but cold-blooded murders by the police."
Senior Supreme Court advocate Vrinda Grover ironically received rape threats on Twitter for condemning the encounter.
She wrote on Facebook: "People who disagree with my views are so enraged by the fact that I am condemning the encounter and demanding an investigation into the killings by the Hyderabad cops, that they are asking for me to be taught a lesson by raping me.
"I have also received calls from men aggressively threatening me and questioning my views. These are the people celebrating the encounter killing of the 4 suspects in Hyderabad and applauding the police for 'instant justice"."
She added: "So next time you cite the public as the rationale — please hear closely what this public wants. This public is not exhausted by the delays in the justice system. This public doesn't believe in the rule of law.
"They believe in retributive mob justice. They are not opposing patriarchy, misogyny or violence against women. Toxic masculinity can never be the answer — not of the rapists not of the cops not of the public."
Activist and senior Supreme Court advocate Karuna Nundy said in a series of tweets: "Now nobody will ever know if the four men killed by the police were innocent men, arrested fast to show action. And whether four of the most brutal rapists roam free, to rape and kill more women.
"There are so many people exulting over #EncounterNight, amongst them people who have lost faith in the slow court system and bad prosecution — governments are squarely responsible. This needs to be a wake-up call to 1. Appoint more judges and police, after assessing them for gender orientation. 2. Strengthen investigation so the right people are caught, and fast and 3. Bring in robust witness protection programmes"
Lawyers and privacy activist Prasanna S. tweeted: "The Telangana State Government has to be dismissed under Article 356 now, pending a probe into this encounter. If they have the daring to do this under such intense media scrutiny in the case, imagine the atrocities they perpetrate in other cases!"
Police officers stood by their colleagues.
IPS officer and MD of Odisha's Capital Region Urban Transport, Arun Bothra, tweeted: "Encounters take place when instead of asking for a better Criminal Justice System the society puts the entire accountability on the Police. Wish we get faster justice in the court rooms rather than on the streets."
Former Jammu and Kashmir DGP Shesh Paul Vaid tweeted: "Well done boys —Telangana Police.
"Good that Telangana Police didn't allow them to escape from custody, otherwise they would have come in for big criticism."
DCP Sanjeev Yadav of Delhi police's special cell, which investigates terrorism cases, tweeted: "Congratulations to Hyderabad police."
Student activist Shehla Rashid Shora, who is being probed by the cell for her tweets alleging army atrocities in Kashmir, tweeted: "We're a violent society. The culprits are violent, so are the cops. Leaders make violent speeches and abet violence, and so do TV anchors. The insurgents commit violence in Kashmir, and so do the armed forces. Let's not keep pretending that we are non-violent. We have a problem!"
Asha Devi, mother of the 2012 Delhi gang rape and murder victim, told ANI: "I am extremely happy with this punishment. The police have done a great job and I demand that no action should be taken against the police personnel.… I have been running from pillar to post for the last seven years to get justice. I appeal to the justice system of this country and the government, that (the victim's) culprits must be hanged to death, at the earliest."
The President today rejected the mercy petitions of one of the four convicts on death row. The rest have not pleaded for mercy.