Fear of PSA keeps Valley leaders in chains
No attempt to challenge detentions in court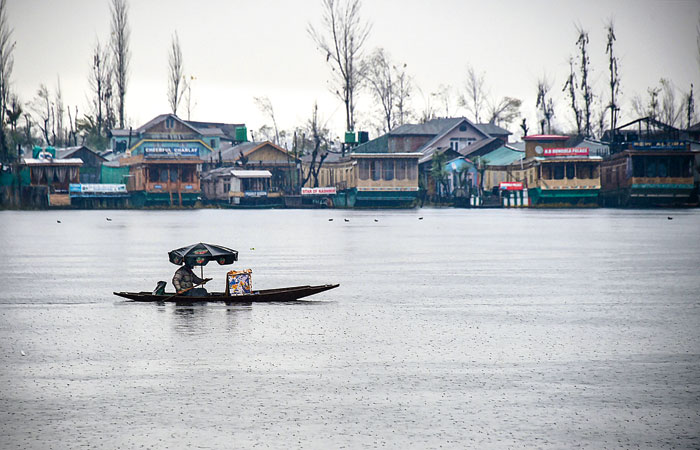 A vendor rows his boat on the Dal Lake amid rain on Wednesday
(PTI)
---
Srinagar
|
Published 27.11.19, 09:02 PM
|
---
Nearly four months in jail have left around three dozen members of the once powerful political elite of Kashmir outraged and restless but the fear of being booked under the draconian Public Safety Act or sent to prisons outside the Valley is such that they appear unwilling to even challenge their detention in courts.
The PSA allows detention without trial for up to two years and hundreds of people, including former chief minister Farooq Abdullah, separatists, lawyers and civil society members, have been booked under it since the scrapping of Jammu and Kashmir's special status on August 5.
Almost none of the 34 senior politicians arrested under Section 107 of the CrPC ahead of the revocation of the special status, including former chief ministers Omar Abdullah and Mehbooba Mufti, have challenged their detention in courts, the only exception being IAS topper-turned-politician Shah Faesal. Faesal, however, withdrew his petition in August allegedly over fears that he could be booked under the PSA.
Under Section 107, detainees are required to sign a bond pledging not to disturb peace.
The politicians appeared unwilling to challenge their detention from Day 1 but more fear gripped them after veteran MP Farooq was slapped with the PSA in September. He was booked at a time when the Supreme Court was hearing a petition challenging his "illegal detention", filed not by him but MDMK leader and friend Vaiko.
A National Conference leader said the example of "Doctor Sahib", referring to Farooq, had served as a "warning" for all the other leaders.
Of the 34 politicians detained under CrPC Section 107, Omar and Mehbooba are lodged separately. The others, including Ali Mohammad Sagar, Naeem Akhtar, Sajad Lone and Faesal, are lodged in the MLA Hostel in Srinagar.
High court lawyer Zaffar Qureshi said those who were reluctant to sign a bond under Section 107 could get their detention quashed "in no time" in the high court.
The Telegraph spoke to half a dozen free leaders of different political parties and all of them said the detained leaders had preferred not to mount a legal counter as they feared they could be held under the PSA and even sent to jails outside Kashmir.
"The PSA can prolong their detention and even land them in jails outside Jammu and Kashmir. My father is aged and ailing and I don't want more trouble for him," the son of a former People's Democratic Party legislator said.
"The government apparently does not want to create a spectacle. It is easy to challenge detention under CrPC Section 107, but the PSA is a different thing. We, on our part, had thought they would be released sooner but it is already four months now."
PDP spokesman Firdous Tak claimed that the leaders had been threatened with the PSA if they challenged their detention. "Everybody has been told not to challenge their detention, and if they did they should be ready to be booked under the PSA," Tak said.
Adnan Ashraf, an aide of detained People's Conference leader Lone, said: "There is fear and we believed the State might come harder (in case they challenge the detention). Besides, we believe it was a political decision to arrest them and the decision to release them will again be political."
Jammu and Kashmir advocate-general D.C. Raina did not respond to calls from this newspaper.
A senior official said, requesting anonymity: "We had 48 detained politicians at the Centaur (Hotel, which had been turned into a jail where leaders had been kept initially) in August, of whom 17 signed the bonds, the others didn't."
The officer said Section 107 allowed detention for three months but fresh detention orders were issued recently when the leaders were shifted from Centaur to the MLA Hostel.
Outreach falters
People largely stayed away from the government's Back to Villages outreach on Wednesday in the Valley following Tuesday's militant attack in which an official and a sarpanch were killed in south Kashmir's Anantnag district.