Fault lies with raid on institutions: Rahul
The former Congress chief pointed to the forcible capture, as opposed to a weak Opposition, that enabled the BJP's dominance over India's polity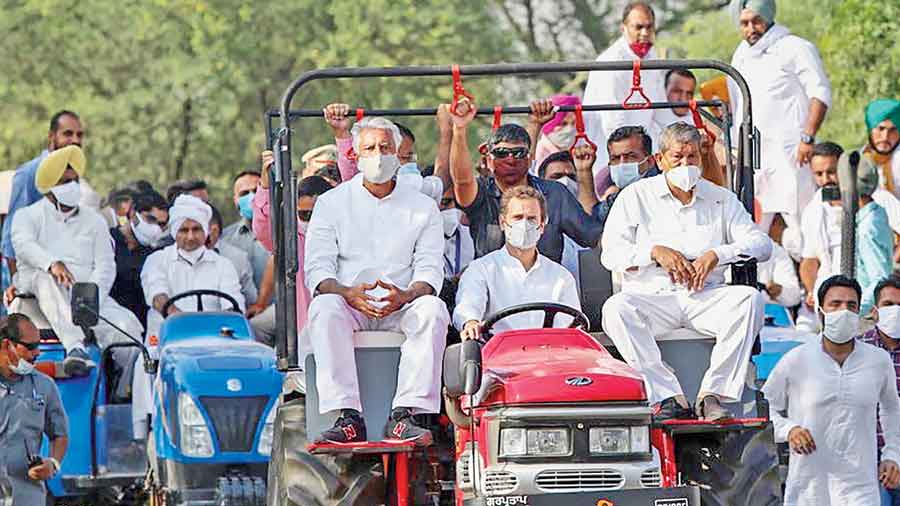 ---
New Delhi
|
Published 07.10.20, 02:27 AM
|
---
Rahul Gandhi on Tuesday contested the popular perception that a weak Opposition allowed free run to Prime Minister Narendra Modi, pointing to a much bigger crisis of forcible capture of institutions that enabled the BJP's dominance over India's polity.
Asked at a news conference in Patiala about the widespread belief that the Opposition's weaknesses and absence of unity helped Modi despite his failures, Rahul said: "Opposition in any country functions within a framework. What is that framework? It is the press, the judicial system, and the institutions that protect the voice of the people. That entire framework has been captured."
Rahul added: "The entire architecture of giving voice to the people of India is captured and controlled by the BJP. If the entire institutional architecture is captured, then to say that the Opposition is weak…it doesn't, that's not really a correct statement. Give me a free press, give me institutions that are free and the government will not last."
Without elaborating on the role of judiciary any further, the former Congress president said: "I can give proof, clear-cut proof… for example, the Rafale deal. I can bring it to you but you won't show it. At a certain level, frankly, you are also not doing your job. It is okay for you to blame the Opposition, to say that the Opposition is weak but you (media) are also walking into slavery."
Expressing his frustration over the role of the media, which he believes is a manifestation of institutional capture, Rahul said: "In any other country of the world, it is not possible that the media says nothing if 1,200sqkm of land is taken by another country. The girl is raped, her neck is broken… and the administration is attacking the family. This is forcible capture. If captured with affection, I will support it. But it is captured by force."
He persisted with his dismay over the media's attitude when asked about the BJP's criticism that he was sitting on a sofa placed on the tractor and his visits to trouble spots were part of political tourism. He burst out, "and no questions are asked when Modiji buys a plane worth Rs 8,000 crore. Because his friend Donald Trump has that plane, he also wants it. But if I am sitting on a tractor, somebody put a cushion on the seat, that's an issue."
He added: "I do my job. I work with the people. Media and other institutions are captured and they won't ask questions when MSMEs are destroyed, youth don't get jobs. The youth will accept the reality one day. I am patient, I will wait for a while."
In response to another question, he said: "I am a person who instinctively feels against injustice, that's what I have been, I was attacked when I fought for Land Acquisition Act. Niyamgiri, MGNREGA and now farm bills….I am standing with the people. My political path would have been easier had that not been in me. But that's what I am."
To another question about the government and the BJP leaders making a mockery of his stand on farm laws, he said: "People will judge whose understanding is correct, I won't say anything on that. When I warned of corona, they made fun of me. The Prime Minister said corona battle would be won in 21 days. When workers were walking home, dying on the way, Modiji didn't utter a word. Now food security system is being destroyed. Wait for six months to see what happens. From notebandi to farm laws, all these decisions were taken to help Adani-Ambani. They have ordered Modi to clear the way for them."
He then gave the example of Chinese intrusion to question Modi's credibility, saying: "Modi said India's land has not been captured. 1,200sqkm has been captured. Ask any army general and he will tell you. China knows this man will give 1,200sqkm to protect his image. Modi lied to the country. Call the Prime Minister to a press conference and ask him. Why is he scared? He is interested in only his own image. He waves his hand in an empty tunnel. He knows the media is in control, no questions will be asked."
When pointed out that the BJP considers demonetisation, goods and services tax, lockdown and farm laws their achievements, the Congress leader shot back, "Don't trust me, ask the MSMEs, small shopkeepers and farmers. Why are farmers protesting? Why doesn't Modi come to Punjab and talk to farmers?