Farmers' protest: Morcha to issue people's whip to all MPs
According to the directive, MPs should not allow any business to be taken up in Parliament till the Centre gives in to the cultivator's demands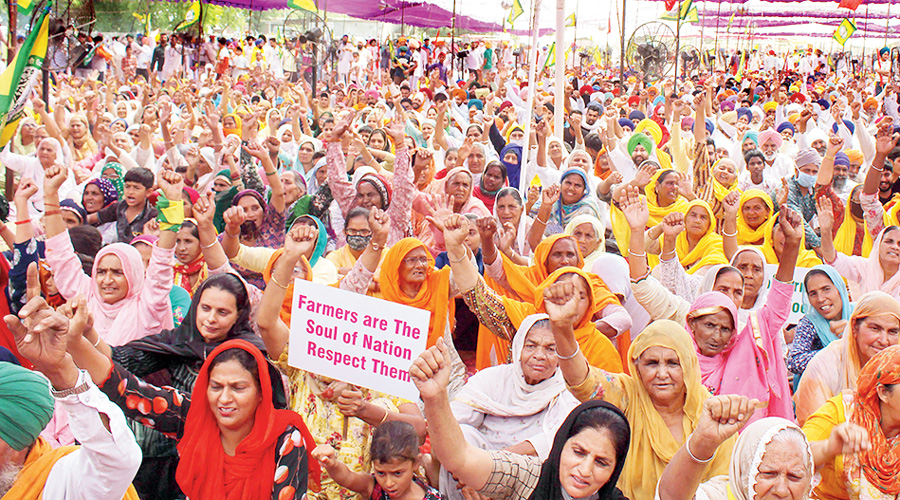 ---
New Delhi
|
Published 15.07.21, 01:20 AM
|
---
The Samyukta Kisan Morcha (SKM), which is spearheading the farmers' protest since November, on Wednesday decided to issue a people's whip to all MPs to ensure repeal of the three new farm laws and enactment of a legislation guaranteeing minimum support price during the upcoming monsoon session of Parliament.
Borrowing a leaf out of the parliamentary practice of parties issuing whips to members to vote according to the line taken by the party, SKM leader Balbir Singh Rajewal said MPs should respect the people's whip as "a direct instruction" from their constituents who have elected them.
According to the directive, MPs should not allow any business to be taken up in Parliament till the Centre gives in to the farmers' demands on the floor of the House. Also, the farmers have made it clear that they will not be satisfied with walkouts, pointing out that this only enables the government to carry on with its business unhindered.
The SKM warned that if the MPs failed to follow the whip, the farmers would oppose them in the same manner in which the ruling party legislators are facing the ire of the farming community whenever they are stepping out for public activities in Haryana and Punjab.
In both states, ruling party legislators are facing social boycott and being heckled regularly. After some instances of farmers manhandling a couple of legislators, the SKM had sent out instructions against such acts and announced that only the politicians' presence at public events, not personal engagements, would be objected to. To mount pressure on the MPs and the government, the farmers also plan to march to Parliament daily during the monsoon session in batches of 200.
Asked how they proposed to do that given the tight security around Parliament and the heavy police presence at the borders where they had been picketing for the past seven months, Rajewal told reporters that the farmers would remain peaceful. "How the government will respond is for it to decide," he added.
This is the third time that farmers are planning to march to Parliament since January. Both the earlier plans had to be aborted. In the first instance, farmers called off their march on February 1 after the Republic Day violence. An attempt to conduct a march in the first fortnight of May had to be shelved because of the second wave of the pandemic.