Modi blames Opposition 'agenda' for deadlock with farmers
Government willing to hold factual, logical dialogues with all, says PM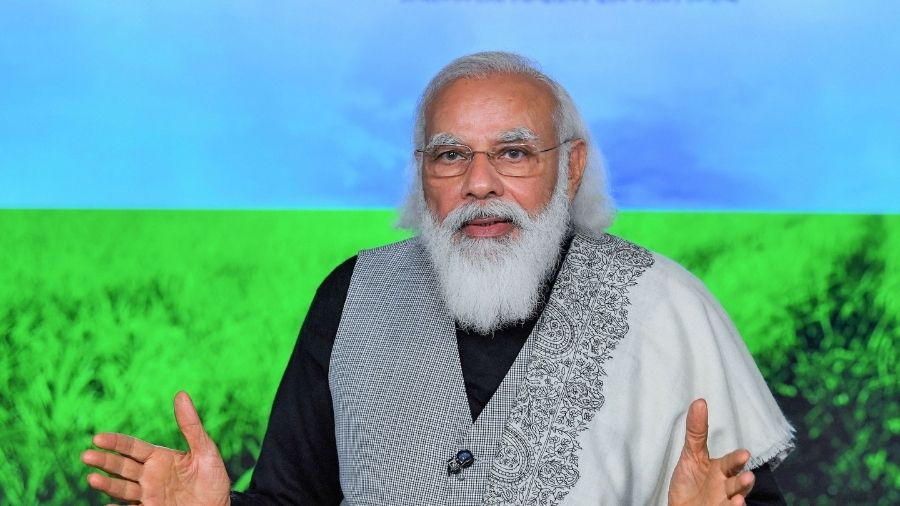 Prime Minister Narendra Modi speaks at an event on the PM-KISAN Samman Nidhi via video-conferencing, on Friday.
PTI
---
New Delhi
|
Published 25.12.20, 09:07 PM
|
---
Prime Minister Narendra Modi, in a direct attack to people with a political agenda, said that they were responsible for the deadlock in the Centre's talks with protesting farmers. He asserted that his government is willing to hold dialogues with all, including those staunchly opposed to it, as long as talks are based on farm issues, facts and logic.
In a speech targeting the Opposition, Modi said when the agitation began farmers had some genuine demands like guaranteed minimum support price. Later, people with political motives took over and began making unrelated demands like the release of those accused of violence and making highways toll-free, he said. 
Defending the three new agri laws fiercely, Modi said that an overwhelming number of people had welcomed the Acts, and also listed their benefits during an interaction at an event, where he released Rs 18,000 crore to 2,000 crore farmers.
His government is approaching dialogues with protesting farmers with an open heart, Modi said, claiming that the parties rejected by the electorate are pushing their political agenda by misleading farmers and using their shoulders to fire at the government as they lack any logical argument against these laws.
Defeated in elections, these parties are now indulging in event management for selfies and are appearing on television for publicity, he said.
"Our decision can be tested on logic and facts. If there are any shortcomings, it should be highlighted. It is a democracy. We are not claiming that God has given us all knowledge," the Prime Minister added.
"Farm reforms became necessary because poor farmers, who are over 80 per cent, were getting poorer during rules of earlier governments," he said.
"Though the government is making humble efforts to resume the dialogue, some are not letting talks happen due to political reasons and are misleading the farmers," Modi said.
In a specific attack, he lashed out at the Mamata Banerjee-led government in Bengal while alleging that they have destroyed the state and was doing politics by stopping over 70 lakh farmers of the state from getting benefits of the Centre's flagship PM-KISAN scheme under which Rs 6,000 is being provided every year.
"Today I regret that more than 70 lakh farmers of West Bengal have not been able to get benefits of PM Kisan Samman Nidhi. More than 23 lakh farmers of Bengal have applied online to take advantage of this scheme. But the state government has stopped the verification process for so long," Modi said.
Blaming political parties for infiltrating the farmers' protest, he said, "You would have seen that when the agitation started their demand was about MSP guarantee. They had genuine issues because they were farmers. But then those with political ideology took over."
"MSP, etcetera were pushed aside and now what is happening is that they are demanding release from jail of those accused of violence... They want highways toll-free, opposing policies that have existed through several governments. Why have they shifted from farmer's issues to new demands," he added.
Despite that, farmers across the country have wholeheartedly welcomed agriculture reforms, he said, assuring farmers that he will not let them down.
Referring to some strong allegations and attacks made on him, Modi said politicians, who do not believe in democracy and are known in other countries as well, have used a kind of language that he cannot share but he has tolerated this and will appeal to protestors to talk with the government in the interest of farmers.
"I don't know what all they have said. I cannot even share that. Despite all this, tolerating all this and keeping my cool, I once again appeal to those who are protesting that our government is ready to discuss with them in the interest of farmers. But the discussion will be on issues, facts and logic," Modi said.
Some of his attacks appeared to be aimed at Left-affiliated parties.
"Those ruling Kerala for years are joining Punjab farmers for selfies and publicity but they did nothing for the mandi system in their own state", he said, claiming that many leaders have used the protests to further their own ideology.
Targeting his rivals, Modi said some of them have been feigning concerns about farmers' land even though everyone knows whose names came up in the media for land grabbing. His remarks appeared to be aimed at Congress president Sonia Gandhi's son-in-law Robert Vadra, who has been accused of irregularities in owning large tracts of land, a charge he has often dismissed as a vendetta.