More than just the embroiled farm laws were cast into the bin on Friday; with them went a few more volts of Prime Minister Narendra Modi's meticulously crafted and copyrighted aura — a decisive leader, unwavering of conviction, unmoved by opposition, a high-risk sweepstakes adventurist.
In 2017, he barrelled into Uttar Pradesh on the back of widespread disaffection triggered by the demonetisation and won the state on a canter. Four years later, Modi appears a little robbed of mien and out of character, baulked by the challenge of retaining hold over what is verily his political home state.
Friday's summary backtrack on the farm laws is a desperate grab in the garb of a gift, make no mistake; a cold, calculating heart masquerading as having finally melted under the Gurupurab moon out of concern for the farmer.
Nothing has melted other than fragments of the fabled Modi warrior sheen. After the drubbing in Bengal, the loss of Uttar Pradesh would be an injury too dire to carry into the battle of 2024.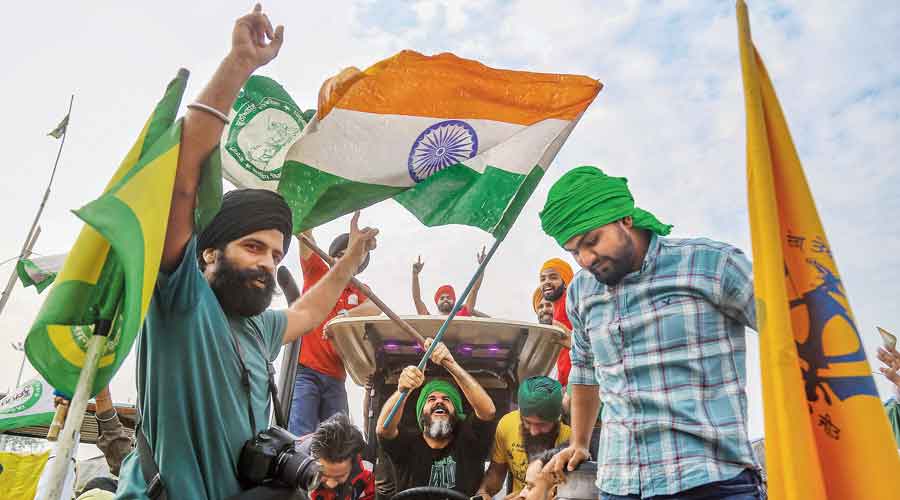 Farmers celebrate at Delhi's Tikri border on Friday. PTI photo
The league of those who can only see Modi rendering one masterstroke upon another has been dutifully at work all day, divining character in capitulation. But it has been a hard act to keep up. The reality is that beyond all the expertly argued pros and cons of the farm laws, beyond all their widely advertised merits, the outing has ended in a political mishap.
Nothing revealed the truth of a Modi atypically shaken than the groan echoing off his core constituents: oh no, how disappointing he has given in, now what? Several of them even wondered, aghast and aloud, whether this would be the beginning of a slide into surrenders. Will he not notify the CAA now? Is the NRC buried? Will there be pushback on labour reform laws? Oh my, could it mean even Article 370 is up for re-negotiation? Is this rollback time? The Modi nerves, bared to the nation early this Friday morning, have rippled down the Modi fellowship.
None of what they fear might actually come to transpire, but that isn't the point; the point is that they have come, for the first time since 2014, to harbour a fear; where they expected courage unbound, they have spied a weak bone: Modi can be hounded off his obduracy. And, on the evidence of Bengal this summer, Modi can be vanquished at the hustings.
For those who have stood up to oppose the Modi ecosystem's manifestly sectarian project and suffered for it these past years, Friday's message may be momentous — if you fight right and if you stay the course, you'll force openings.
There is probably no trick the Modi regime did not employ in order to break the farmers' stir, probably the most determined and sustained in living memory. It was also, lest we forget, the most costly. More than 700 farmer lives were lost; in their grimmest hour, in the face of the most testing provocation, it's their collective sense of purpose the farmers never lost sight of.
The regime's propaganda behemoth churned out label after defamatory label — Khalistanis, Pakistanis, anti-nationals, urban Naxals, Maoists…. Agents were planted in their midst to give the stir a bad name and hang it.
The farmers' act of claiming their capital on Republic Day was sought to be represented as a flaming act of treason. Time and time again attempts were made to lure away this union or that, to somehow sunder the movement.
Eleven rounds of negotiations were held, helmed on the government's side by a catalogue of senior ministers. Each of those rounds proved more firmly to the farmers that the government was stringing them along, playing on their purpose and patience.
And those talks never meant state violence was off the table — heckling and beating, baton charging, tear gassing, firing, all of the ugly instruments of power remained in frequent and flagrant use.
The most modern machinery was employed to build the most medieval defences around Delhi — iron spikes grouted into highways, sections of roads gouged out by earth-movers, cement barricading erected in serried layers, the nation's capital was rendered off limits to those who keep this nation fed.
If there was, in any precinct of this regime, any fondness for the farmer, or regard for his cause, it wasn't in evidence before 9am on Friday.
Modi's retreat is no act of generosity, it is a resort to cutting essential losses. Reports from Punjab have long been dismal for the BJP, especially after the Akalis deserted the NDA in protest over the farm laws; what had begun to hurt and haunt was the persistently poor feedback from Uttar Pradesh, especially the agitation-riven western and central belt.
There will be those who will deem Modi's a smart move; the likelier truth could be that the Prime Minister is smarting.