Eviction drive continues for second day in Assam's Lakhimpur
The eviction drive resumed today at 7.30 am. It has been peaceful so far. We have not faced any resistance, says senior officer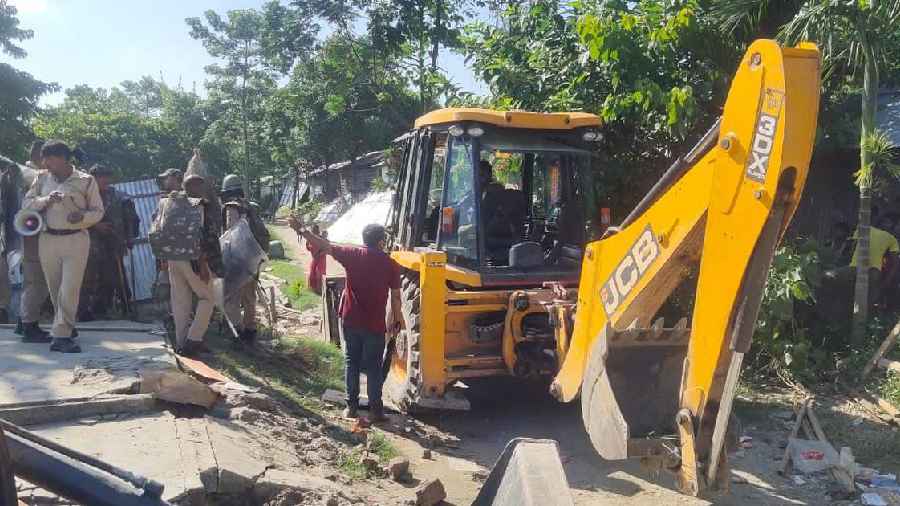 Drive to evict encroachers from a forest land in Assam's Lakhimpur district continued on Wednesday
File picture
---
Lakhimpur (Assam)
|
Published 11.01.23, 03:39 PM
|
---
The drive to evict encroachers from a forest land in Assam's Lakhimpur district continued for the second day on Wednesday, with 299 families residing on a 250 hectare tract left in the lurch.
Some of the evictees rued that they could not collect all their belongings, while others lamented that their crops were destroyed in the drive.
The exercise that began on Tuesday was being undertaken by the state to free up around 450 hectares in Pava Reserve Forest, with officials on the first day clearing 200 hectares in Mohghuli village, which was home to 201 families.
"The eviction drive resumed today at 7.30 am. It has been peaceful so far. We have not faced any resistance," a senior official of the district administration told PTI.
The administration has plans to clear the remaining 250 acres during the daylong exercise on Wednesday.
Around 70 bulldozers, excavators and tractors have been pressed into action in Adhasona village, while 600 police and CRPF personnel stood guard along with 200 civil officials, the officer stated.
With just a few belongings in tow, Hasmat Alam (name changed on request), who witnessed his house being razed to the ground, claimed that they had been living in the area for 28 years.
"This year, the harvest was good. I grew brinjal, cabbage and cauliflower and sold some of the produce in the market. Around 70 per cent of the crop, however, got destroyed in the eviction," he said.
Authorities were seen using tractors and bulldozers to flatten the crops.
Excavators also filled the ponds and fisheries with earth.
The All Assam Minority Students' Union (AAMSU) termed the eviction drive as "inhuman and one-sided" and staged a brief protest at Sonapur area of Lakhimpur district.
According to the senior official, several notices for vacating the land were issued to the "illegal settlers" since November 2021.
"On September 7 last year, we served the last notice and asked them not to grow crops, but they did not pay heed. The evicted land remains under flood waters in the summers and the encroachers grow crops only in the winter season," he pointed out.
Last year, the circle officer of Naoboicha had personally approached the "encroachers" and asked them to leave voluntarily, the official explained.
Rahima Khatun, one of those affected in the drive, said agriculture was their only means of survival.
"There is no school or mosque in the part where the drive was being conducted; these tracts were used primarily for agriculture purposes. Our livelihood is now at stake," she added.