Encephalitis backlash in Bihar
Disease-hit village holds MLA hostage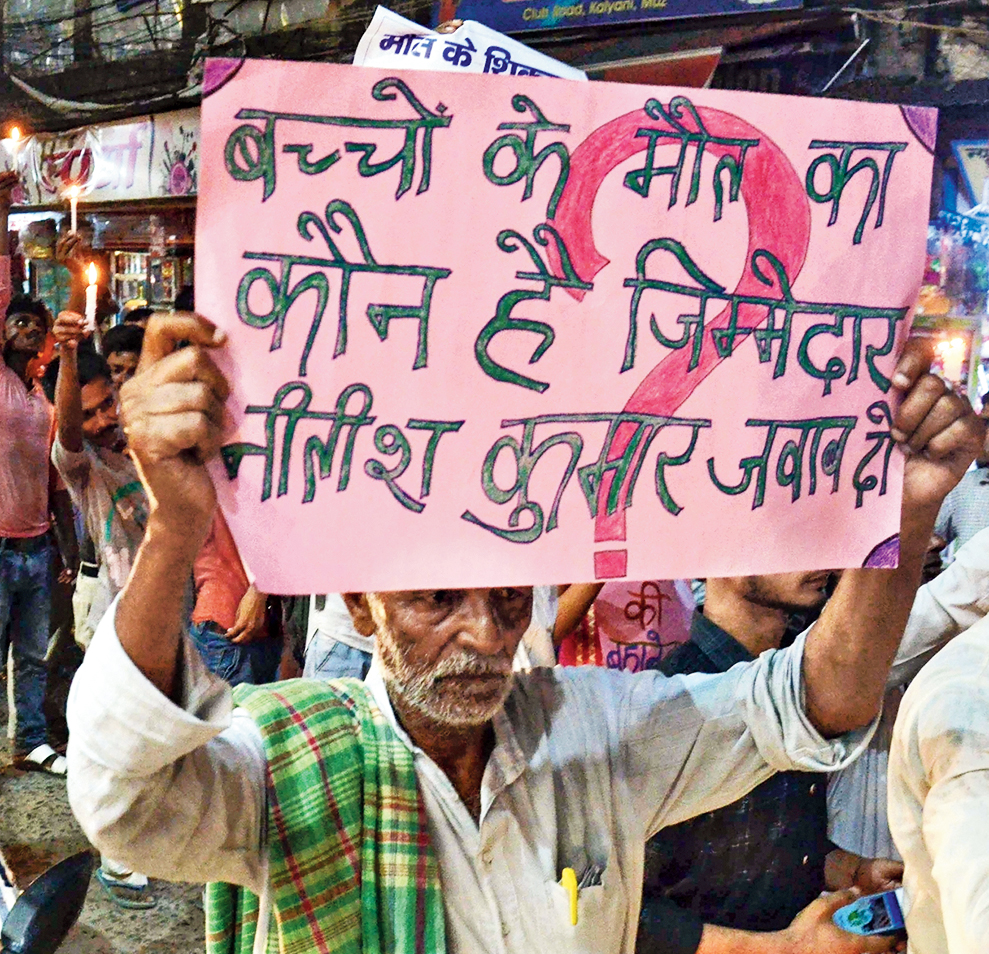 ---
|
Patna
|
Published 23.06.19, 10:05 PM
---
Residents of a village that lost seven children to acute encephalitis syndrome this month held their local MLA hostage for over an hour on Sunday, angry at the government's inability to contain the outbreak and lawmakers' failure to visit them.
After police rescued Lalganj MLA Rajkumar Sah, a member of Ram Vilas Paswan's Lok Janshakti Party which is part of the ruling alliance, the villagers of Harvanshpur Banthu chased his car and hurled stones at it.
They had earlier heckled Paswan's younger brother and Hajipur MP Pashupati Kumar Paras when he arrived half an hour after Sah.
Sah and Paras had visited the village after residents demonstrated against the politicians' "disappearance" on Saturday and mockingly announced a reward of Rs 15,000 for anyone who could find Sah or Paswan.
Harvanshpur Banthu is one of three villages in Vaishali district where parents have sent all their children away to protect them from AES, whose death toll has crossed 150, as The Telegraph had reported on Friday.
Sah had arrived around 1pm and was immediately surrounded, led to a small hut and held captive, all the while being rebuked for staying away from his distressed constituents. He was forced to hand over some money to the family of one of the dead children.
"These leaders were partying in Delhi and Goa while our children were dying. They have come only after we began protesting," said a villager, Golu Kumar.
Paras arrived around 1.30pm and was surrounded and heckled. He tried to pacify the crowd and distributed
Rs 5,000 among the parents of each of the dead children.
Paras was allowed to leave after 45 minutes but Sah continued to be held hostage. Eventually, his three police bodyguards and other police personnel were able to rescue him.
Sah later denied he had been held hostage and accused the media, his critics and "people of a particular caste" of distorting facts.
A Congress delegation visited the Sri Krishna Medical College and Hospital in Muzaffarpur to meet the patients' families. A senior resident doctor, Bhim Sen, has been suspended for dereliction of duty.