Election Commission endorsing Modi violations: Congress
Singhvi said the poll panel had remained "silent" although it had been assigned the supreme authority of ensuring the integrity and sanctity of elections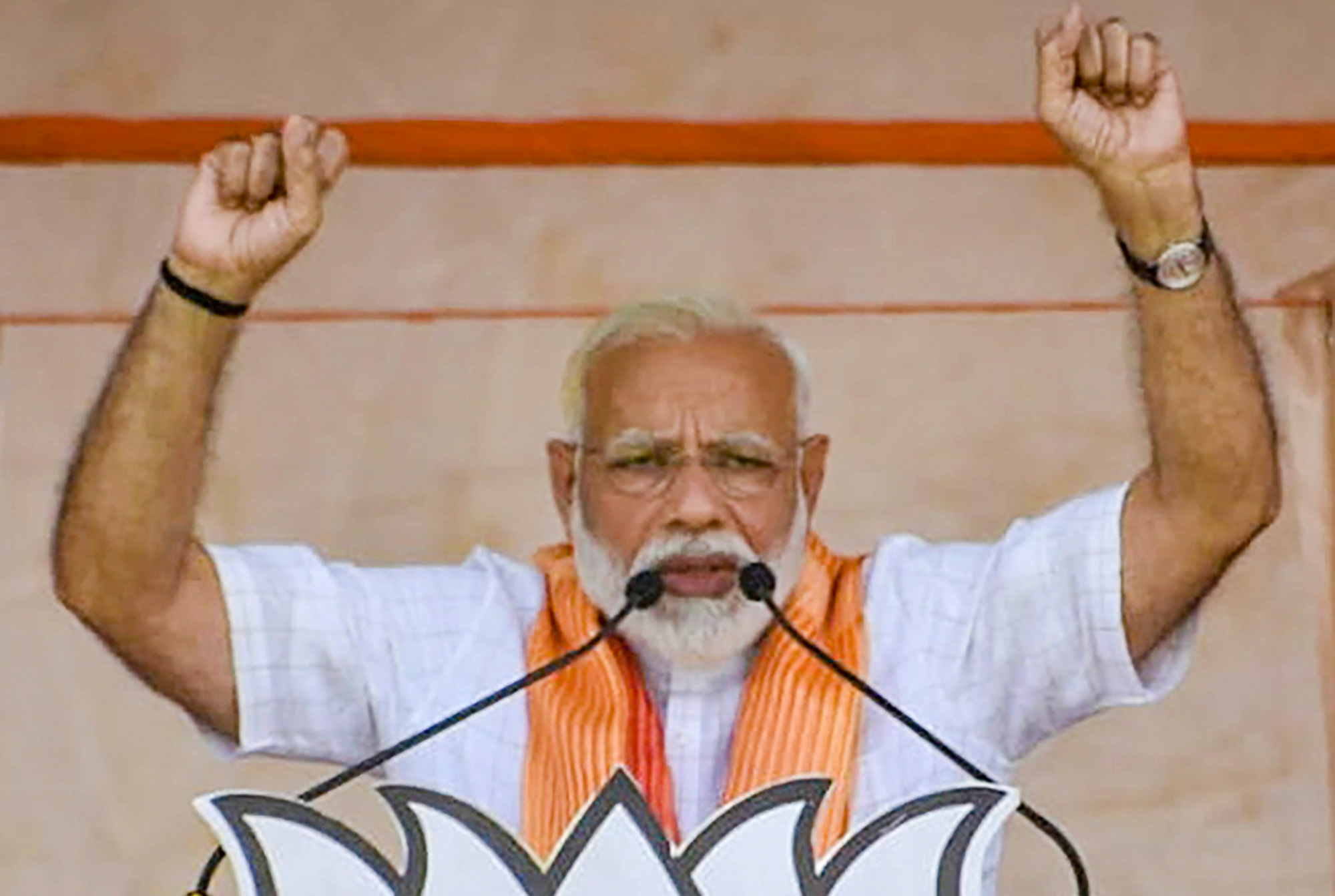 Prime Minister Narendra Modi addresses an election campaign for Lok Sabha polls, in Sitapur on Saturday, April 27, 2019.
PTI
---
New Delhi
|
Published 28.04.19, 01:44 AM
|
---
The Congress on Saturday took the extraordinary step of accusing the Election Commission of "endorsing" the most blatant violations of the model code of conduct by Prime Minister Narendra Modi and BJP president Amit Shah by not acting on multiple complaints.
Congress spokesperson Abhishek Manu Singhvi told a news conference in Delhi: "Never before in the history of independent India has there been a more audacious set of individuals who for the sake of petty electoral advantage are willing to undermine our laws and institutions. No other individual has shown such a flagrant disregard for the doctrine of the level playing field like Modi and Shah. But the commission has adopted a hands-off approach.
"Therefore, the inaction on the part of the EC is in effect a tacit endorsement of the violations by Modi and Shah. We have moved eight detailed complaints against these individuals and have been met with a conspicuous silence. These two have (i) delivered hate speeches with the intention of polarising the electorate, (ii) sought to run a campaign seeking to leverage the valour and sacrifice of our brave armed forces, and (iii) carried out elaborate rallies on polling day."
Singhvi said the poll panel had remained "silent" although it had been assigned the supreme authority of ensuring the integrity and sanctity of elections.
"The code of conduct has become the 'Modi code of conduct'. We are saddened to say that it seems the first letter of the second word of the Election Commission, 'C', has been dropped and it has become the 'Election Omission' as far as the Modi-Shah duo is concerned. We are sad to say that the Modi-Shah duo has become a kind of an arch of immunity as far as the Election Commission's jurisdiction goes."
Singhvi added: "Therefore, we are now complaining through you (the media) only when water has risen above our head. The people of India are demanding an explanation for this inaction, for this silence and although we are doing everything in our power, including, if necessary, moving court, the point is why is the commission not doing anything? By not doing anything, you are in fact deciding by default."
To a question about the commission's reaction to the complaints against Modi and Shah, Singhvi said: "They have heard us patiently. (They have) acted in case of other leaders. Let us consider the basic facts — in a period of 25 days, I have personally led at least 15 delegations. Of those, at least 10 relate to two individuals."
A delegation of Opposition leaders on Saturday complained to the EC about "BJP" scribbled at the bottom of the party symbol on EVMs during a drill in Bengal. Singhvi said this was illegal as only party symbols were allowed.