It had granted relaxation to hold indoor meetings
EC holds virtual meets to decide whether ban on physical rallies should continue
The five poll-bound states and state chief electoral officers to discuss the matter today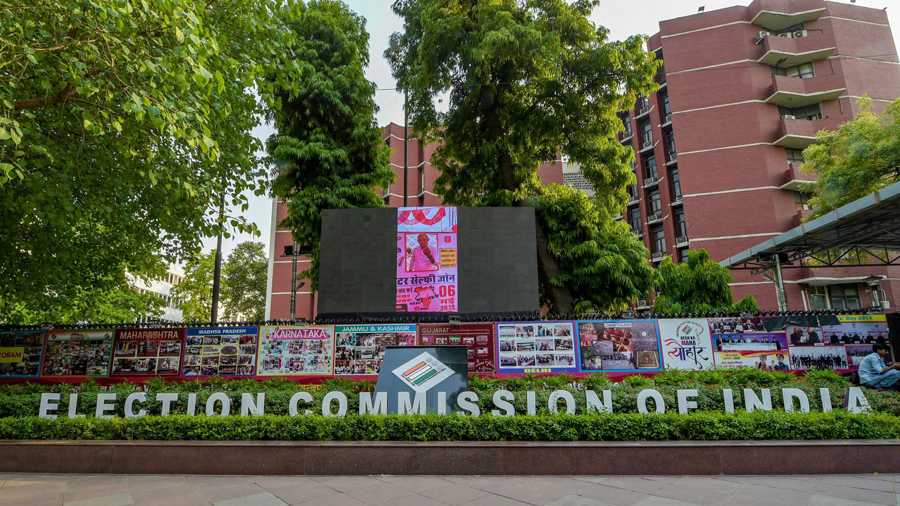 The Election Commission extended the ban until January 22.
File picture
---
New Delhi
|
Published 22.01.22, 12:53 PM
|
---
The Election Commission is holding a series of virtual meets on Saturday to decide whether the ban imposed by it on physical rallies and roadshows to prevent the spread of coronavirus should continue.
Announcing dates for elections in Uttar Pradesh, Uttarakhand, Goa, Punjab and Manipur on January 8, the poll panel had announced a ban on physical rallies, road and bike shows, and similar campaigning events till January 15.
It had, however, granted a relaxation for political parties to hold indoor meetings of maximum 300 people or 50 per cent of the capacity of the hall.
The poll panel is holding the virtual meets to seek inputs from the Union Health Ministry, experts, the five poll-bound states and respective state chief electoral officers to arrive at a decision, official sources said.
The Commission had also earlier directed political parties to adhere to the provisions of the model code of conduct and broader guidelines on Covid-19.
The poll panel directed state and district administrations to ensure compliance of all instructions related to the poll code and to the pandemic control measures.
While announcing the poll schedule for Uttar Pradesh, Uttarakhand Manipur, Goa and Punjab on January 8, the EC had taken an unprecedented step of banning public rallies, roadshows and similar physical campaigning events till January 15. The ban has now been extended by a further one week.
The Election Commission had also announced that "no roadshow, padyatra, cycle/ bike/ vehicle rally and procession" nor any "physical rally" will be permitted till January 15. Street-corner meetings have been banned altogether. Any extension to the ban on rallies will be announced on January 16 after taking into consideration the prevalence of Covid in the states.
Violation of the ban could lead to denial of permission for rallies by errant candidates or parties in case the ban is lifted after January 15. 
A night campaign curfew has been declared from 8pm to 8am, which will be in place for the entire process of the elections.
Uttar Pradesh, the largest of the poll-bound states, will vote in seven phases with the notification for the first leg being issued on January 14. Manipur will vote in two phases and Punjab, Uttarakhand and Goa in one phase.
Except Punjab, ruled by the Congress, the BJP is in power in the remaining four states. 
Chandra, the poll panel chief, said polling officials would be vaccinated and booths sanitised.