Don't miss: Chandrayaan 2 drama after Isro's last-mile disappointment
'Communication has been lost. I could see the anxiety on your faces. There is no need to get disappointed because it is not a small achievement.The country is proud of you,' Modi said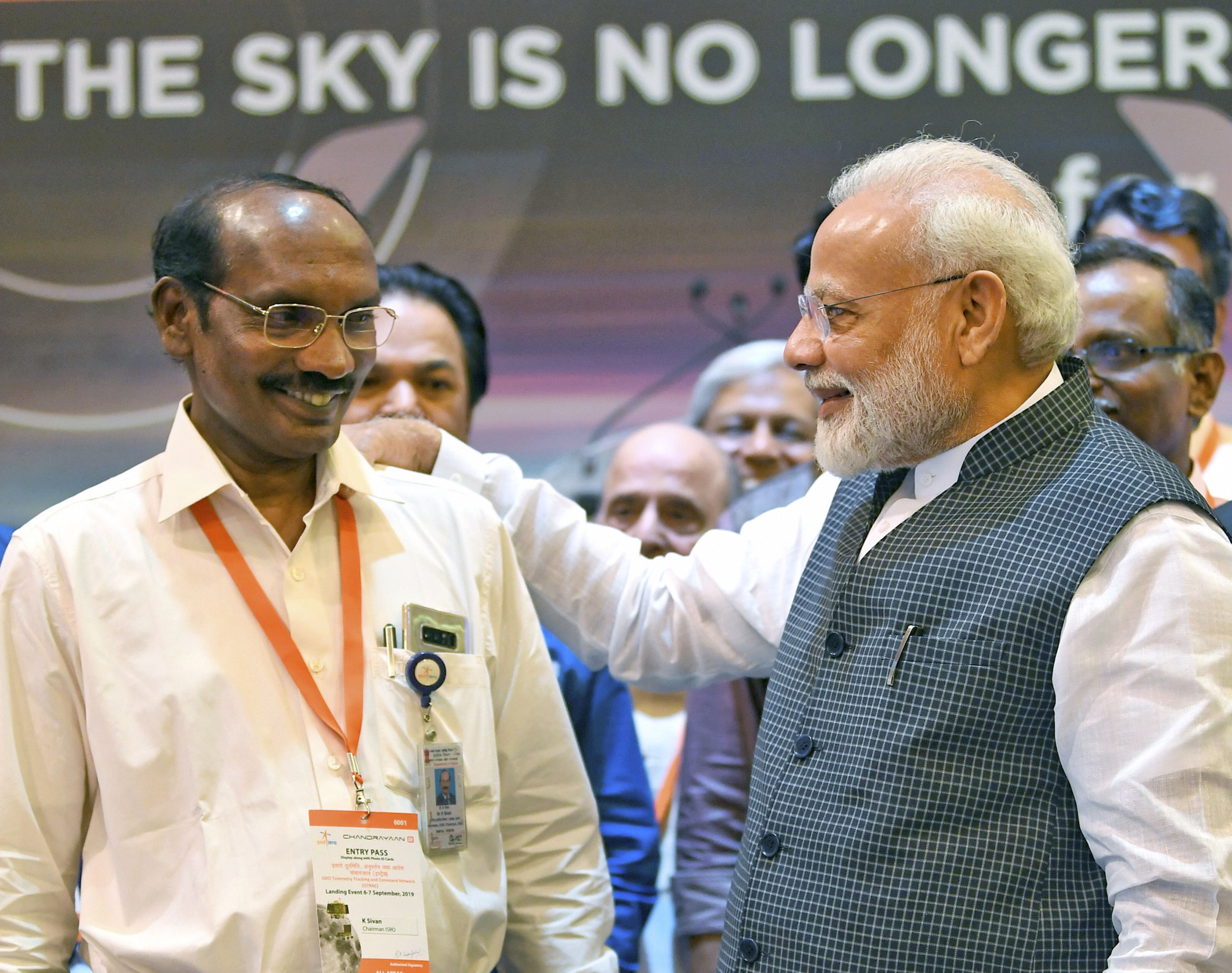 ---
New Delhi
|
Published 07.09.19, 05:52 AM
|
---
Other political leaders started posting tweets of encouragement to Isro, making the loss of communication with the lander seem like a crisis of national proportions when, in reality, the country is battling bigger problems elsewhere, such as a tanking economy that shows little possibility of quick revival and a hardening Kashmir problem with no sign of a breakthrough in sight.
Out on display on social media was a sense of denial that Indians have displayed often -- the collective refusal or lack of courage to call a failure a failure. The posts suggested that many watchers of the mission, perhaps because of the government's publicity overdrive, had thought the mission was destined to succeed, when in reality, complex space missions often fail first and succeed later by trial and error.
The Americans, who put the first man on the moon in 1969, studied the moon's surface for almost a decade before that, incrementally testing orbiters, rovers and unmanned landers in various missions before sending Neil Armstrong and Buzz Aldrin on the Apollo 11 mission. Several landers and rovers failed to deliver, but America, then in a fierce space competition with the erstwhile Soviet Union, is today remembered for placing the first human boots on the lunar surface.
I urge you all to watch the special moments of Chandrayaan - 2 descending on to the Lunar South Pole! Do share your photos on social media. I will re-tweet some of them too.

— Narendra Modi (@narendramodi) September 6, 2019
"There's never a failure in Science"! @narendramodi ji's compassion...🙏🏽🙏🏽🙏🏽 #Chandrayan2 pic.twitter.com/l2UMqXqQtf

— MALAVIKA AVINASH (@MALAVIKAAVINASH) September 7, 2019
'We have to learn a lot from your effort. As the scientists have told me if communication is re-established, it will send data. Let us hope for the best,' Modi said today, trying to sound encouraging to the scientists. 'My best wishes to you. You have done a great service to the nation and science. We too are learning a lot from you all. In future too our journey will continue. I am fully with you all. Let us move with courage. I have belief that due to your efforts, the country will once again start celebrations,' he said.
'I see disappointment on your faces,' he told the crestfallen scientists. 'No need to get dejected. We have learnt a lot.'
The Prime Minister also tweeted: 'These are moments to be courageous, and courageous we will be! We remain hopeful and will continue working hard on our space programme.' He said: 'India is proud of our scientists! They've given their best and have always made India proud.'
Home minister Amit Shah said the country stood by them. 'ISROs achievement with getting Chandrayaan-2 so far has made every Indian proud. India stands with our committed and hard working scientists at @isro. My best wishes for future endeavours,' he tweeted.
Finance minister Nirmala Sitharaman too extended her support to the scientists. 'We are with you ISRO. You have brought the nation, its young minds and all, together in sensing your achievements in Space. You will succeed.' she tweeted.
Addressing our hardworking space scientists. Watch. https://t.co/rPRfGBQLJQ

— Narendra Modi (@narendramodi) September 7, 2019
Science and technology minister Harsh Vardhan urged the scientists not to give up and said success was failure turned inside out. 'The silver tint of the clouds of doubt. You never can tell how close you are. It may be near when it seems so far. You have done your best for Chandrayaan-2!'
Congress leader Rahul Gandhi said: 'It (Chandrayaan-2) has laid the foundation for many more path breaking and ambitious Indian space missions.'
An Isro official later said that the orbiter 'is healthy, intact, functioning normally'.
The mission life of the 2,379-kg orbiter is one year. Its payloads will conduct remote-sensing observations from a 100-km orbit.
The orbiter carries eight scientific payloads for mapping the lunar surface and study the exosphere (outer atmosphere) of the Moon.
Prime Minister Narendra Modi on Saturday expressed solidarity with dejected Isro scientists after Chandrayaan 2's lander lost communication with the ground station during its powered descent.
'Communication has been lost. I could see the anxiety on your faces. There is no need to get disappointed because it is not a small achievement.The country is proud of you,' Modi, who had travelled to the Bangalore Mission Operations Complex of Isro Telemetry, Tracking and Command Network to see the touchdown of the lander Vikram, said.
Soon after Modi's words of encouragement, a video surfaced showing Isro chief K. Sivan weeping on Modi's shoulder, as the Prime Minister vigorously stroked his back to console him.
We are with you @isro. You have brought the nation, it's young minds and all, together in sensing your achievements in Space. You will succeed.

— Nirmala Sitharaman (@nsitharaman) September 6, 2019