Dolphin census sparks cheer
The figures, experts believe, means that Bihar could be home to around half of the estimated 3,200 Gangetic dolphins in the country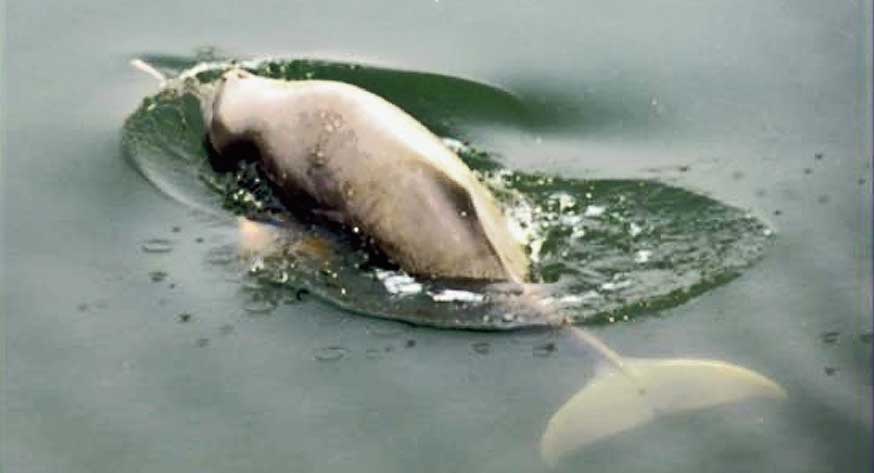 A Gangetic dolphin.
Picture by Gopal Sharma
---
Patna
|
Published 20.02.19, 08:58 AM
|
---
A first-of-its-kind "simultaneous" census in three major rivers in Bihar has enumerated a total of 1,150 Gangetic dolphins, elating scientists and experts.
The figures, experts believe, means that Bihar could be home to around half of the estimated 3,200 Gangetic dolphins in the country.
"We conducted the census in Ganga, Gandak and Ghagra rivers from November 18 to December 10 last year, using the direct count method while crisscrossing their entire stretch in Bihar," said Gopal Sharma, Zoological Survey of India scientist and officer-in-charge of the Gangetic Plains Regional Centre who headed one of the three teams in the census. "We have discovered the presence of 1150 dolphins in these three rivers."
Under the direct count method, aquatic animals are counted on the basis of their size and particular characteristics when they rise above the water to breathe. Scientists believe that a Gangetic dolphin usually lives in a territory of 500 metres to 1 kilometre and moves out only if it cannot get food. It always returns to its area.
The census was sponsored by Bihar's environment and forest department and was jointly conducted by the Zoological Survey of India, Tilka Manjhi Bhagalpur University, and Wildlife Trust of India (WTI). Professor Sunil Kumar Choudhary from the botany department of the varsity and Samir Kumar Sinha, deputy director of the WTI, led the other two census teams. The census report will be submitted to the Bihar government by the end of March.
Scientists, experts and researchers did not have any clear idea of the number of the Gangetic dolphins in Bihar because no census on such a large scale in multiple rivers in a coordinated manner was ever conducted.
"The most thriving population of the dolphins is in the Ganga in two stretches," said Sharma. "The Buxar to Mokama stretch of the river has 300 of them, while the Mokama to Manihari stretch has 700. There are 100 dolphins in the Gandak river and 50 in the Ghaghra. The numbers point towards the presence of a healthy river ecosystem as well as the success of dolphin conservation action plan in Bihar, which has led to awareness among fishermen and common people."
The Gangetic dolphin (platanista gangetica) is found in the Indian subcontinent. Its numbers in India dwindled in the 1990s due to poaching for its oil, as well as use in traditional medicine. Sharma said poaching has decreased due to increased awareness among people. "Still, Gangetic dolphins are still being lost accidentally after getting trapped in fishing nets because they are blind and rely on sound waves to move. Fishing nets do not echo and such accidents happen," he said.
Small sonar devices attached to fishing nets would alert the dolphins to stay away, Sharma added.