Does Modi's robe remind you of Tagore?
Religion is a matter of personal faith and the Election Commission has reiterated that it cannot be used for garnering votes, Sitaram Yechury said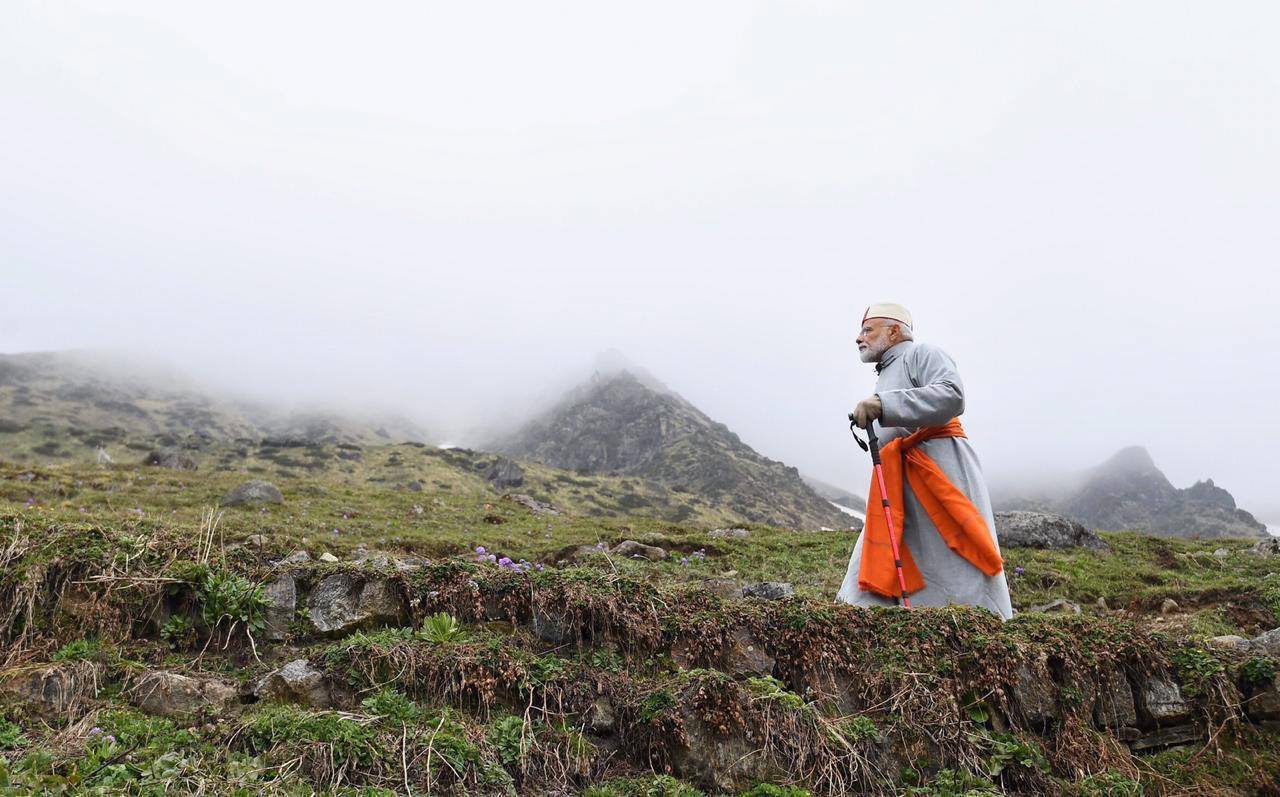 ---
New Delhi
|
Published 19.05.19, 12:53 PM
|
---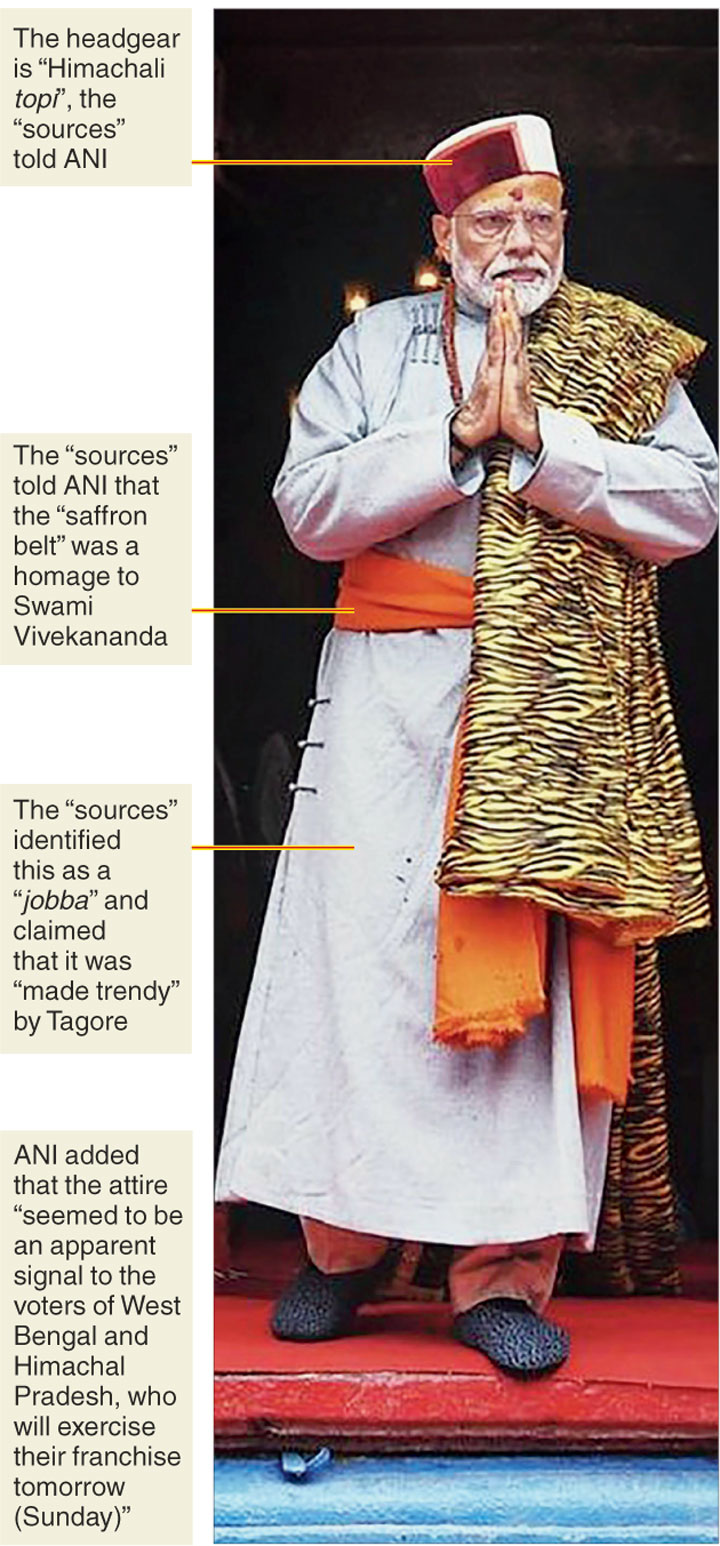 Prime Minister Narendra Modi was again violating the model code of election conduct in Kedarnath and the Election Commission was still sleeping, CPM general secretary Sitaram Yechury said on Saturday.
"Religion is a matter of personal faith and the Election Commission has reiterated that it cannot be used for garnering votes. But Modi violates the model code of conduct brazenly with footage of his Kedarnath religious activity over TV channels during the silent period before polling. And EC continues to sleep on the job,'' Yechury said.
The campaign for the 2019 general election officially ended on Friday and the silent period, when no electioneering is allowed, began.
But Modi was on television through Saturday, using his visit to Kedarnath to signal voters at various levels. It was announced that he would meditate at the temple for two days. Before the real meditation and prayer started, the Prime Minister posed for cameras appearing to meditate and pray.
Apart from the symbolism attached to him praying at the Kedarnath temple and meditating in a cave, draped in saffron, messages to voters in two crucial states – Bengal and Himachal Pradesh – were also woven into Modi's surrogate campaign.
As the news agency ANI helpfully pointed out, the grey "jobba" he was wearing was an attire favoured by Nobel laureate and Bengali icon Rabindranath Tagore. The cap was a nod to Kinnaur in Himachal Pradesh, which also votes in the last phase on Sunday.
At the news conference on Friday where he took no questions, Modi had in a short address said great attention to detail was paid by the BJP to every bit of the campaign. "We plan in detail while organising our campaign….We don't give out the details, but you get to know of it slowly." The Kedarnath ensemble appeared part of that strategy too.
Omkar Shukla, the priest who along with Pravin Tiwari helped him in the rudrabhishek, told local reporters that the VVIP devotee offered a brass bell weighing one quintal to the temple and that this was meant for fulfilling a particular wish. Modi has said he is confident he will be re-elected Prime Minister.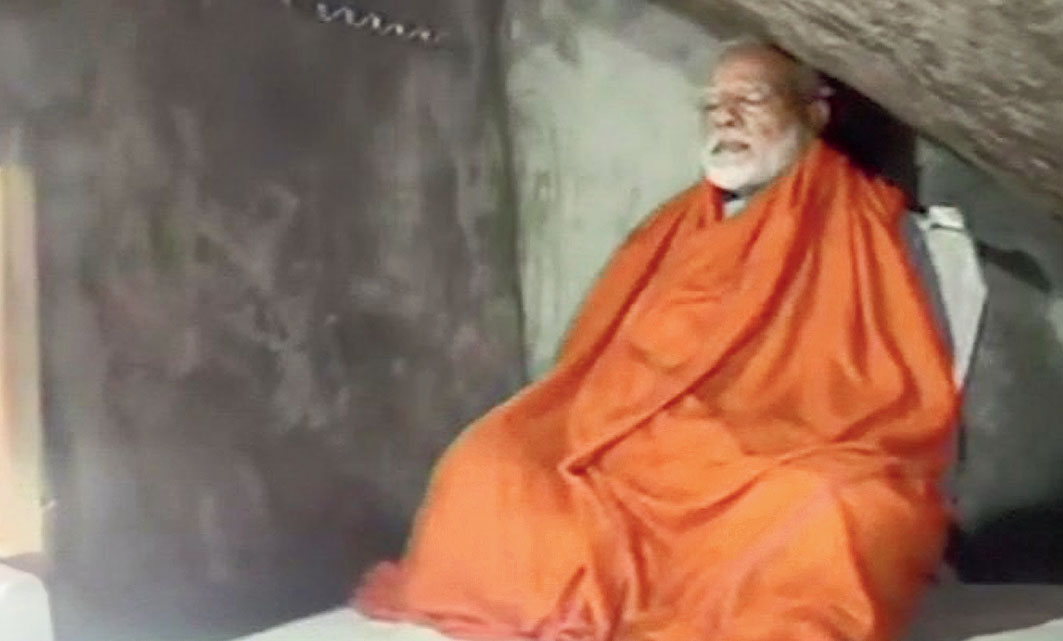 Modi posted pictures of his temple visit and a video of him reviewing work on the Kedarnath Development Project.
But in his attempt to message voters even in the silent phase, Modi managed to expose himself to ridicule too. His decision to dress up like a king for the Kedarnath visit, where a red carpet was rolled out for him, and then to allow photographers into the cave and pose for them praying and meditating spawned countless jokes.
That the cave had a bed covered with a spotless white sheet and clothes hangers on the wall was noticed and commented upon.
The red carpet provoked former Bihar chief minister Rabri Devi to comment: "The Lord himself would have come to meet you; why did you have to make the effort?"