Doctors, health experts cite three reasons for falling virus counts
They say the revised testing guidelines that exempt asymptomatic contacts from tests are suited only for omicron, which is linked to mild disease and rapid spread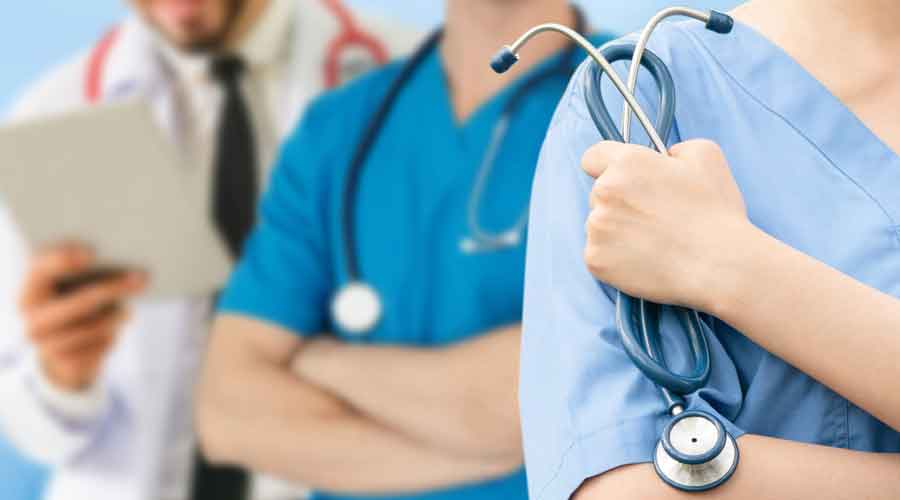 Representational image.
Shutterstock
---
New Delhi
|
Published 19.01.22, 03:22 AM
|
---
A mix of narrower targeted Covid-19 testing, home-based self-testing kits and large cities approaching epidemic peaks might explain falling counts of daily new infections nationwide, doctors and health experts said on Tuesday.
India's daily count of new Covid-19 infections fell to around 238,000 for the second consecutive day on Tuesday from around 271,000 on Sunday, a 10-fold rise from 27,000 cases on January 1 under the current wave driven by the fast-spreading omicron variant.
The daily new infections diagnosed in Calcutta, Delhi and Mumbai have also declined over the past three to five days, coinciding with revised guidelines from the Indian Council of Medical Research under which asymptomatic contacts of cases need not be tested.
The earlier testing strategy implemented since the start of the pandemic was to test all household and other close contacts and isolate them to curb the spread of the virus.
Experts say the revised strategy is the best option possible tailored to omicron's speed of spread.
"The new testing guidelines are probably contributing to the decline in cases, but we're also seeing fewer footfalls of patients with symptoms seeking tests or treatment," Anita Mathew, an infectious disease specialist at the Fortis Hospital, Mumbai, told The Telegraph over the phone.
"People with mild symptoms are using home self-testing kits and seeking treatment advice from doctors — this will also lower the recorded cases," she said.
"But fewer patients seeking treatment now than two weeks ago suggests Mumbai may be close to or past this wave's peak."
Health authorities in Mumbai on January 17 recorded 5,986 cases, less than half of around 13,700 cases on January 13. But alongside that decline, the counts of tests conducted have also fallen — from over 63,000 on January 13 to 47,000 on January 17.
Delhi's decline in daily new infections — nearly halving from around 24,000 cases on January 13 to 12,000 cases on January 16 — is occurring alongside dramatic drops in daily tests done: around 79,000 tests on January 13 to 44,000 on January 16.
Daily new cases in Calcutta have declined from around 6,700 on January 13 to 1,879 on January 17. "Many are viewing omicron as something like the common cold and not seeking diagnostic tests," said Yogiraj Ray, an associate professor of infectious diseases at the Institute of Postgraduate Medical Education and Research, Calcutta.
"I guess this is fine as long as the majority of people have only mild disease," Ray said.
 "The focus should now entirely be on identifying those who need oxygen therapy early. Those with respiratory symptoms who haven't tested should monitor their oxygen levels for a week to 10 days."
Early hospital-based observations so far suggest that less than 5 per cent of omicron-infected patients require hospital care compared with 20 to 23 per cent of patients infected with the delta strain, which had driven India's second wave between March and July last year.
But experts say the revised testing guidelines that exempt asymptomatic contacts from tests are suited only for omicron, which is linked to relatively mild disease and rapid spread.
"This is the best testing strategy under the circumstances of spiralling infections of a relatively mild variant," said Gautam Menon, a mathematical epidemiologist at Ashoka University, Sonipat.
"But this cannot be a general strategy for possible future waves. The next variant may not be mild and would require going back to the test, trace and isolate strategy to minimise the chance of spread."