Disgraceful: Mayawati on BJP MLA's derogatory Prophet remarks
Raja Singh was arrested on Tuesday for his alleged controversial remarks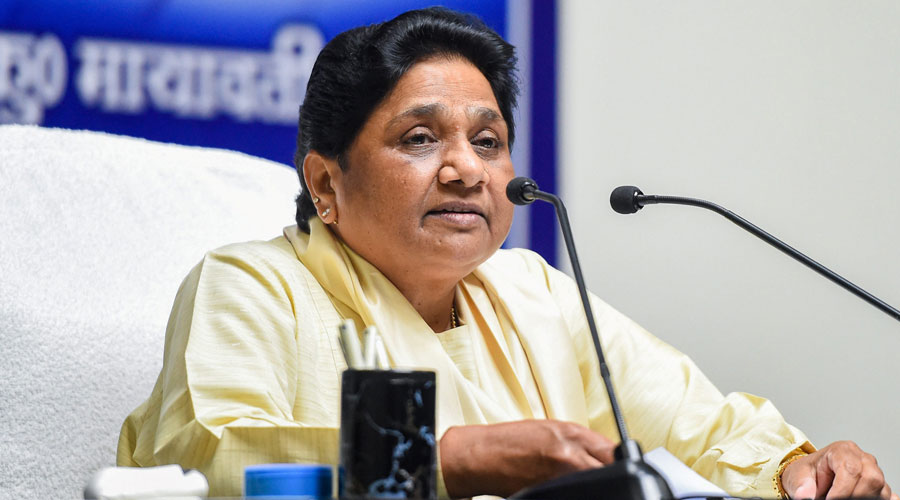 ---
Lucknow
|
Published 23.08.22, 01:44 PM
|
---
BSP chief Mayawati on Tuesday termed as "disgraceful" the alleged remarks made by BJP leader T Raja Singh against a religion and asked was it not the responsibility of the party's leadership to restrain its people to maintain peace in the country.
The BJP's Telangana MLA was arrested on Tuesday for his alleged controversial remarks against a particular religion.
On Monday, the BJP MLA released a video criticising stand-up comedian Munawar Faruqui, who recently performed in the city. Singh is also purportedly seen making some comments against the religion in it.
In a tweet, the BSP president said "The heated atmosphere across the country has not even cooled down completely over the controversial remarks by now-suspended Nupur Sharma. Now another BJP leader, Telangana MLA Raja Singh did the same kind of provocative act, which is disgraceful and utterly condemnable."
1.अभी भाजपा से निलम्बित नुपूर शर्मा द्वारा पैग़म्बर-ए-इस्लाम के विरुद्ध विवादित टिप्पणी पर देश भर में गर्माया माहौल पूरी तरह से ठण्डा भी नहीं हो पाया है कि बीजेपी के अन्य नेता तेलंगाना के विधायक राजा सिंह ने उसी प्रकार का उत्तेजनात्मक कार्य किया है जो अति-शर्मनाक व घोर निन्दनीय।

— Mayawati (@Mayawati) August 23, 2022
In another tweet, she said, "Although the Telangana government has arrested the BJP MLA in Hyderabad today, is it not the responsibility of the BJP leadership to keep its people restrained and controlled to maintain peace and tranquillity besides saving the country's image from getting hurt abroad."
2. हालाँकि तेलंगाना सरकार ने बीजेपी विधायक को आज हैदराबाद में गिरफ्तार कर लिया है, किन्तु क्या यह बीजेपी नेतृत्व की जिम्मेदारी नहीं बनती है कि वह अपने लोगों को संयमित व नियंत्रित रखकर देश में अमन-शान्ति कायम रखने के साथ-साथ विदेशों में भारत की छवि को भी आघात लगने से बचाए।

— Mayawati (@Mayawati) August 23, 2022
Several people belonging to a community staged a protest in the old city area on Monday night demanding the BJP leader's arrest.
According to various reports, protests broke out in front of city police commissioner C.V. Anand's office and other parts of Hyderabad on Monday night after Singh released a video allegedly making derogatory comments about the Prophet.
The protesters reportedly said that Singh had hurt the sentiments of the community and demanded his immediate arrest. They were taken into custody and later shifted to various police stations.
T Raja Singh, the MLA from Goshamahal, had last week tried  to disrupt a comedy show. He was on Friday taken into preventive custody by the police when he tried to reach the venue of  Faruqui's show along with around 50 supporters to get it cancelled. 
The show then passed off peacefully.