Disaster on Dal Lake
Modi government's PR drive lies in tatters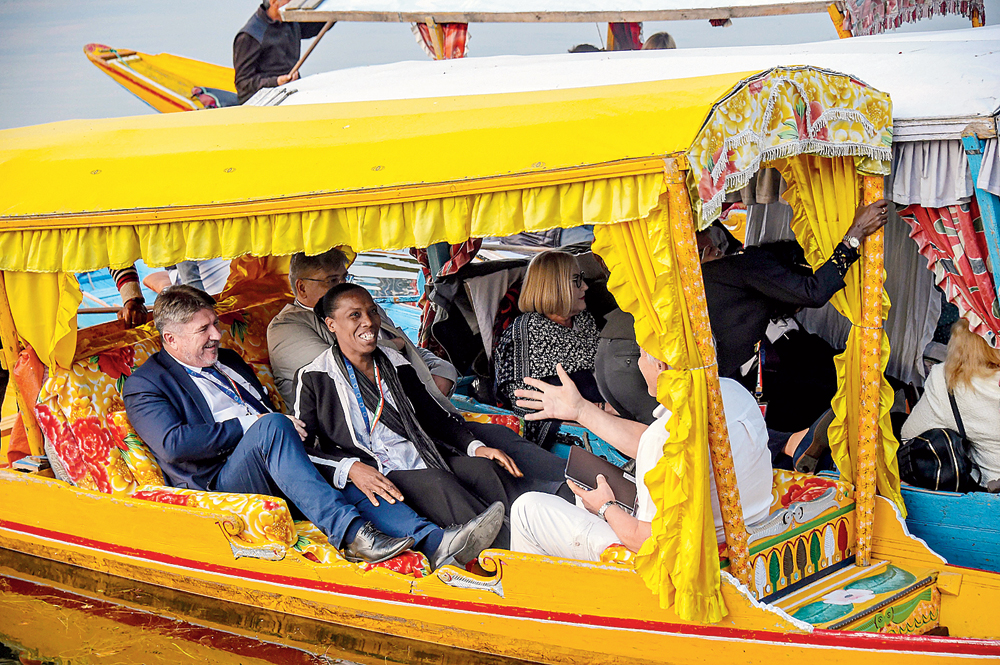 Members of the European Parliament take a shikara ride in the Dal Lake in Srinagar on Tuesday. Officials had stopped traffic on the road and chosen a desolate patch of the lake to prevent any interaction between the MEPs and ordinary citizens
(PTI photo)
---
London
|
Published 29.10.19, 09:07 PM
|
---
The Narendra Modi government's bid to showcase its Kashmir story through European politicians of similar political persuasion has turned into a public relations nightmare.
On Tuesday, it became evident that the invitation to a British member of the European Parliament (MEP) was withdrawn for insisting on unfettered access.
The involvement of Madi Sharma, a self-professed "international business broker", in organising the visit also came to light.
Chris Davies, the Liberal Democrat MEP, said the invitation from the Women's Economic and Social Think Tank (WESTT) was withdrawn after he insisted on moving unaccompanied in Srinagar.
Davies shared with this newspaper the purported email chain between him and the businesswoman, Madi Sharma of WESTT.
On October 7, an email attributed to Madi Sharma and sent to Davies said: "I am organising a prestigious VIP meeting with the Prime Minister of India, His Excellency Narendra Modi and it is my privilege to offer this invitation to you…. The visit will be of a small group of cross party, pan European politicians on a three-day visit (flight and accommodations will be covered and are sponsored by the International Institute for Non-Aligned Studies). Your participation will be as our VIP guest and not in an official capacity as a delegation of Members of the European Parliament."
The following day, Davies replied: "I am happy to accept, on the condition that during my time in Kashmir I shall be free or go wherever I wish, and talk to whoever I wish, unaccompanied by military, police or security forces, but accompanied by journalists and television crews. Please provide this absolute guarantee in writing, and let us then discuss the timings of the visit."
Madi Sharma replied that Davies would be able to speak with the people freely, offered to discuss further in his office and was granted an appointment.
But on October 10, Madi Sharma wrote to Davies: "I apologise that I cannot take any more MEPS at this stage and therefore I will cancel our meeting for Thursday at 17.00. When I return from India I will arrange a suitable time to pass by your offices in the hope that we can arrange a future visit."
Davies told The Telegraph on Tuesday: "On the 7th of October, I received an invitation to go to Kashmir…. I wrote back and said I'd be very happy to come but I do want the chance to meet ordinary Kashmiri citizens without any policeman standing next to me.
"They replied and said, 'Ooooo, security….' They came back and first of all said 'we will do what we can'. The day after they said, 'Sorry, the trip is full'. The argument they used was there was no space left. It does seem to me that I was no longer seen as likely to be a friendly supporter."
On Tuesday, Davies listed in a statement the same conditions he had emailed for accepting Madi Sharma's invitation.
Then he added: "I am not prepared to take part in a PR stunt for the Modi government and pretend that all is well. It is very clear that democratic principles are being subverted in Kashmir, and the world needs to start taking notice."
Explaining why he was interested in going to Kashmir, Davies added: "I represent thousands of people in the North West of England who have family associations with Kashmir. They want to be able to speak freely to their relatives. They want their voices to be heard.
"I fear that this is not going to end well. Governments do not win the hearts and minds of people by taking away their freedoms and imposing military rule. The risk of a violent backlash is all too evident."
His party colleague, Bill Newton Dunn, was part of the delegation that met Prime Minister Modi on Monday although it is not clear whether he travelled to Srinagar on Tuesday morning as there were indications that four MEPs did not board the flight.
As was the case on Monday, there was no official word from the external affairs ministry on this despite repeated queries.
The visit that is clearly facilitated by the government saw further internationalisation of Kashmir, something the Modi government has warned its critics against doing when human rights issues were raised by the Opposition.
Two MEPs — Theresa Griffin and Richard Corbett — put out public statements not only distancing the European Parliament from the visit but also criticising the shutdown in Kashmir.
"To be absolutely clear — the group of far-right MEPs currently visiting #Kashmir are not in any way an 'official' delegation. They do not speak for the European Parliament. The shutdown in Kashmir must be ended and constitutional rule of law restored," Griffin tweeted.
Corbett said: "To clarify: this group of MEPs visiting India and Indian controlled #Kashmir is NOT an official EU delegation, nor a #EuropeanParliament delegation, and has nothing to do with the Friends of Kashmir group in the EP. It's led by far-right MEPs."
Going by what Thierry Mariani, the French Far-Right Rassemblement National MEP told AFP, there is scepticism even among the European Right-wingers about the nature of the visit. Mariani was quoted by AFP as stating that "we are going to see the situation in Kashmir, at least what they want to show us".
The UN issued a statement expressing concern over the prolonged clampdown in Kashmir. "We are extremely concerned that the population of Indian-Administered #Kashmir continues to be deprived of a wide range of human rights and we urge the Indian authorities to unlock the situation and fully restore the rights that are currently being denied.''