Dilip Kumar passes away at 98 in Mumbai
Ever since he turned 90 in 2012, frequent reports of his 'sad demise' have spread, so when he quietly passed away, news outlets heard it with disbelief at first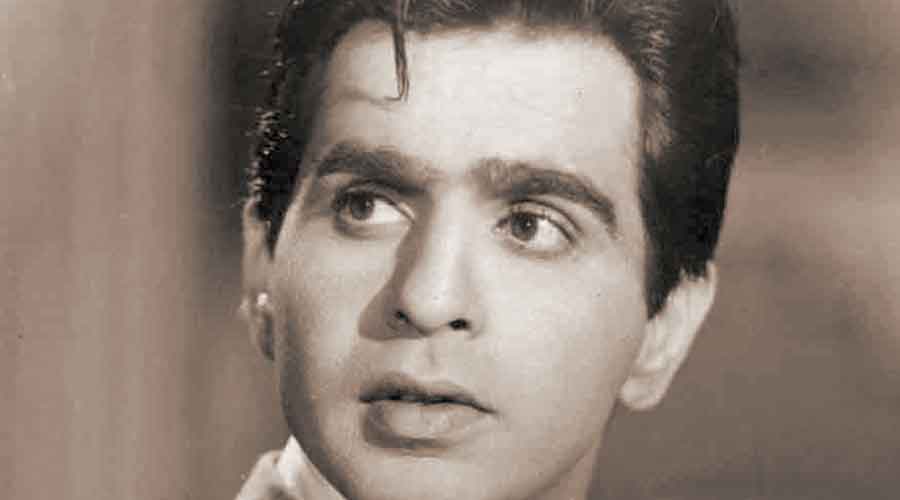 ---
Calcutta
|
Published 08.07.21, 02:07 AM
|
---
He was a man of many records. But when Dilip Kumar slipped away on Wednesday, July 7, 2021, in Mumbai, he also held an unbeaten record as the celebrity who died the maximum number of times.
No Indian actor passed on as many times as Dilip Kumar did. Ever since he turned 90 in 2012, frequent reports of his "sad demise" would spread so far and wide, and with such authenticity, that when he quietly passed away at age 98, every news outlet heard it with disbelief at first and then double-checked it before putting it out as confirmed information.
Another phenomenon exclusive to Dilip Kumar was that every time he "died", the grief was tangible, intense and widespread like repeated bouts of catharsis. This was no mean achievement when his last successful commercial outing was 30 years ago in Subhash Ghai's Saudagar (1991) and several generations had grown up without being hit by the Dilip Kumar charisma.
But the reverence for a legend in his own lifetime stayed until his last breath. Till the end, just a photograph of Dilip Kumar in his formal suit — or in a homely kurta, hair combed neatly, his mind in a world of its own — put out by wife Saira on Twitter would prompt thousands of reactions from a legion of fans.
Dilip Kumar was born to create headlines long after he'd wrapped up his last box-office hit. He did it when he turned director, officially for the first time in 1992. Little snippets and inside stories about Kalinga, the thespian's heavy-budget directorial debut, would regularly blaze the print medium until it was officially shelved.
There were differences between the creative mind and the budgetary head (producer Sudhakar Bokade) that were irreconcilable.
It was one of the most disappointing ironies of the actor's career that after he'd spent a good portion of his life directing his films like a backseat driver, the one time he stepped forward to officially helm a film, it never saw the light of day.
Ganga Jumna, a dacoit-crime blockbuster in 1961, was one of the first films where it was whispered that although Nitin Bose was the official director, the actor's contribution had gone beyond being its official producer and screenplay writer. That whisper persisted right till 1976 when I myself met veteran director Asit Sen outside the set of Bairaag (1976) while filming was going on inside, with the hero calling the shots.
Dilip Kumar couldn't sign off his acting career with a flourish as Qila, his last release in 1998, was a failure and Afsar, co-starring Ajay Devgn, didn't progress beyond an announcement in 2001. Somewhat like Don Bradman who got out for a duck in his last match.
But none of these latter-day setbacks mattered to the man known as "the thespian" whose illustrious innings stretched from the '40s to the '90s, spanning six glorious decades and witnessing vital changes in the film industry.
Born Mohammed Yusuf Khan in Peshawar on December 11, 1922, he had to morph into the more acceptable Dilip Kumar in keeping with the trend of the '40s, '50s and '60s, a name change suggested by his first producer, Devika Rani of Bombay Talkies (Jwar Bhata, 1944). Unimaginable in times when a Khan trinity rules the box office, but it had to be a Dilip Kumar-Dev Anand-Raj Kapoor at the top in the '40s and '50s.
Dilip Kumar also reigned at a time when actors didn't do stage shows or work in commercials, principles that he adhered to in his endeavour not to overexpose himself.
It contrasted with his senior Bombay Talkies colleague, Ashok Kumar, who merrily traipsed along with the times as he went up on stage many a time to recite his rap number "Rail gaadi chuk chuk chuk chuk" or did a paan masala ad with Shammi Kapoor.
The effortless Ashok Kumar even had a thing or two to say about Dilip Kumar's renowned method acting. Dadamoni, as Ashok Kumar was called, once told me about the time Dilip Kumar ran around the studio several times and came back panting to give a shot where he had to look exhausted. "I asked Yusuf, how will you prepare for a death scene?" Ashok Kumar had chuckled.
But Dilip Kumar's method acting worked for him. Famous for his natural acting and the pauses in his dialogues, he also held a record for the number of Dilip Kumar spin-offs he spawned.
Practically every second famous name, from Rajendra Kumar and Manoj Kumar to Amitabh Bachchan, Naseeruddin Shah and Shah Rukh Khan (who Dilip Kumar often said was like a son), has acknowledged at some time or the other that they were inspired and influenced by the legendary actor's school of acting.
The list naturally included the young man Dilip Kumar had handpicked to play the hero in Kalinga. One of the fallouts of the Kalinga fiasco was that while it didn't tar the veteran's aura, it stymied the career of those who were looking at it as a glorious launch pad.
It is believed that Amitoje Mann (now a popular filmmaker in Punjabi and close to today's farmers' protests), who was chosen by Dilip Kumar and cast opposite Meenakshi Seshadri in Kalinga, had to turn down offers as substantial as Yash Chopra's Darr to concentrate on his debut film.
Mann's dreams of stardom died with the shelving of Kalinga but the many years spent as the thespian's protégé translated into lessons learnt from the living textbook of acting.
Mann recalled a scene in Kalinga where Dilip Kumar had to break down on the death of a beloved one. The actor kept postponing its shoot for one reason or the other until he was fully prepped for it. When he finally did it, it was so perfect in its intensity that the youngsters who were hanging on to every word he uttered rushed to the Nagra (sound equipment popular then) to repeatedly hear how he'd delivered his lines.
After wrapping up the day's shoot, Dilip Kumar told Mann that there were many ways to bring a tear to the eye, including glycerine. "Lekin lagna chahiye ki chot lagi hai (The shot should look as though the heart has been pierced)," he explained.
He also revealed that before shooting, he had remembered his older sister Aapa who had been like a mother to him. He recalled her death and thus the grief he portrayed had poured forth from deep inside his heart. "Unko yaad karke, bhavuk hoke, phir shot diya" — he remembered his sister, stirred the emotions within him, and then gave his shot.
It was a shot only those present were privy to as the audience never got to see it.
Even as late as Kalinga, Dilip Kumar's childlike happiness at having done a powerful day's work was evident in the car ride back home. It was Dilip Kumar demonstrating his own maxim, "Shauq kabhi nahin haarna (Never let the passion for your art diminish). Otherwise it will be pack-up for you."
It was the passion and the delight he took in his work that saw him through six decades as he got his breakthrough box-office acceptance with Andaaz, co-starring Raj Kapoor and Nargis, in 1949 and sailed through the '50s with his biggest hits Devdas (1955), Naya Daur (1957) and Madhumati (1958), topping it up with the spectacular Mughal-e-Azam (1960).
Gratified with his success and the cinema he was associated with, Dilip Kumar had no twinge of regret turning down even David Lean and his Lawrence of Arabia (1962). The role that gave Omar Sharif his foothold in Hollywood.
The one phase where he saw repeated failure came towards the end of his innings as hero with debacles like Dastaan (1972), Sagina (1974) and Bairaag (1976). But he came up trumps again after moving to the pivotal senior slot with many a hit like Kranti (1981), Vidhaata (1982), Karma (1986) and Saudagar (1991).
With his mixed bag of roles, the Tragedy King label was restrictive and didn't quite sum him up. In fact, going by his many dalliances off-screen, the King of Romance would've been a more fitting title for him.
While he was linked with co-star Kamini Kaushal way back in 1948 (film, Shaheed), it was his dramatic evidence in court against Madhubala, the heroine he was secretly dating, in a case that filmmaker B.R. Chopra had filed against the actress that ended his relationship with his Mughal-e-Azam co-star. Those were colourful times indeed and Dilip Kumar was its centrepiece.
After the exit of Madhubala from his life, it was a long stint in Madras that saw him courting Waheeda Rehman quite unabashedly while they filmed Ram Aur Shyam (1967). But when Saira Banu's mother Naseem Banu, aghast that her daughter was seriously involved with married Hindu Rajendra Kumar, turned to Dilip Kumar for help, he found himself at the altar with Saira as his bride while Waheeda was left high and dry.
In 1966, he was 44 years old, his bride was 22.
But he wasn't done with his romances. Thirteen years into the marriage and after Saira and he lost an infant baby (a son who died at birth), he hit the headlines again with a secret marriage to Asma, an attractive Hyderabadi, a married woman with three children.
He did the unthinkable in many ways. After vehemently denying the marriage to Asma by swearing on the Quran before Saira, he was caught out when the nikahnama was published in a tabloid.
Maharashtra governor Sadiq Ali had appointed Dilip Kumar the sheriff of Bombay in 1980. But the new sheriff was so caught up in the throes of his new passion that soon the paeans of love that he penned for Asma on the mayor's stationery livened up the front page all over again.
Saira ultimately "won" back her husband when Dilip Kumar divorced Asma and she was never heard of again.
What was it that earned Dilip Kumar unparalleled respect and admiration despite his dalliances and many misdemeanours? Anil Kapoor once told me, "His achievements far outweigh everything else."
That perhaps explains it as Dilip Kumar was the only actor to be decorated by both India and Pakistan. He was given Pakistan's highest civilian award, the Nishan-e-Imtiaz, in 1998 and was awarded the Padma Vibhushan by India in 2015. He was also a Rajya Sabha MP, a staunch Congressman till the end.
A foodie who relished his kebabs and vada paavs, Dilip Kumar told me at the outdoor shooting of Saudagar that when it came to food, he had "no class, I eat everything".
Erudite with deep knowledge of a variety of subjects including philosophy, theology and poetry, he also knew the intricacies of several sports and played badminton and football. When he was still up and about, he was famous for his late evening walk at Joggers Park in Bandra, togged up in trademark white pants and shirt, sometimes even after closing hours when it would be opened specially for him.
The actor also spoke more than a dozen languages. Apart from English, Hindi, Urdu, Pashtu and Gujarati, he spoke Marathi like a native. He shared that with his friend Mukri, the pint-sized comedian who sang the taan in between Dilip Kumar's Madhuban mein Radhika in Kohinoor (1960).
The two actors bantered in Marathi all their lives and when Dilip Kumar heard that Mukri was seriously ailing with gangrene in a Juhu hospital, he made arrangements for him to be shifted in an ambulance to the better-equipped Lilavati Hospital in Bandra, assuring his family that the bill shouldn't concern them.
Daughter Naseem Mukri recalled that while her father was in surgery and she had forgotten to eat all day, a thoughtful Dilip Kumar had personally escorted her to the hospital canteen, sat with her and made her eat. Dilip Kumar was in Delhi when Mukri passed. But he had left his hotline number with Naseem, comforting her that in his absence Saira would be available.
When the hospital wanted Rs 1.5 lakh to be paid before releasing Mukri's body, one call to Saira and Dilip Kumar's man was there with the cash in 10 minutes. These were gracious acts that Dilip Kumar did quietly, requesting his beneficiaries not to talk about it in public.
He got his Twitter account on his 89th birthday in 2011, a handle that has been largely managed by Saira.
The Substance and the Shadow, his autobiography, was released in 2014, by which time Dilip Kumar was fast slipping into a world of fading memory and oblivion.
With builders pulling down the iconic bungalow on the curve of Bandra's most glamorous lane, and with its famous inmate now six feet below the ground in a cemetery in Juhu, 34B Pali Hill too has gone forever.
RIP, the last of the great thespians.