Delhi woos Maldives, to offer support in UN
India's development partnership in the South Asian country not only includes infrastructure projects — a forte of the Chinese — but also community projects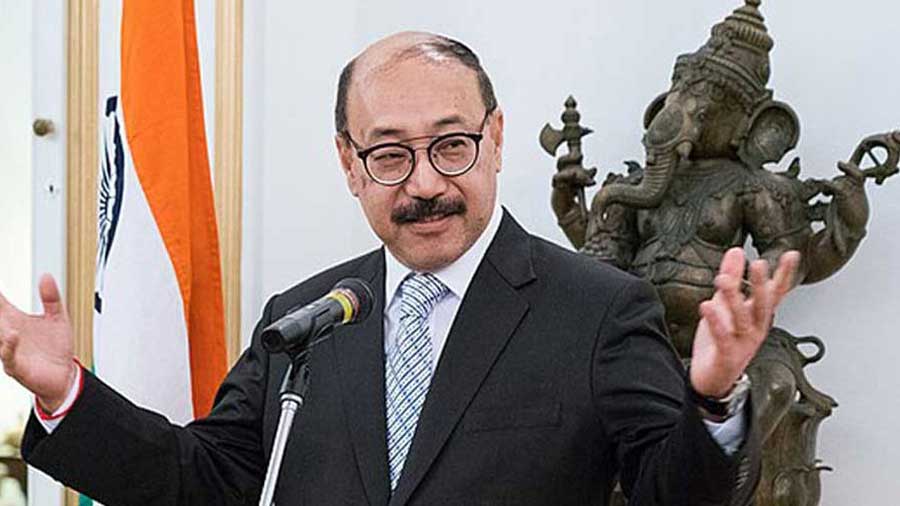 Harsh V. Shringla
File picture
---
New Delhi
|
Published 10.11.20, 12:42 AM
|
---
Amid efforts by supporters of Abdulla Yameen to whip up anti-India passions with its "India Out" campaign, foreign secretary Harsh V. Shringla flew to Maldives on Monday for a two-day visit that saw him talk up the broad spectrum of New Delhi's development partnership with Male in a competition for influence with Beijing on the atoll nation.
India's development partnership in Maldives not only includes infrastructure projects — a forte of the Chinese — but also community projects that seek to touch every aspect of life in the hope of earning the goodwill of the people that can absorb any change in government in the archipelago. New Delhi has also decided to support the candidature of Maldivian foreign minister Abdulla Shahid for the presidency of the United Nations General Assembly in 2021 when India will be a non-permanent member of the UN Security Council.
In two of his speeches during Day 1 of his visit, the China factor in the India-Maldives relationship was evident as Shringla sought to highlight the terms of New Delhi's engagement without referring to Beijing. In an address at the Maldivian foreign ministry, Shringla underscored the fact that India's partnership in the Greater Male Connectivity Project (GMCP) will "conform to the hallmarks of India development cooperation; transparency; full participation and ownership of the host country; and competitive pricing".
He repeated this while addressing an event for the handing over of children's parks to 67 islands of Maldives under the Cash Grants Projects. "Honouring the democratic traditions cherished by both countries, the underlying principles of India's development cooperation of transparency, competitive pricing and ownership of the host country will be adhered to in implementation of the GMCP project.
"India's development projects in Maldives are demand-driven and will involve the Maldivian government at all stages. The tendering process and award of contract will also be done by the Government of Maldives," he added.
China is often accused of doing debt-trap diplomacy by enticing countries into taking cheap loans which they can ill afford to pay back; resulting in them remaining indebted to Beijing. This strategy has helped China increase its footprint in various parts of the world, including Maldives, during the Abdulla Yameen regime when there was a Chinese investment boom in the archipelago.
India had announced its decision to invest in the GMCP — the largest infrastructure project in the Maldives in August. It will connect Male with three neighbouring islands, including a new industrial zone and is thrice the size of a similar bridge constructed by the Chinese.