Delhi's slum dwellers feel AAP is the new Congress
Party supremo Arvind Kejriwal gains school and water credit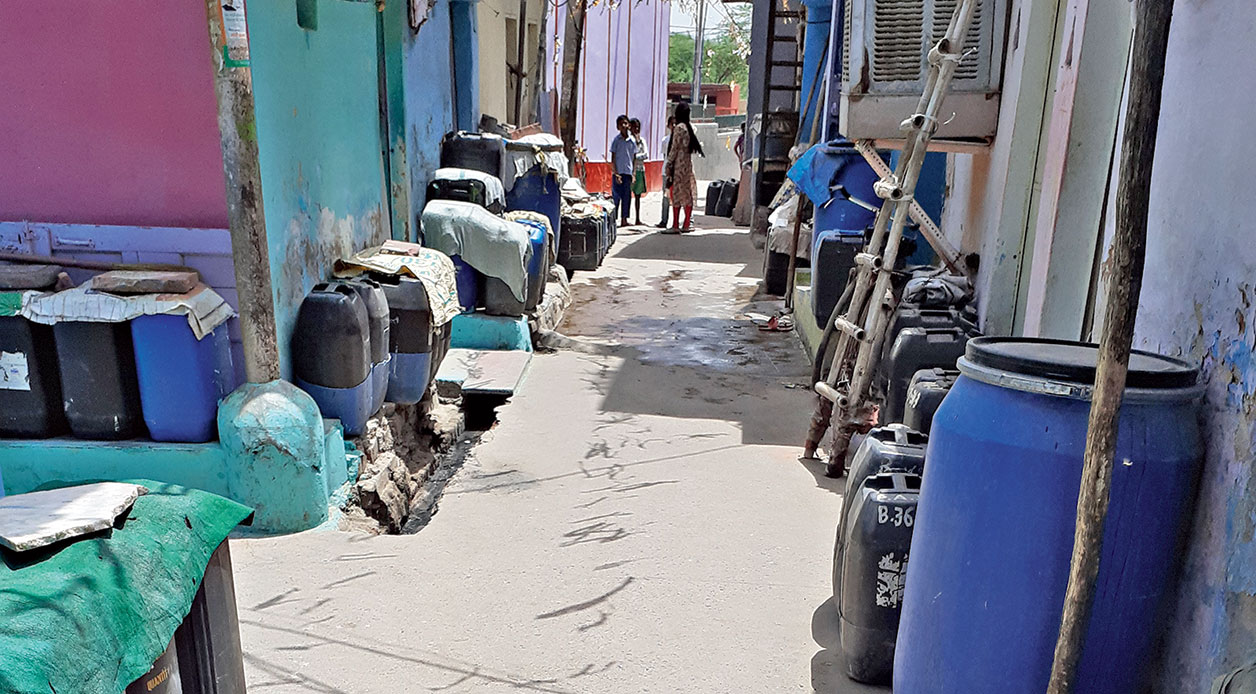 ---
---
South Delhi's Kusumpur Pahari slum is a maze of tenements occupied by people from across India, and from Nepal.
Flanked by the swank bungalows of Vasant Vihar, the four-decade-old slum has more than 10,000 voters and faces a perennial water crisis because of its elevation on the Delhi Ridge.
At one of its ends is Madrasi Camp, which has more than 1,000 voters and a Mariamman Temple with an AIADMK flag.
S. Malika, secretary of the party's women's wing in Delhi, has lived here for around four decades and previously worked as a domestic help. She thanks Delhi chief minister Arvind Kejriwal for her refrigerator being full of water bottles.
"Two water tankers come here every day now with drinking water. An additional tanker comes every three days," she said.
"A single household can collect two to three cans (40 litres each) of water every week. After the Aam Aadmi Party came to power (in Delhi in 2015), four bore-wells have also been installed, and more public toilets built. Police harassment has stopped too."
There is rarely a legal way to carry out construction in an unauthorised settlement, and the residents say they once paid up to Rs 10,000 in bribes for minor constructions.
"I remember the days when we fell at policemen's feet as they kicked down our under-construction toilet. After Kejriwal came to power, he announced that any officer who takes bribes would be suspended. The cops are rarely seen since then," Malika said.
Recently back from campaigning in Tamil Nadu, Malika said that although she respected her party's alliance with the BJP in the southern state, she was impressed with the AAP in Delhi.
"This was a Congress stronghold, no one else used to campaign here. We had high expectations from (Prime Minister Narendra) Modi but the only changes that have improved our lives have come because of Kejriwal. The AAP is the new Congress here."
However, many residents of the slum, where the majority are Balmiki Dalits, complained that the police didn't respond to distress calls in time, and harassed those who complained against the illicit sale of arrack.
Virender Singh, a Dalit who grew up here and now runs a garment-and-shoe store, is counted as a leader among the slum dwellers.
"The Congress was favoured here because it had protected us against demolition several times. The AAP is continuing to do this, but without bribes," he said.
"Water is still inadequate and the supply often has mud in it. Nor are the timings of the tankers fixed. That's a huge problem as all the households have to have one member present at all times to get water. That's a loss of a day's wage."
Singh added: "But people are still happy with the AAP because they have improved the state government schools. A slum dweller always wants his children to leave the slum for a better future."
Singh had put his children — and Malika her grandchildren — in private schools before the AAP came to power.
"The primary school run by the (BJP-governed South Delhi) municipal corporation is not good, so I sent my daughter to a private school," Singh said.
"But once she reaches Class VI, I may send her to the (state) government high school. I studied there but didn't learn anything. Now things have changed there under the AAP."
South Delhi AAP candidate Raghav Chadha is pitted against sitting MP Ramesh Bidhuri of the BJP and boxer Vijender Singh of the Congress.
In East Delhi, former Congress minister Arvind Singh Lovely is contesting against cricketer and BJP candidate Gautam Gambhir and the AAP's Atishi, who is credited with improving the state schools during her term as adviser to the Delhi government.
Lovely's popularity endures in the Gandhi Nagar area — which has elected him MLA three times — despite his brief defection to the BJP. He returned to the Congress last year.
Bahujan Samaj Party candidate Sanjay Gehlot too is from the locality, where the slums are often indistinguishable from the authorised settlements. Residents there thank the AAP for bringing them four hours of drinking water supply, although the water is contaminated in some parts of the slums in Ajit Nagar and Dharampura.
Almost half of Delhi lives in slums and unauthorised tenements, where education is a recurrent theme.
"There is no guidance for students here. Most of their parents have not finished school," said Neeraj, an MPhil and an Ambedkarite, in the Ajit Nagar slum.
"The young men often seek solace in drink or drugs, or harass girls, because they don't see a future after school and sit idle. The parties like illiterate people who don't ask questions."
Neeraj works with local photographer Vijender Chavre to promote education and the works of Bhimrao Ambedkar among the slum residents, who are largely Balmiki Dalits and Muslims, many of them stitching jeans for a living.
"At the national level, Dalits and Muslims are being lynched in the name of a Hindu Raj. At the local level, we continue to live like worms in the gutter, sunk in ignorance and casteism," Chavre said.
"The AAP government has worked for education and health, and Lovely worked when he was in power, but no party or institution is there to help the children who remain clueless about their future after acquiring basic education."
The problem is that few of them can get into Delhi University because of the high cut-offs. Kejriwal has promised to reserve 85 per cent of the university's seats for Delhi residents.
The BJP has polled more than 40 per cent of the votes in all the Lok Sabha elections in Delhi since 1991, except in 2009 when it secured a little above 35 per cent. A division in slum votes, where the tide is against the party, between the AAP and the Congress would help it.
In Dharampura, butcher Irshad credits the Balmikis with maintaining communal harmony.
"With Modi, our stature in the world has grown, but for butchers like me life has become even more difficult," Irshad said.
"We already paid bribes, but now if you are a Muslim, being a butcher puts you at a greater risk."
He added: "The AAP is good for Delhi. They may not have done much here in Dharampura but the schools and hospitals are better now. But Lovely is our local candidate and is responsible for the railway underpass. He worked a lot when he was minister. When faced with a problem, we can't go to Modi."