Delhi riot: BJP minority cell vice-president's home burnt
The façade of Akhtar Raza's house has been blackened by riot-ignited fire and smoke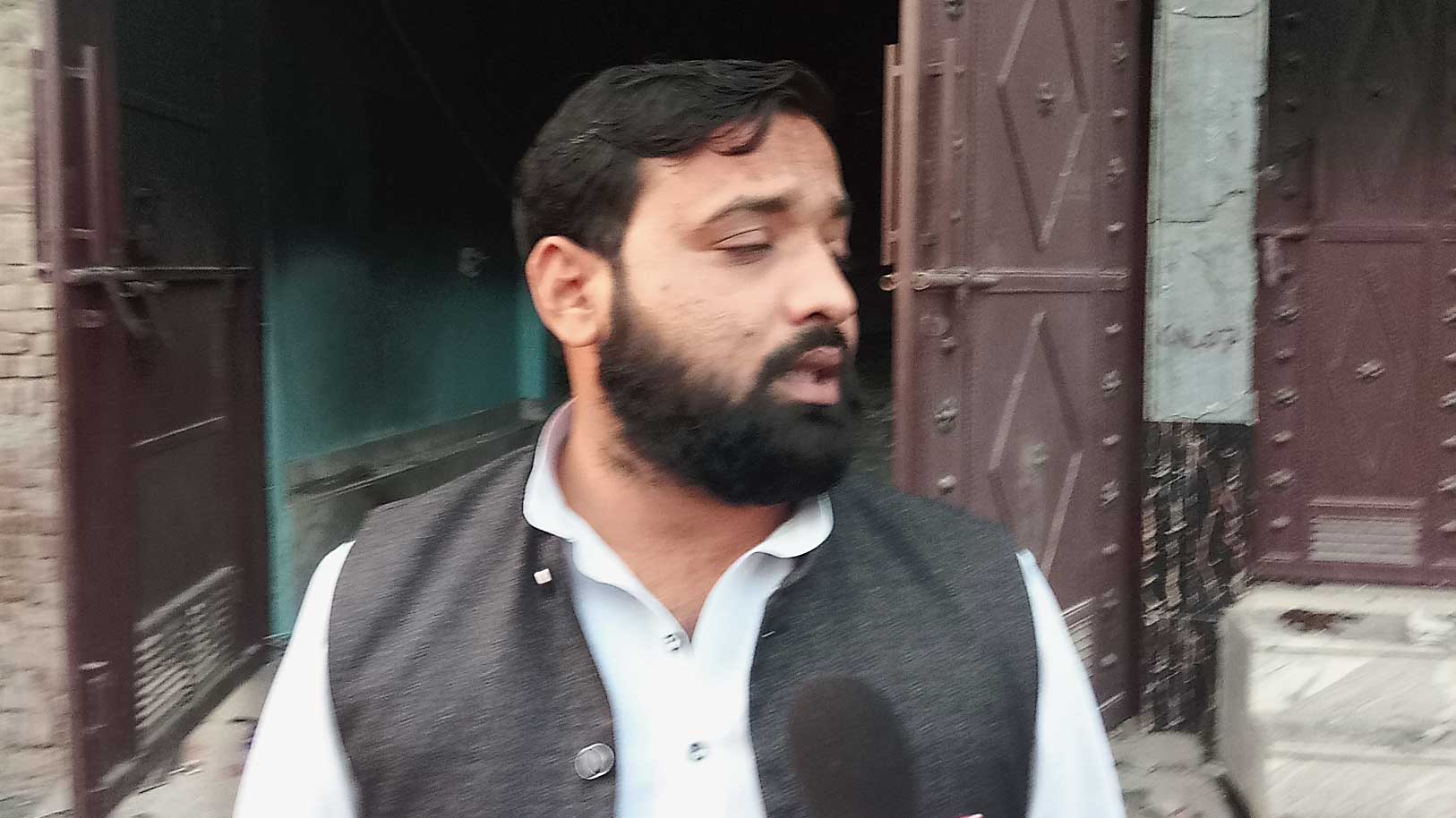 Akhtar Raza in front of his burnt house on Sunday.
Picture by Basant Kumar Mohanty
---
New Delhi
|
Published 01.03.20, 09:51 PM
|
---
In front of a burnt house in Bhagirathi Vihar Nalla Road in riot-hit northeast Delhi, a man clad in the regulation attire of a politician recounted what happened on Tuesday.
"They were chanting slogans with religious overtones. Around 7pm, they started throwing stones at us. I called for police help. But the police asked me to leave. We managed to flee before they burnt my house and destroyed everything," he said.
He is Akhtar Raza, the BJP's minority cell vice-president for the Delhi Northeast district.
The façade of Raza's house has been blackened by riot-ignited fire and smoke. He was present there then, along with his immediate family and cousin Zulfiker.
"There are 19 houses of Muslims in this lane. All of them have been identified and burnt. The rioters were from outside. But some local residents identified the houses of Muslims," Raza said.
Six motorcycles and all the belongings in the house were burnt down, he said. A few metres away, the homes of two of Raza's uncles were torched.
Raza has been associated with the BJP for the past five years. "Nobody from the BJP contacted me (after the riots). There was no phone call. There was no relief or special treatment or anything," Raza said.
Raza had called some party leaders who were "positive". He continues to be associated with the BJP."I am related to the BJP. Maybe I will continue," Raza said.
In front of Raza's house is a lane from which several bodies have been recovered, he said.
Bhagirathi Vihar and the nearby Mustafabad remained tense on Sunday. Several groups were distributing relief materials among people who had queued up to collect them.
Nabeel Ahmad, an auto-rickshaw driver, said he had on Sunday got his vehicle on the roads for the first time since the violence broke out on Monday.
"I still feel scared. I used to drive till midnight. Today I will go back home at 6pm. What I saw I will never forget," Ahmad said.
Ahmad, a resident of Mustafabad, said there were 50 temples in the locality. Not one of them has been touched. However, four mosques have been vandalised. He said the colony had come up in the past 30 years but had never before seen such communal conflict.
Ravi Kumar, another auto-rickshaw driver and a resident of riot-affected Shiv Vihar, said he had not slept since Monday night.
"I have three children. When I look at them, I say to myself I will do everything to protect them. In our area, we stay awake through the night watching out for any anti-social elements," Kumar said.
More than 40 people have died in the communal violence in northeast Delhi. Four bodies were fished out from Delhi's drains on Sunday but it was not clear whether they had been killed in the riots, PTI reported. On Saturday, the government had put the death toll at 42.
Shoppers in some neighbourhoods in west and southwest Delhi left malls and marketplaces after rumours spread on Sunday.