Thou shalt snoop on thy neighbour and squeal
Advisory criticised for its tone and the way it encourages vigilantism and tries to set neighbour against neighbour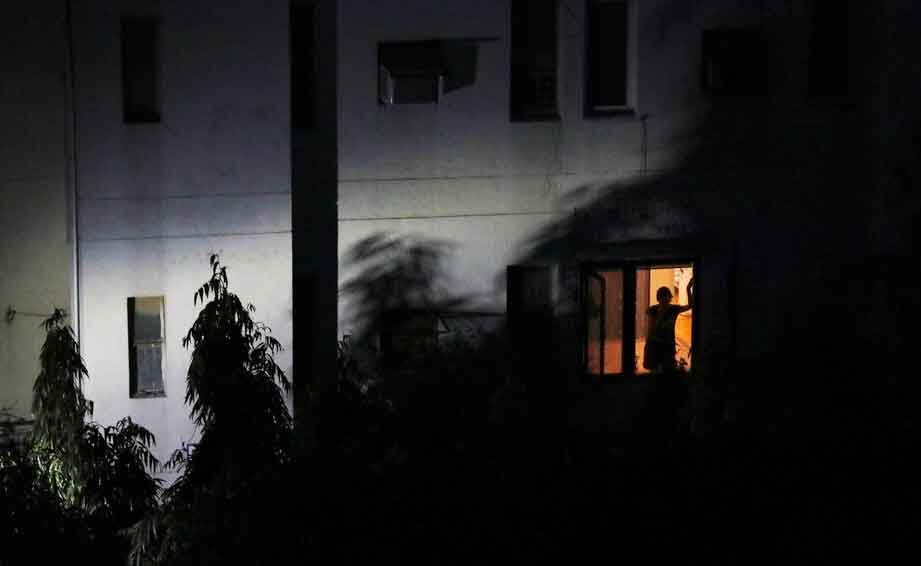 A girl looks out from the window of her house in a multi storied residential building during 21 days lockdown amid concern over spread of coronavirus, in New Delhi, India, Monday, March 30, 2020.
(AP)
---
New Delhi
|
Published 30.03.20, 10:51 PM
|
---
Delhi police have asked residents' welfare associations to spy and report on people stepping out for morning or evening walks, or even moving about on the compound, attracting charges of trying to create a "police state".
The advisory, which asks the RWAs to go through CCTV footage to identify those violating the lockdown, says people with valid reasons to step out will not face action.
But since the advisory specifically mentions only "medical emergencies" in this context, many social media users have been asking whether those going out to buy groceries will be seen as defaulters too.
Mostly, the advisory — issued only in Dwarka, southwest Delhi, so far but about to be circulated across the city, police sources said — has been criticised for its tone and the way it encourages vigilantism and tries to set neighbour against neighbour.
"At this time please avoid reasoning, logic and intelligence, just follow orders of the administration regarding staying at home...," says the advisory, issued by the Dwarka deputy commissioner.
The advisory comes just days after some RWAs were accused of ostracising doctors, other healthcare staff and airline employees and asking them to leave their neighbourhoods, fearing they could be coronavirus carriers.
Many social media users have slammed the Delhi police, who report to the Union home ministry.
"The advisory is aimed at terrorising people who are already facing several problems because of the unplanned lockdown. Has Delhi become a police state?" said Anup Prasad, a Dwarka resident.
He asked why the advisory was silent about whether people could go to groceries or ATMs.
"We have received many calls through PCR and queries through WhatsApp messages, other social media that a few people in their CGHS (Central Government Housing Society) and DDA (Delhi Development Authority) pockets are not abiding by the lockdown instructions and roaming freely inside compound and going out for morning/evening walk," says the advisory.
It says that cases will be registered against such people and adds that:
The RWAs should identify such lockdown violators from CCTV footage, note down their names and addresses, and give these to the local police so that legal action can be initiated.
The security guards at the gates must note down the registration numbers of vehicles leaving the compound, which the police will collect.
Somewhat comically, it adds that since detaining too many people at police stations will be difficult because of the social-distancing norms, "so be careful before you dare to do anything against the advisory".
Joint commissioner Shalini Singh admitted that barring people from morning or evening walks was a "harsh decision" but said the police had no option.
"We are requesting people not to come out of their homes except to buy essentials. This is for everyone's safety," Singh said.
A senior IPS officer accepted that the advisory "seems to have gone a bit too far" in tone and tenor but added: "The objective is to ensure the safety of everyone. The police are allowing people to buy essentials."