Ankhi Das files complaint about threats
Delhi Assembly committee to call Facebook official
Summon to ascertain whether any of the social media giant's employees had 'any role or complicity' in the Delhi riots in February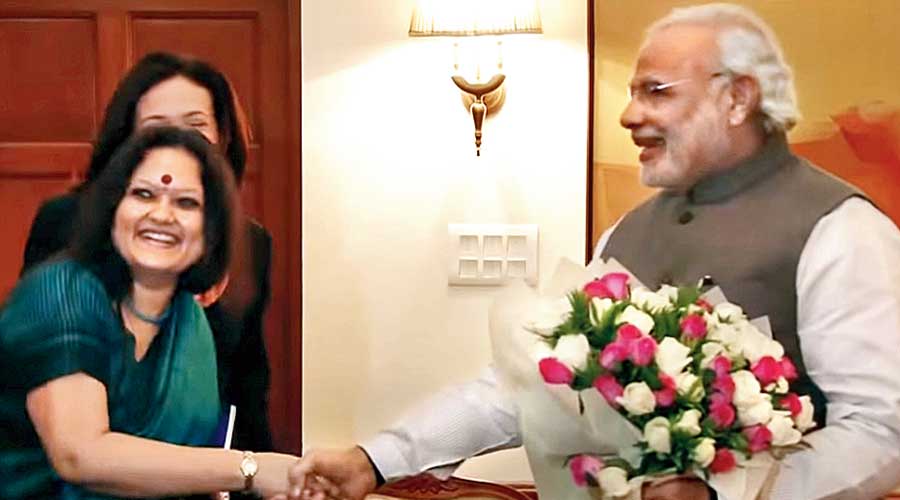 Ankhi Das with Narendra Modi in July 2014 during the visit of Facebook COO Sheryl Sandberg.
Source: narendramodi.in
---
New Delhi
|
Published 18.08.20, 01:53 AM
|
---
A Delhi Assembly committee will summon Ankhi Das, Facebook's director of public policy for South and Central Asia, and some of her colleagues to ascertain whether any of the social media giant's employees had "any role or complicity" in the Delhi riots in February.
The announcement referred to complaints that quoted a report in The Wall Street Journal last week suggesting Facebook had, on Das's advice, condoned hate posts by the Hindutva ecosystem in India to protect the company's business prospects in its largest market in the world.
The Delhi House panel's decision comes at a time some Opposition parties have demanded a probe by a joint parliamentary committee into the Facebook controversy and the Centre has maintained a stony silence. 
On Monday, Delhi police filed an FIR on a complaint from Das about online threats issued to her after the Journal published the report on August 14.
Raghav Chadha, who chairs the Delhi Assembly's committee on peace and harmony, said he had received multiple complaints against Facebook officials for their "alleged deliberate and intentional inaction to contain hateful content in India for vested reasons".
The committee probes complaints against fake news, online content and rumours that incite communal enmity. It was set up by the ruling Aam Aadmi Party, which has accused the police, who report to the lieutenant governor, of inaction during the riots in northeast Delhi.
"Significantly, a BJP leader (Kapil Mishra) has been mentioned in the Wall Street (Journal) article as another hate-monger spared by Facebook. Interestingly, in a video featuring Mark Zuckerberg (the Facebook CEO is seen) quoting the contents of that BJP leader's post as categorically offensive and hateful," Chadha said in a statement.
"Despite this, officials of Facebook have been alleged to turn a blind eye to hate speech and communal hatred mongers. In view thereof it compels the committee to take immediate notice and get to the root of this issue with a view to painstakingly discern if there is any role or complicity of Facebook official in the orchestration of Delhi riots."
Mishra, an AAP rebel who had joined the BJP before the February 8 Assembly polls, had just before the riots given the anti-CAA agitators an ultimatum to end their protest in a speech widely seen as inflammatory.
The police, however, have told Delhi High Court they have found no evidence of Mishra's involvement in the riots. Zuckerberg had cited Mishra's speech to employees as an example of content that would be removed by the platform. Mishra's account, however, remains operational.
Chadha added: "More so, the complaints refer to the article by Wall Street Journal… where a specific mention has been made describing an explicit resistance posed by one Ms Ankhi Das, Facebook's top public policy director, for applying the hate speech rules to at least one Bharatiya Janata Party politician and other 'Hindu nationalist individuals and groups', despite the fact that the content posted by these individuals or groups had been 'flagged internally for promoting violence'….
"The committee, after vetting the complaints and giving a careful deliberation upon the allegations set out therein is of the prima facie view that the allegations against the concerned Facebook officials are extremely serious in nature which if remain unchecked and unhindered may lead to serious adverse fallouts, having thereby the dubious distinction to intensify an already volatile and vulnerable situation."
Neither Das nor Facebook's communications director Bipasha Chakrabarti responded to queries from this newspaper.
On Monday, Das accused two Facebook handles, three Twitter handles and other unknown entities of "issuing violent threats on my life and body through online posting/ publishing of content".
In the complaint, Das also accused Arshad Khan, social media coordinator of the Congress-backed National Students Union of India, and Mumbai-based transparency activist Saket Gokhale of circulating her picture along with defamatory content.
Delhi police's cyber prevention awareness and detection centre filed an FIR on her complaint, in which she wrote: "Since the evening of 14 August 2020, I have been receiving violent threats to my life and body, and I am extremely disturbed by the relentless harassment meted out to me by the accused persons.
"The content, which even includes my photograph, is evidently threatening to my life and body and I fear for my safety as well as that of my family members…. The above facts reveal that the accused persons have intentionally vilified me due to their political affiliations and are now engaging in online and offline abuse, subjecting me to criminal intimidation and making sexually coloured remarks."
Gokhale had tweeted that Das's sister Rashmi Das is the chairperson of the RSS-backed World Organisation of Students and Youth (WOSY), the Sangh's outreach arm for foreign students in India, and that Ankhi had attended WOSY's programmes.
On Sunday night, WOSY accused Gokhale of using Rashmi's image at a Pravasi Bharatiya Divas event in Varanasi last year and falsely claiming it was Ankhi's. The sisters are identical twins. WOSY said that Rashmi was its chairperson from 2011 to 2019.
On Monday, Gokhale tweeted: "Y'day, ABVP & RSS-linked WOSY tried to attack me. Now Ankhi Das is attempting to do the same. 'Defamation' isn't a cognisable offence. I continue to face death threats (thanks to Facebook which never took down my doxxed number). Shall I add Ankhi Das in my complaint now?"